Remembering Mr. Francesco Grosso
Posted: September 24, 2015 - 10:28 , by
royal
Categories:
None | Comments () |
Comment
Many staff, volunteers, and visitors may remember Mr. Francesco Grosso, who was part of ROM life for 45 years as he entertained and captivated young and older audiences at our Queen's Park entrance with his travelling push-cart filled with treasures and treats. Visitors and staff, and more recently their grandchildren, often looked for him and asked after him. We are very sorry to learn of Mr. Grosso's passing last week.
Francesco Grosso was born in Cosenza, Italy, 84 years ago, arriving in Canada in 1956 after marrying Teresa through an arranged marriage by proxy with his mother as his stand-in. Their children describe their parents' marriage as made in heaven: Francesco and Teresa spent the next 59 years as the love of each other's life.
Mr. Grosso went to work with his push-cart, stationed everyday in front of the ROM Queen's Park entrance, selling cotton candy, popcorn, roasted chestnuts, and colourful toys. He was a self-taught bird caller, entertaining his audience with calls so authentic that birds would appear from all points and land quietly on his arms. He trained the birds to hop onto children's arms too. In cold weather, he and fellow vendors would heat their lunches on the roasting elements, sharing friendship, warmth and food on the street.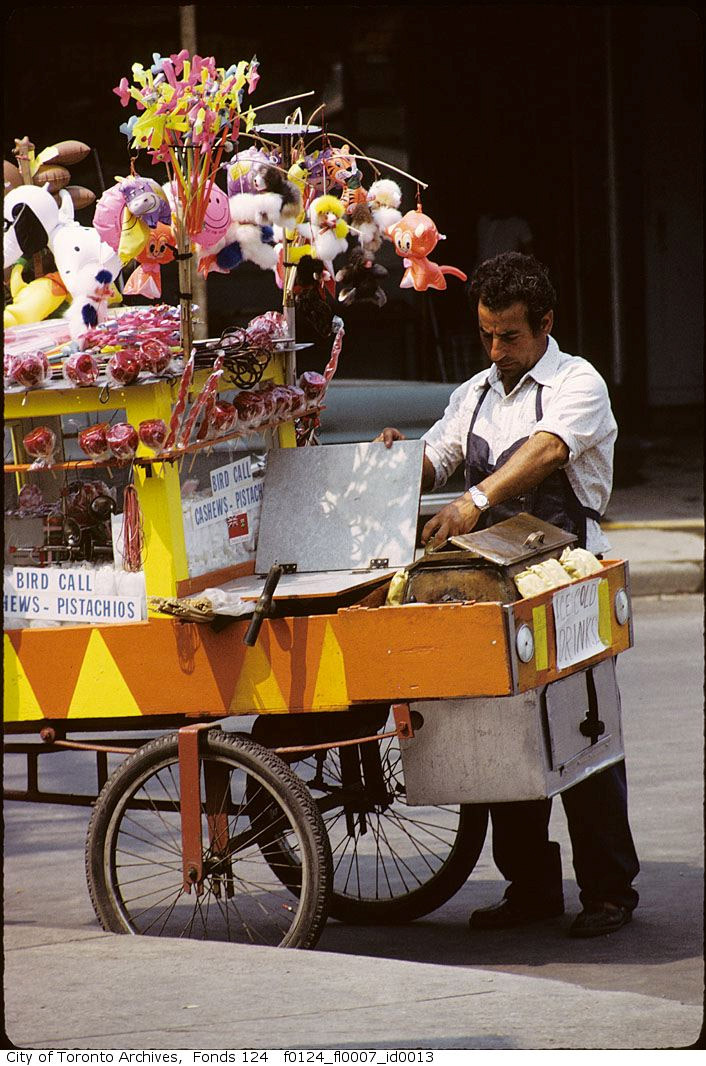 The Grossos raised five children with income from his cart. Every morning for more than four decades, Mr. Grosso pushed the cart from their home in Kensington Market to the museum's front doors and, in later years, even further, from his home at Bathurst and Queen. Winter and summer. Known to visitors, and later their children and grandchildren, he became part of the cycle of life at the ROM, underlined in the mid-2000s when there was a possibility he would lose the spot. He met with CEO William Thorsell who, after some negotiating, arranged a lease with Mr. Grosso for $1 a year. Mr. Grosso retired in 2010 to care for his beloved Teresa until her final illness in 2011.
Mr. Grosso is remembered with love and deep gratitude by their five children, 13 grandchildren, and five great-grandchildren. A life, lived. The family plan to keep the push-cart.