A Spotlight on Illegal Pelt Trading, and What the ROM Has to Do With It
Posted: December 25, 2014 - 17:03 , by
ROM
Guest blog post by Environmental Visual Communication alumnus Matt Jenkins.
Celebrating its centennial birthday this year, the ROM has always stood as a place of education, family enjoyment and research. That is why I found it surprising that the ROM identifies nearly one quarter of its roughly one thousand pelts as 'seized' or illegal. Fear not though, as I learned, they are at the museum with the proper permits and have actually played integral roles in assisting the prevention of illegal pelt trading.
There are a variety of reasons the pelts have an illegal status but usually its because of how they were obtained in the wild. Either the animal was hunted in surplus of a hunter's allowance or because the hunter lacked the proper documentation. Most disturbingly, the pelts could belong to an animal listed under the Convention on International Trade of Endangered Species of Fauna and Flora (CITES), or it as been listed in the Species At Risk Act by the Enforcement Branch of Environment Canada.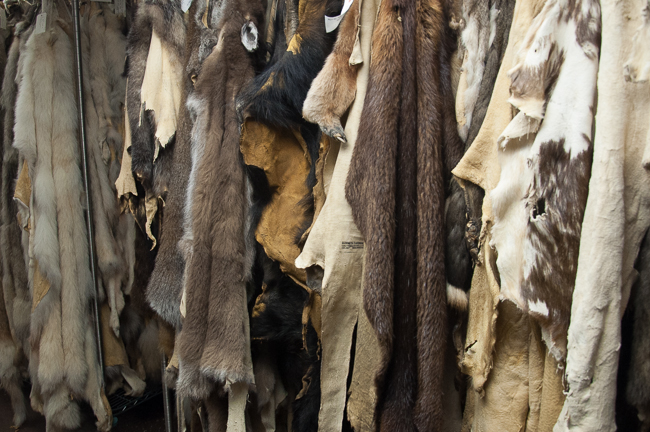 How is it that illegal pelts find their way to the museum?
Averaging one visit a week to the cold room that holds the pelts, Assistant Curator of Mammalogy Burton Lim is part of the team responsible for managing the room and the pelts it stores. As Burton pointed out to me, it is important to note that the pelts do not come to the museum at the museum's request. They are usually brought in for an expert's identification, sometimes even for the purpose of aiding in a court case. When an illegal pelt is discovered at the airport, the border, or upon inspection of a hunter's kill it is seized and sent to Environment Canada for identification. In rare cases where it cannot be identified, Burton and his team are contacted for their expertise. After the court case is closed, sometimes as has been done in the past, a pelt that would otherwise be destroyed is given to the ROM. Making the best of an unfortunate situation, the ROM stores the pelts if they have scientific or cultural value, or can aid with future identifications of similar pelts.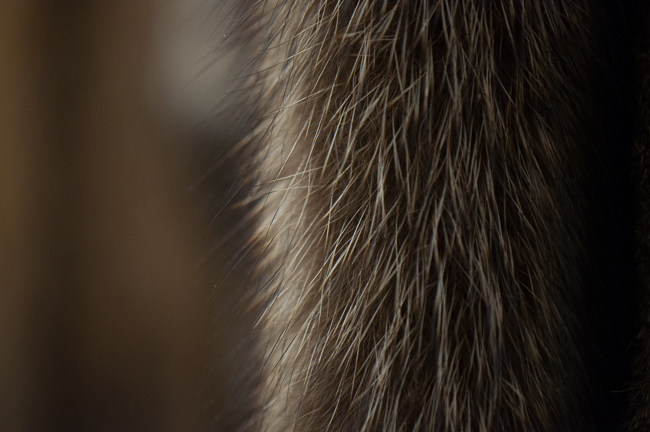 How often is an illegal pelt discovered and how often does the museum assist with its identification?
After speaking with an Environment Canada representative, I learned that its Enforcement Branch has conducted roughly 85 inspections in the past five years that have involved pelts belonging to CITES protected animals. The unfortunate demand for pelts of illegal nature can result in some desperate and bizarre attempts of smuggling. Danny Kingsberry of Environment Canada reported to me that one thwarted smuggling attempt involved a lion skin hidden inside the mounted taxidermic styrofoam head of an elephant! With unusual cases like this and often no trail to identify what country the skin or pelt has come from, the ROM's mammalogy department is called upon every two to three months to offer assistance in identification.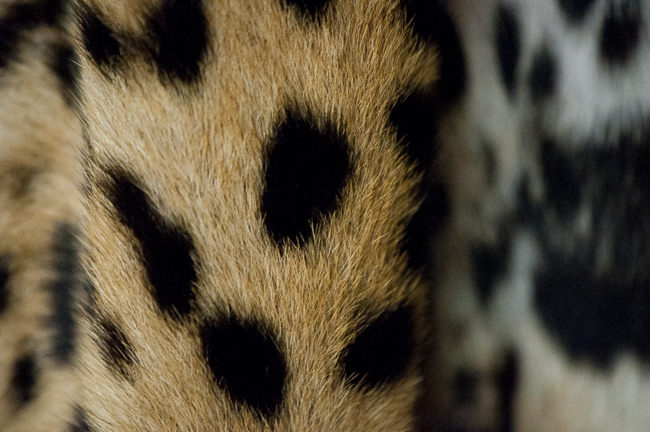 What kind of effect can illegal trading have on the wildlife in Ontario?
With some of North America's most prominent fur auction houses, Ontario is a hub for legal pelt trading. It sees the import and export of tens of thousands of legal pelts annually. "However, Ontario is actually more of a source province for pelts than an import destination." writes Mr. Kingsberry. Even though Ontario is one of the most popular places in Canada for legal pelt trading, some not-so-legal trading still occurs. It is the goal of Environment Canada and the ROM to work together to reduce illegal trading.
With vast amounts of wild landscape, Ontario is rich with wildlife, especially in the north. It is also home to thirteen species at risk, including the cougar, woodland caribou and polar bear. Many of these species provide valuable pelts and sometimes their value is solely because of their CITES status. This begs the question: "Exactly how commonplace is the killing of a species at risk in Ontario?" Unfortunately there is no denying that sometimes even Canadian animals fall victim to illegal trading - if they have a desirable pelt.
Note from the author: To learn more about how you can help understand and preserve our natural world I urge you to visit my favourite part of the ROM: the Schad Gallery of Biodiversity.