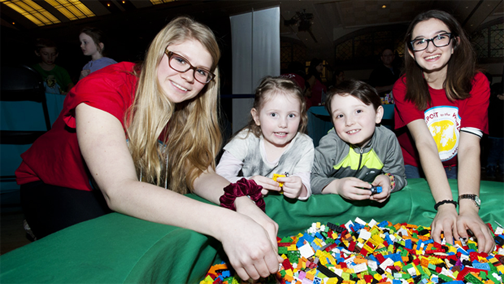 Join the Royal Ontario Museum from April 6-12 as we celebrate the 1200+
volunteers
who generously donate their time, energy, and creativity to make the ROM an indispensible resource for building community by nurturing discovery and inspiring wonder.
During Canada's
National Volunteer Week of 2014
, the ROM is undertaking a number of initiatives to commemorate the impressive efforts made by ROM volunteers. Look for posters around the Museum listing the names of all 1219 current ROM volunteers, who have worked a collective 198,637 hours in the past year, as well as a video from
Volunteer Canada
streaming in Chen Court.
This week we'll also be putting some of our volunteers in the spotlight. Read about
David Grafstein
, second Vice President of the ROM's Department of Museum Volunteers, docent, ROMwalks leader, and Gallery Interpreter. What's more, on Wednesday afternoon, longtime ROM volunteer Patricia Harris was awarded the
Manulife Volunteer Award
, a national award promoting volunteerism and community investment. All of us at the ROM are grateful to Pat and David for their time and dedication to the Museum.
Finally, the ROM is initiating a letter-writing campaign to our provincial government to assess the invaluable contributions volunteers have made to the Museum.