Conservation Intern Spotlight: Natasa Krsmanovic
As a web intern at the ROM, the last place you'd expect me to visit is the Conservation department—which is situated many floors above my office! You may be surprised by how necessary it is for such contrasting departments to establish a close working relationship. But it is an interconnected environment that enables museums to safeguard (physically and conceptually) their collections and facilitate more engaging experiences for the public. So when I serendipitously met Emily Ricketts (a conservation intern in the Ceramics, Stone, and Glass Lab), I jumped at the chance to feature this department on our blog. In establishing this new connection, I was introduced to her friend, colleague, and classmate, Natasa Krsmanovic. After spending much of my day with the lovely Natasa in the paper conservation lab, I learned about many interesting conservation practices.

Intern Profile
Natasa is a Paper Conservation Intern at the ROM, under the supervision of Senior Conservator, Janet Cowan.
Upon completing her internship at the ROM, she will be entering her second year of her Master of Art Conservation at Queen's University.
She graduated with a Bachelor of Arts in Art History, also at Queen's University.
She began her undergraduate degree with the intention of pursuing studies in Pharmacy, but after completing an elective in Art History she promptly changed majors. She discovered that art and paper conservation combined her two favourite subjects (art and chemistry) thus directing her attention to this vital profession.
She volunteered as a Docent at the Agnes Etherington Art Centre.
She also worked in Education and Programming at the Union Gallery at Queen's University as a SWEP Intern (read page three of the August 2011 gallery publication for more details). She developed activities for kids that explored connecting themes of place and identity within the exhibition through the process of making maps. This hands-on activity helped engage participants with the works on display.

Role of the Paper Conservator
Natasa emphasized that her interest in the materiality of objects and her love for drawings, albums, books, and prints is what inspired her passion for paper conservation. By studying the history of paper and art production—including techniques, skills, and supplies required for paper-making, painting, printmaking, and drawing—conservators have a more comprehensive understanding of the material properties of an artefact. She explained that much can be uncovered through close examination of objects, as its historical context is often preserved and embodied within its materiality and method of production. In determining the original intended use, conservators can devise an appropriate treatment process that considers the distinct needs of individual artefacts.
Natasa also emphasized that conservators consider a number of factors before moving forward with a treatment process. For example, conservators will devise an appropriate approach depending on the institution's intended use of the object. Whether or not the object will be stored in collections, used for research, or be put on display, influences the course of action. Often, preservation of the object can be done with little or no interventive treatment by simply improving storage conditions.
Conservators must think critically when deciding on the course of treatment, as they cannot compromise the historical integrity of artefacts or cause any additional physical damage. Because paper is an absorbent material, it can react with moisture quite readily. Every object, however, is unique and its material nature is studied closely. Natasa explained that moisture content in paper can fluctuate depending on the relative humidity of a room, and conservators are very aware of these types of details. This intimate understanding of objects ultimately helps inform their decisions. When performing tasks, like tear repair for example, conservators follow best practices and are mindful of the materials they use as all repairs should be reversible. As a result, paper conservators are cautious and critical when considering treatment options. As advocates for artefacts, it is their ethical responsibility to determine what is best for the object, based on evidence extracted from examination of the object's material properties. They must equip themselves with the necessary information and expertise that will ensure a successful treatment process.
Use of Technology in Paper Conservation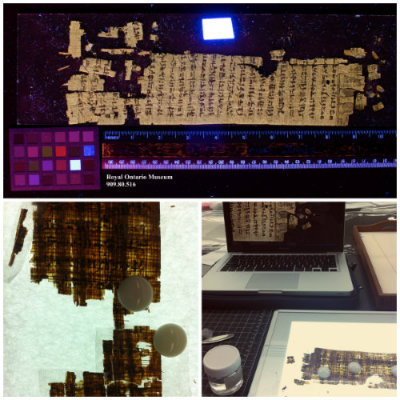 In order to uncover as much information as possible during the examination process, Natasa uses various photographic techniques and technologies.
The use of reflective light enables her to capture images in true colour as the raking light (oblique or parallel light source on an object) illuminates the 3-dimensionality of the object (i.e. texture of paper, build-up of paint layers, cockling, creasing, etc).
The use of ultraviolet light helps identify mould growth, staining, adhesive residue, etc.
Transmitting light through paper objects can identify watermarks, the type of paper (machine-made or hand-made), deformations within the paper structure, and can facilitate a detailed image of fibre orientation.
Natasa's Treatment Projects at the ROM
F.A. Hopkins, "Panoramic View of Horseshoe Falls", 1867, watercolour on paper, 976.148.3
Task/Issue: To safely remove the adhesive lined along the back of the watercolour painting. In doing so, this would alleviate the tension that has caused distortion of the paper.
Treatment: Natasa applied a poultice (a soft aqueous gel) to soften the adhesive. This enabled her to gently lift the adhesive off the back of the watercolour without damaging the object. Once the adhesive residue was removed, the watercolour was gently humidified to relax the paper fibres and to flatten.
Visit this watercolour in the Wilson Canadian Heritage Gallery during the Brushing it in the Rough: Frances Anne Hopkins exhibit. Follow the ROM's Twitter & Facebook for exhibition opening details.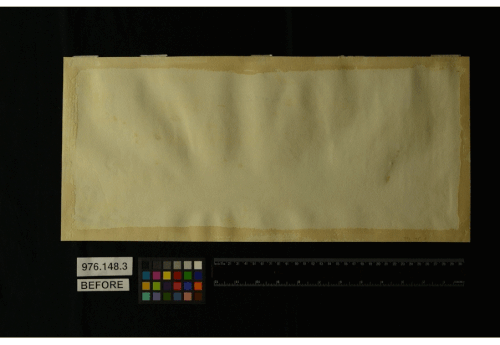 The stages of the treatment process—before (back); poulticing; humidifying; after (front & back);
hinging and matting for exhibit. Photos 1-5 by Natasa Krsmanovic; Photo 6 by Jaime Clifton-Ross
Papyrus fragment from a Book of the Dead (ancient Egyptian funerary manuscript), date unknown, purchased by Dr. Currelly in Egypt, 1907-09.
Task/Issue: This fragmented papyrus was incredibly brittle, loose, and fragile and necessitated treatment for future preservation. It was also requested for scholarly study. After careful consideration, the fragments were re-aligned and supported by lining them with thin, lightweight (yet durable) Japanese tissue to prevent further breakage. The fragment Natasa worked on was so vulnerable and lightweight that she felt it necessary to wear a mask during her treatment, as the slightest puff of air could lift the fragments. See the video bellow to watch a similar treatment of a Book of the Dead completed at the ROM.
Treatment: Because the papyrus is water sensitive, Natasa employed a non-aqueous (water-free) treatment method to stabilize and realign the fragments of the artefact. She needed to select an adhesive that embodied appropriate working properties and chose an alcohol soluble adhesive with low viscosity—which established a durable bond without altering the appearance of the document.
Step 1: She fashioned small 'bandages' (referred to as facings), made from strips of tissue and the adhesive, to hold the fragments in place on the recto (front).
Step 2: Once the fragments were held together, the object was carefully turned over to expose the verso (back).
Step 3: Natasa then placed a large piece of tissue on the verso to line the entire fragment. Working quickly, she then gently applied the adhesive—which penetrated through the thin tissue and made contact with the papyrus.
Step 4: Once the adhesive had set, she carefully turned the papyrus over and removed the facings from the front of the fragments. She did so by applying an alcohol-based solvent with a brush and then carefully lifted the facings with tweezers.
Final Step: Natasa will attach the papyrus along the edges of the tissue lining to a secondary support for storage.
Map from "Wanderings of an Artist among the Indians of North America", ROM Library Collection, Rare Books, by Paul Kane, 1859.
Task/Issue: To treat and re-attach a fold-out map in a book for exhibition. The spine of the book must be supported while treating the map.
Treatment: Perform light surface cleaning, gently humidify and flatten the map, complete minor tear repairs using Japanese tissue, and finally reattach the map using an appropriate adhesive.
This book will be on display in the Canada First Peoples Gallery during the upcoming Paul Kane exhibit.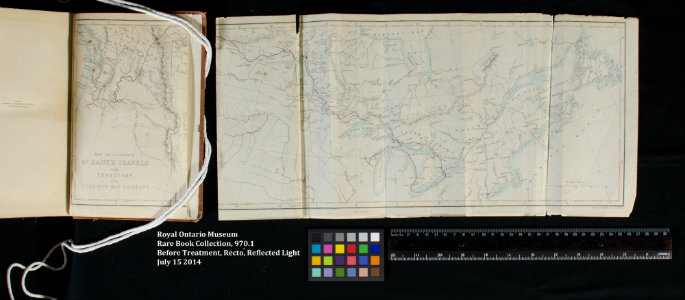 We wish Natasa all the best of luck in her second year of studies and in her future endeavours!
SPECIAL NOTICE
We are currently experiencing intermittent issues with our voicemail system. We thank you for your patience. If you are trying to leave a voicemail, please email your question to info@rom.on.ca and we will get back to you as soon as possible.