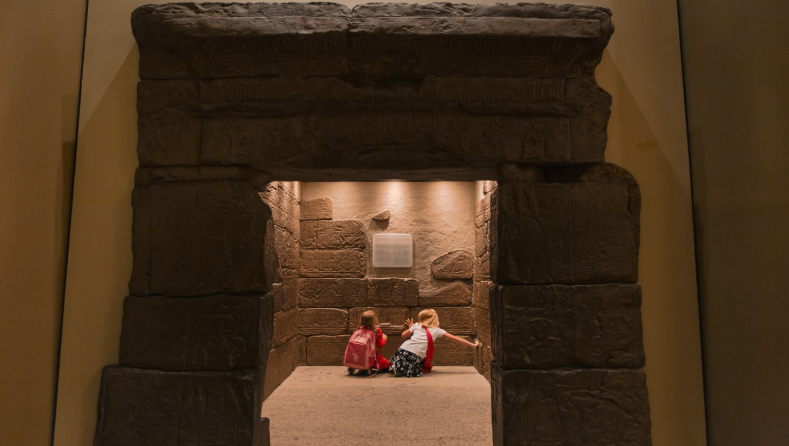 TORONTO, March 9, 2022 – After two years of endless screentime, kids are hungry for adventure, and ROM (Royal Ontario Museum) has plenty of that. With an exciting March Break line up of exhibitions and fun activities scheduled from Saturday, March 12 to Sunday, March 20, there are lots for visitors of all ages to enjoy and discover. The Museum will be open every day during March Break from 10 am to 5:30 pm.
Activity Stations
Fun and family-friendly activity stations will be located throughout the Museum. Between learning ancient writing to drawing real-life ROM specimens, kids will have plenty of activities to keep them engaged. The drop-in stations, included with general admission, operate between 10:30 am to 4:30 pm.
How do you feel about the future? Explore how art is an inherently impactful form of expression with this mini drawing activity station.

What is the Year of the Tiger? Learn about East Asian zodiacs and create a quick and easy mini tiger at the Origami Station to keep you company as you adventure through the Museum!

Do Dinosaurs still exist? Uncover the evolution of animals and the connection between dinosaurs of the past and our modern-day bird friends.

Ancient Writing Touch Table and Activity: Discover the importance of the invention and evolution of writing systems around the world.

Where did all the colour go? Learn how colour was used in Ancient Greece and Rome and colour your own marble statue with our free print outs.

Earth Rangers Studio: Get up close to real-life specimens and draw a picture of one of them to take home.

Hands-on Biodiversity Gallery: Curiosity Zone: Visit the two discovery boxes: "Match a sound" and "Dino Finds", where you use your senses to investigate and play.
Movie Screening: Dino Dana The Movie
Between March 14-18 visitors will be able to enjoy daily screenings of Dino Dana The Movie, presented by Sinking Ship. This is a 25-minute version of the movie that tells the story of 10-year-old Dana, who sees dinosaurs in the real world, and in the company of her older sister and neighbours go on a journey bigger than anything they have ever faced.
Hike the ROM
Hike the ROM offers walking trails through three floors of galleries. Visitors can pick up their Walk on the Wild Side or Eternal Life Trail Guides at both entrances of the Museum and head off on a fun, step-filled adventure. Learn More. Included with general admission.
Special Exhibitions, Galleries, and Installations
During March Break, there are lots to discover in ROM's galleries, special exhibitions, and installations.
Willner Madge Gallery, Dawn of Life: ROM's newest gallery brings the dawn of life to life. From the earliest microbes to the emergence of dinosaurs and mammals, Dawn of Life is a thrilling interactive journey through nearly four billion years of evolution. This gallery is included with general admission.
Great Whales: Up Close and Personal immerses visitors in the unique world of these majestic sea giants. The exhibition displays three real whale skeletons—the sperm whale, the blue whale, and the North Atlantic right whale—combined with fascinating science and large-scale audio and video experiences.
Wildlife Photographer of the Year features images from the longest-running and most prestigious nature photography competition in the world. This exhibition is organized and presented by the Natural History Museum (NHM) in London.
The rare Kore 670 statue has travelled from the Acropolis, in Athens, to Toronto and will be on display for a very short time before returning home. Considered a Greek masterpiece, the sculpture was buried for more than 2,000 years before being re-discovered. This installation is included with general admission.
Swapnaa Tamhane: Mobile Palace: This bold and immersive exhibition features three large, cotton cloth installations created from long lengths of printed and embroidered fabric, inspired by Mughal and Ottoman tents used as mobile palaces. This exhibition is included with general admission.
Visitors can also enjoy Unmasking the Pandemic: From Personal Protection to Personal Expression, and #MyPandemicStory: Youth Create Portraits of a Pandemic free of charge.
Distance Discount
Visitors coming from around the province can take advantage of a limited-time offer that gives Ontarians living in postal codes starting with the letter L a 20% discount, starting with the letters N and K a 30% discount and starting with the letter P a 40% discount. The offer is valid until March 20, 2022. Learn more.
More News for March
New operating hours as of March 22
Following March Break, starting on March 22, 2022, the Museum's new expanded operating hours will be Tuesdays to Sundays from 10 am to 5:30 pm.
Free Wednesdays for Post-Secondary Students move to Tuesdays
Tuesday, March 15, will mark the first week when the free day for post-secondary students moves from Wednesdays to Tuesdays. Full-time students attending a Canadian college or university just need to show a valid school ID to access the Museum. Learn more about all types of complimentary admission, including the Daphne Cockwell Gallery dedicated to First Peoples art & culture, which is free-of-charge every day.
-30-
CONTACTS:
ROM Communications
media@rom.on.ca
ROM Social Media
Instagram: @romtoronto
Facebook: @royalontariomuseum
Twitter: @ROMToronto
ABOUT ROM
Opened in 1914, Royal Ontario Museum showcases art, culture and nature from around the world and across the ages. Among the top 10 cultural institutions in North America, Canada's largest and most comprehensive museum is home to a world-class collection of 13 million art objects and natural history specimens, featured in 40 gallery and exhibition spaces. As the country's preeminent field research institute and an international leader in new and original findings, ROM plays a vital role in advancing our understanding of the artistic, cultural and natural world. Combining its original heritage architecture with the contemporary Daniel Libeskind-designed Michael Lee-Chin Crystal, ROM serves as a national landmark, and a dynamic cultural destination in the heart of Toronto for all to enjoy.