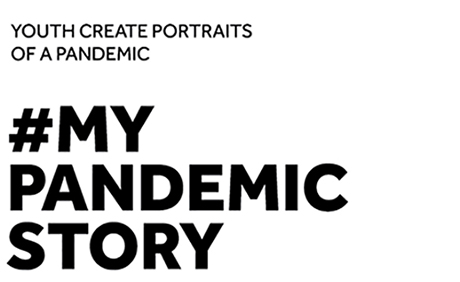 October 23, 2021

to

September 5, 2022
Level 1, Coat Check Area (via Bloor St Entrance)
New ROM-original exhibition captures history while it's being made.
About
In spring 2021, ROM launched #MyPandemicStory with a call for Ontario youth aged 4-18 to reflect on and express their experiences of the pandemic through a work of art in any medium. Between April and June 2021, #MyPandemicStory received over 2,300 submissions for consideration for ROM's first crowd-sourced exhibition, one of the few pandemic-related exhibitions worldwide to focus on children's points of view.
Working with a panel of external advisors with expertise in clinical psychology, education, mental health, media, the arts, and more, our exhibition team reviewed and selected 60 artworks for the physical exhibition that, together, form a stirring portrait of the complex journeys young people have experienced during the pandemic. Honoured by the overwhelming response and inspired by the artistry of the works and candour of those who submitted, all submissions will be displayed in a digital gallery in the exhibition, inviting visitors to experience all the remarkable works of art created.
Through a variety of media—written word, song, dance, sculpture, paintings, drawings, and performance art—Ontario's kids and teens have shared their stories of what it's been like to live through the pandemic. With content-driven themes that speak to struggle, loss, frustration, hope, and more, this free, ROM-original exhibition shines a light on a unique perspective and voice in these unprecedented times.
#MyPandemicStory: youth create portraits of a pandemic is free to the public. No admission is required.
Browse all 2,300 submissions in the #MyPandemicStory Digital Submission Gallery.
Highlights
Frequently Asked Questions
Will the artworks be returned?
All artworks in the exhibition will be returned to the artists. Some artworks may be considered for inclusion in the Museum's collections.
Will you add the artworks to your collection?
Some of the artworks may be considered for inclusion in the Museum's collections. We will reach out to those artists directly. Otherwise, all artworks will be returned to the artists when the exhibition is complete.
When will the exhibition open?
The crowd-sourced exhibition is scheduled to open on October 23, 2021 and is free for all to visit. It will be open until spring 2022.
Will artists of selected works receive complimentary tickets to see the exhibition?
This exhibition is free to all. It will be displayed inside the Bloor Street entrance zone, before paid admission. Anyone can enjoy it for free and bring their friends!
What about my family members and friends who can't make it to the ROM? Is there an alternative way to see the exhibition?
Yes! We will be posting all artwork submissions on the website. Stay tuned for the URL, which will launch at the same time as the exhibition, on October 23, 2021.
What if the Museum isn't open? Or I want to view the exhibition, but I'm not comfortable visiting indoors?
This special exhibition is being planned as both an in-person and digital experience. Featured work will be displayed in cases on the first floor of the Museum in a dedicated area (free to the public), while the ROM website will feature all submitted artworks in a digital gallery.