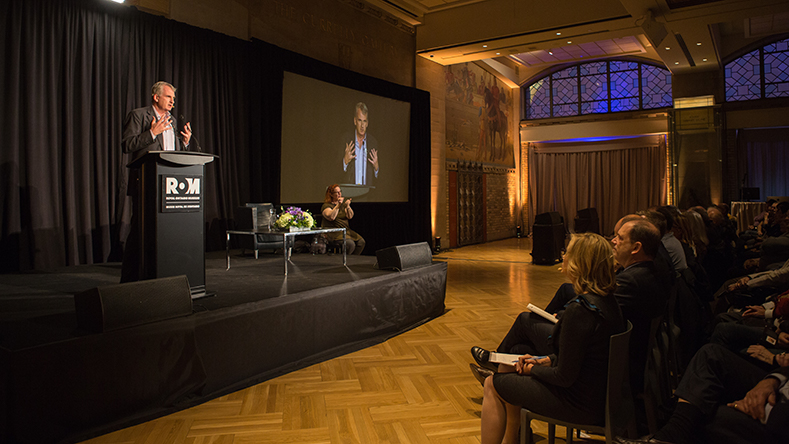 "The Eva Holtby Lecture wants speakers on contemporary culture asking the questions why and why not. Our goal is for this to encourage conversation, empathy and understanding which leads to stronger civility in a community."
- Christopher Holtby
The Annual Eva Holtby Lecture on Contemporary Culture brings powerful voices to the Royal Ontario Museum to discuss provocative and engaging contemporary ideas.
Since its launch in 2006 with Adam Gopnik as the inaugural lecturer, the Holtby Lecture has been presented by Kwame Anthony Appiah, Glenn D. Lowry, Lewis H. Lapham, Henry Louis Gates Jr., Carlos Fuentes, Ingrid Betancourt, Anthony Gormley, Bob Colacello, Sheika Hoor al-Qasimi, Jameel Jaffer, Timothy Snyder, Jesse Wente and Laurie Anderson.
The Eva Holtby Lecture is generously supported by the Holtby and Schury Families.
---
Past Holtby Lectures
Holtby Lecture 2019: Laurie Anderson
All the Things I Lost in the Flood
In this rare public talk and performance, celebrated international artist Laurie Anderson presented an intimate look at her 40-year career spanning music, performance art, virtual reality, and multimedia installations. This high-profile evening presentation was paired with a two-week virtual reality installation of her work, To the Moon, in the Michael Lee-Chin Crystal Spirit House. This unique immersive experience was presented in partnership with the Royal Conservatory of Music's 21st Century Festival.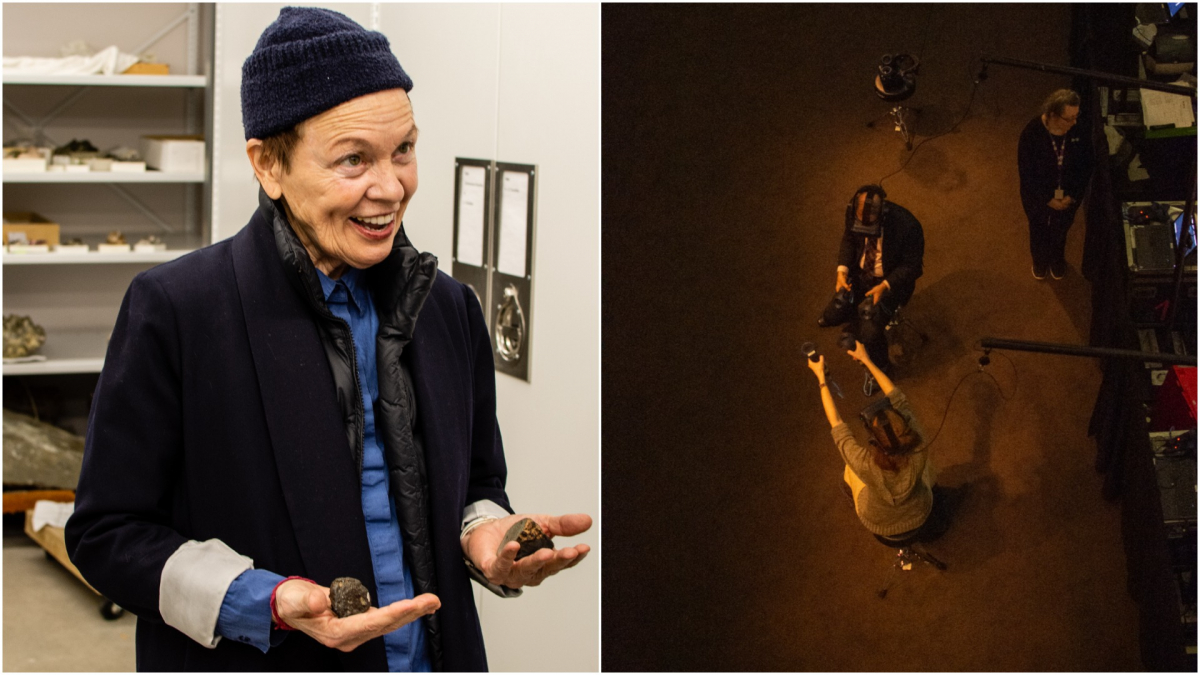 Holtby Lecture 2018: Jesse Wente
Towards 2067: Tracing an Indigenous Future in Canada
What kind of place will Canada be in 2067? In light of the Truth and Reconciliation Commission's recommendations, and as Canadians struggle to understand our past and foster a greater Indigenous presence in cultural leadership, what will life look like for Indigenous, Métis and Inuit peoples in 2067? Acclaimed broadcaster and cultural critic Jesse Wente (Ojibwe from Toronto, member of the Serpent River First Nation), Director of Canada's Indigenous Screen Office, discussed the current landscape and the way forward.
Holtby Lecture 2017: Timothy Snyder
The Fall of Democracy? The Rise of Modern Tyranny
They say history repeats itself, and today, the price of ignoring history has been to invite authoritarianism back into the mainstream. This year's Eva Holtby Lecture on Contemporary Culture, Yale University Professor Timothy Snyder, author of the bestseller On Tyranny explored how individual citizens can turn history into action to better defend democratic freedoms and institutions against the threat of tyranny. Following the lecture, Timothy Snyder joined Susan Ormiston of CBC's The National for an engaging conversation on the topic.
Holtby Lecture: 2016 Jamil Jaffer
Going Dark
Since 9/11, the impulse to protect "national security" has led democratic governments to become increasingly secretive. With many of their most consequential decisions—about war, interrogation, detention, and surveillance—being made behind closed doors, democratic governments are "going dark." Should we accept official secrecy as a necessary response to new security threats—or has official secrecy itself become a threat? With new wars abroad and new surveillance programs at home, the question is more pressing than ever. At the 11th Annual Eva Holtby Lecture on Contemporary Culture, constitutional lawyer and civil liberties advocate Jameel Jaffer explored the phenomenon of official secrecy and the legal, political, and social repercussions of allowing democratic governments to withhold information about national security policy from the public.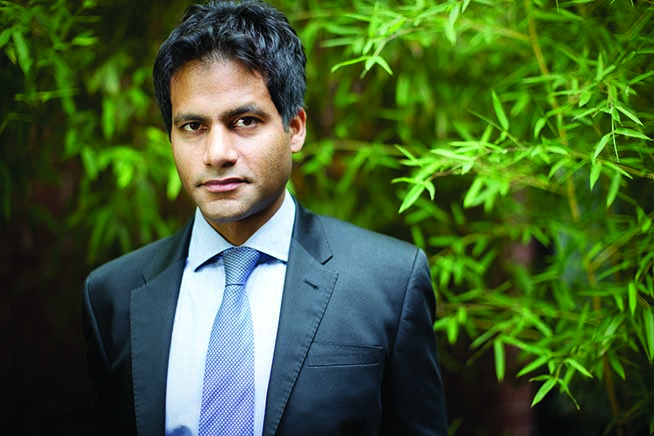 Holtby Lecture 2015: Sheikha Hoor al-Qasimi
Art and Culture in the Gulf
The 10th annual Eva Holtby Lecture on Contemporary Culture, was presented by guest speaker Sheikha Hoor Al Qasimi. Born in Sharjah, a state in the United Arab Emirates, Qasimi was not only shaped by its burgeoning artistic and cultural landscape, but she played an active role in redefining it. In this illustrated talk Qasimi explored the challenges and opportunities posed when injecting contemporary approaches into a region with a traditionally conservative culture to make Sharjah a globally recognized creative hub.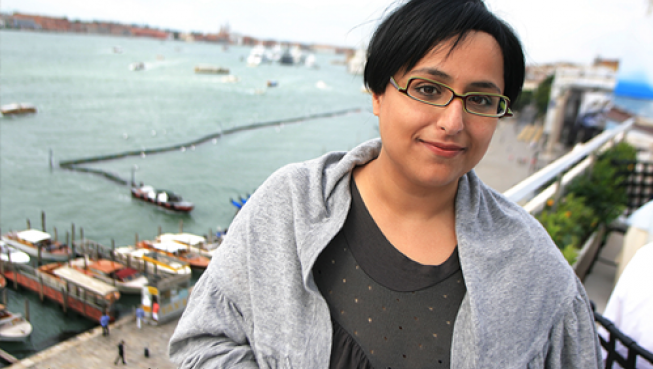 Holtby Lecture 2014: Bob Colacello
Warhol and Reagan: Architects of Change?
From 1971 to 1983, writer and journalist Bob Colacello edited Andy Warhol's Interview magazine and in 1984 he became the special correspondent for Vanity Fair. Colacello has written more than 100 profiles of prominent cultural, political and social figures including several books including Ronnie and Nancy: Their Path to the White House and Holy Terror: Andy Warhol Close Up. In Warhol and Reagan: Architects of Change?, Colacello recounted some of his personal experiences with Warhol and Reagan, and explored the profound differences and surprising similarities between the "Pope of Pop" and the "Great Communicator".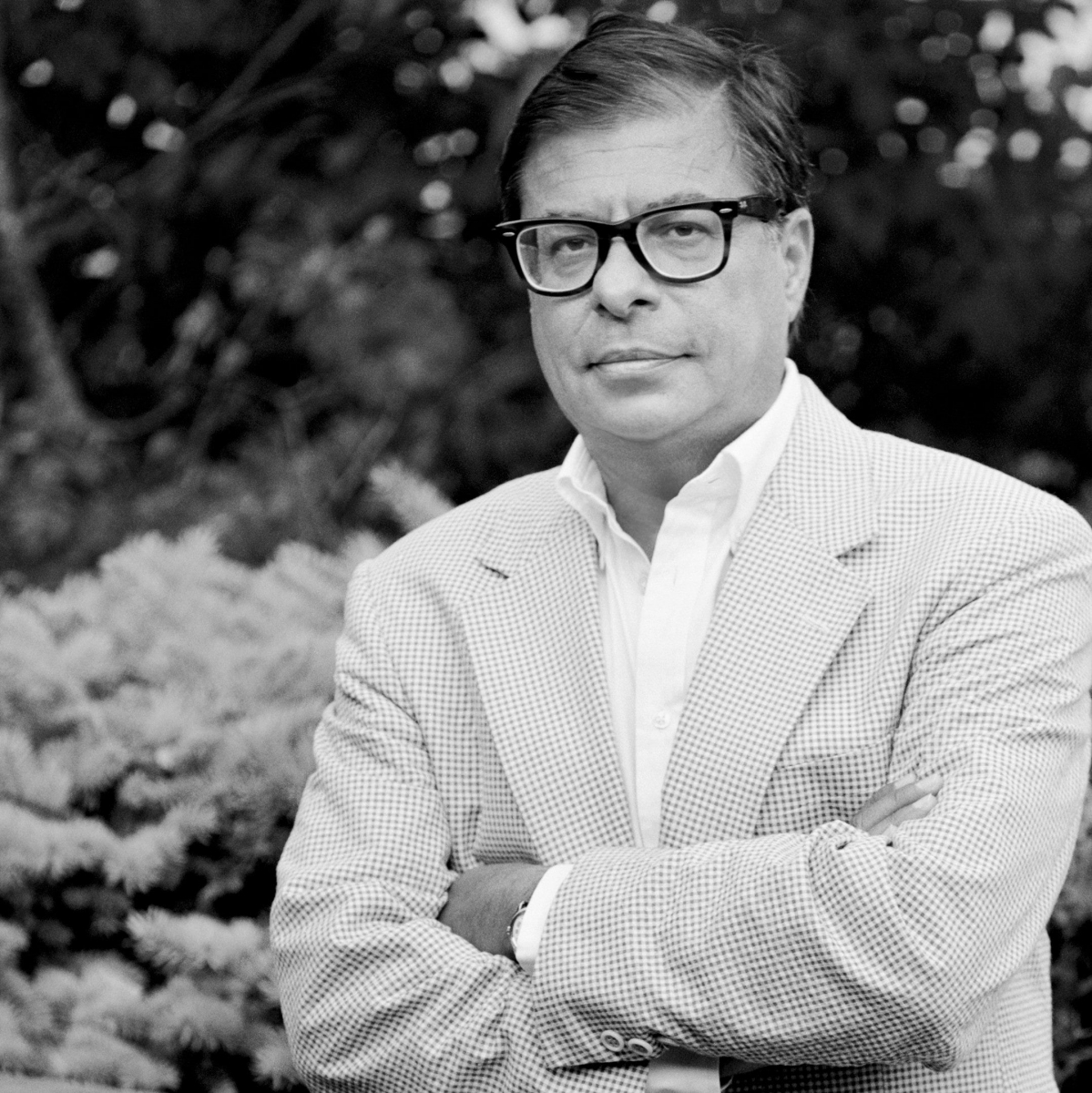 Holtby Lecture 2013: Antony Gormley
Art as Survival
ROM hosted acclaimed artist Antony Gormley as he discussed his own work and historical objects in order to consider art as a tool of survival at a time of global climate change.
Gormley is widely acclaimed for his sculptures, installations and public artworks that investigate the relationship of the human body to space. His work has developed the potential opened up by sculpture since the 1960s through a critical engagement with both his own body and those of others in a way that confronts fundamental questions of where human beings stand in relation to nature and the cosmos.
Holtby Lecture 2012: Ingrid Betancourt
Even Silence Has an End
Recipient of the French National Order of the Legion of Honour, and a nominee for the Nobel Peace Prize, Ingrid Betan­court was a presidential candidate in Colombia who was kidnapped by rebels in 2002 and held captive for six years. After her dramatic rescue, she was celebrated internationally as a symbol of human resistance and freedom, but not without some controversy.
Holtby Lecture 2011: Carlos Fuentes
Contemporary Mexico
Author, statesman and scholar Carlos Fuentes has defined the cultural, emotional and hereditary identity of an entire continent. The winner of Mexico's National Prize in Literature, the Miguel de Cervantes Prize (the highest honour for a Spanishlanguage writer), France's Legion of Honor and the Four Freedoms Award, he is recognized worldwide as one of the greatest literary and political figures of the Spanish-speaking world.
Holtby Lecture 2010: Henry Louis Gates Jr.
The Image of the African in Western Art [audio]
Acclaimed literary critic Henry Louis Gates Jr. was this year's distinguished speaker. Dr. Gates was the Director of the W.E.B. Du Bois Institute for African and African American Research at Harvard University, and was the host of the PBS television miniseries African American Lives.
Holtby Lecture 2009: Lewis H. Lapham
Celebrity in Contemporary Culture [audio]
Writer Lewis Lapham explored the theme of celebrity in modern society.
Holtby Lecture 2008: Glenn Lowry
Oil and Sugar: Contemporary Art and Islamic Culture
Holtby Lecture 2007: Kwame Anthony Appiah
The Politics of Culture, the Politics of Identity
Holtby Lecture 2006: Inaugural Lecture by Adam Gopnik
The Museum Today
Contact
---

ROM membership is your best value! Join now and save on selected programs and events.