April Hawkins
Technician (Archaeology of the Americas)
Interests: Toronto Archaeology, Birdstones, Archaeology of the entire Western Hemisphere
@aprilsMuseum
Bio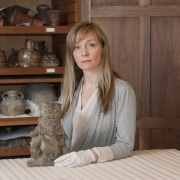 April Hawkins is an 18 year veteran of managing archaeological material culture in major museums, archaeology storehouses, and in the excavation trench. April has conducted archaeological reconnaissance since she was 16, and was first in her family to go to university, training at University of Illinois and Harvard. Sought out by Cultural Resource firms, the Army Corp of Engineers, the Smithsonian and other interesting archaeology museums, April has solved more than a few archaeological mysteries.


Currently April manages the Archaeology of the Americas collection at the Royal Ontario Museum, and recently engaged 26,000 visitors with her online exhibit based on Toronto archaeology, Toronto Underfoot, which subsequently grew into a gallery exhibit. With no apparent fear of failure April innovates with simple tools (such as Minecraft, LEGO and Google Maps) using creative problem solving to protect, reveal, and sometimes breathe new relevance into ancient objects. Handling ancient material culture daily, April witnesses on an intimate scale the unfathomable loss of cultural knowledge and ideological vision found in objects that were once encyclopedic reservoirs for cultures that had no written language.
See April's ROM Blog posts here and follow her on Twitter at @aprilsMuseum:
July 20, 2013: TVOkids came to visit!
Click image to see video!

Ontario Archaeology Links: