Fashion Follows Winning Form
Posted: June 15, 2015 - 15:13 , by
royal
The ROM's Fashion Follows Form exhibition, which was featured in ROM magazine in the Summer 2014 issue, has won The Richard Martin Exhibition Award, an annual award given by the Costume Society of America.
In her article "Fashion Follows Form: Patterning a Relationship Between Function and Fashion" for the Summer 2014 issue of ROM magazine, Alexandra Palmer, Senior Curator, Nora E. Vaughan Fashion Costume Curatorship, describes fashion as a "cultural construct." The manner in which we wear fabrics, colours, and shapes all speak to the way we identify ourselves. In Western culture, form is often favoured over function. To challenge fashion's role in society and its relationship to function, the ROM presented the Fashion Follows Form: Design for Sitting exhibition (June 2014 to January 2015) Curated by Alexandra Palmer.
The exhibition showcased Canadian designer Izzy Camilleri's IZ Adaptive Line, which is designed to cater to a clientele of wheelchair users. Camilleri's story began with Barbara Turnbull, who became quadriplegic following an armed robbery at a Mississauga convenience store (sadly Turnbull passed away on May 10, 2015 from complications related to pneumonia). Camilleri realized how poorly fashion designs are outfitted for wheelchair users. Simply, designs of conventional fashion is not created for the seated silhouette. She then created a stylish, easy-to-wear cape for Turnbull. Camilleri challenged traditional design methods by using a seated (L-shaped) silhouette, as opposed to the conventional standing (I-shaped) silhouette. This use of technology and new designs is part of a cultural evolution that can be likened to the 1880s when sprung crinoline bustles were used for dolmans, which were short, constructed capes that restricted a woman's movements.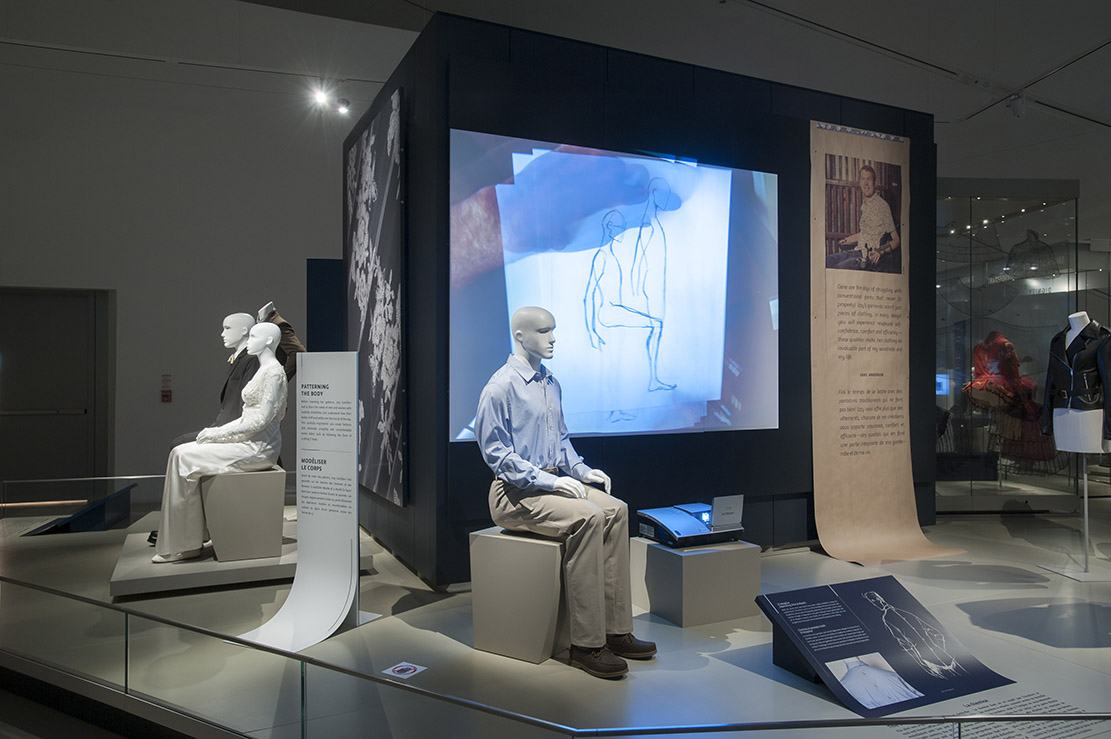 Remarkably, the Fashion Follows Form exhibition won the Richard Martin award by unanimous decision. One of the jurors referred to the exhibition theme as one of "social justice and human rights." The exhibition's text was also recognized as beautifully written and respectful of the audience.