Keynote coincides with the extension of the critically acclaimed exhibition Kent Monkman: Being Legendary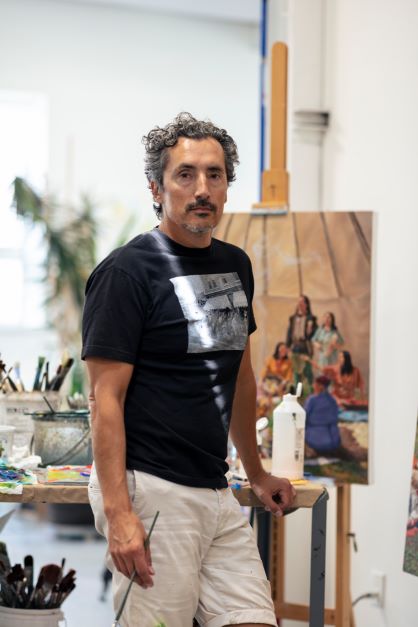 TORONTO, February 9, 2023 – Royal Ontario Museum (ROM) will present its 15th annual Eva Holtby Lecture on Contemporary Culture on March 22, 2023, featuring internationally renowned Cree artist Kent Monkman. In addition to the lecture, due to popular demand, Monkman's critically acclaimed solo exhibition has now been extended, running for an additional month through to April 16, 2023.
For the Holtby Lecture, Monkman will offer new insights into his artistic practice, delving into his creative vision and the inspiration behind the new artwork that features in the groundbreaking exhibition Being Legendary. In this rare public presentation, the celebrated visual artist will offer an in-depth look at his career to date and discuss the process of making this new body of work currently on display at the Museum.
Being Legendary features 35 paintings, the majority of which were created specifically for this exhibition, as well as new sculptures and etchings by the artist. Several years in the making, Monkman created these artworks in direct response to artistic and cultural belongings in the collection at ROM.
Kent Monkman joins a distinguished list of past speakers for the annual Eva Holtby Lecture, including Adam Gopnik, Kwame Anthony Appiah, Carlos Fuentes, Laurie Anderson, and Jesse Wente. With the series, ROM endeavours to drive public conversation by presenting challenging and enlightening talks about current ideas and events.
Kent Monkman's presentation for the Holtby Lecture will be followed by a reception along with the opportunity to visit the exhibition Being Legendary. The companion catalogue for Being Legendary, published by the Art Canada Institute, will be available for purchase at the event and features full-colour reproductions of the artworks from the exhibition. The event will take place in Samuel Hall Currelly Gallery, beginning at 7 pm, with tickets available from February 9, 2023 on the ROM website.
About Kent Monkman
Kent Monkman is an interdisciplinary Cree visual artist. A member of Fisher River Cree Nation in Treaty 5 Territory (Manitoba), he lives and works in Dish With One Spoon Territory (Toronto, Canada). Known for his thought-provoking interventions into Western European and American art history, Monkman explores themes of colonization, sexuality, loss, and resilience—the complexities of historic and contemporary Indigenous experiences—across painting, film/video, performance, and installation. Monkman's gender-fluid alter ego Miss Chief Eagle Testickle often appears in his work as a time-travelling, shape-shifting, supernatural being who reverses the colonial gaze to challenge received notions of history and Indigenous peoples. Monkman's paintings and installation works have been exhibited most recently at institutions such as the Metropolitan Museum of Art, the National Gallery of Canada, the Hayward Gallery, the Philbrook Museum of Art, and the Palais de Tokyo, among others.
About the Eva Holtby Lecture
The annual Eva Holtby Lecture on Contemporary Culture brings powerful voices to the Royal Ontario Museum to discuss provocative and engaging contemporary ideas. Since its launch in 2006 with Adam Gopnik as the inaugural lecturer, the Eva Holtby Lecture has featured Kwame Anthony Appiah, Glenn D. Lowry, Lewis H. Lapham, Henry Louis Gates Jr., Carlos Fuentes, Ingrid Betancourt, Anthony Gormley, Bob Colacello, Sheika Hoor al-Qasimi, Jameel Jaffer, Timothy Snyder, Jesse Wente, and Laurie Anderson. The Eva Holtby Lecture is generously supported by the Holtby and Schury Families.
ROM Speaks is generously supported by The Schmidt Family.
Image credits: Kent Monkman Studio / Michael Seleski.
-30-
CONTACTS:
ROM Communications
General inquiries: media@rom.on.ca
For further information: Sophie von Hahn, Senior Publicist, svhahn@rom.on.ca
ROM Social Media
Instagram: @romtoronto
Facebook: @royalontariomuseum
Twitter: @ROMToronto
ABOUT ROM
Opened in 1914, ROM (Royal Ontario Museum) showcases art, culture, and nature from around the world and across the ages. Today, ROM houses more than 13 million objects, from Egyptian mummies to contemporary sculpture, from meteorites to dinosaurs. ROM is the most visited museum in Canada and one of the top ten museums in North America. It is also the country's preeminent field research institute, with a diverse range of experts who help us understand the past, make sense of the present, and shape a shared future. Just as impressive is ROM's facility—a striking combination of heritage architecture and the cutting-edge Michael Lee-Chin Crystal, which marks the Museum as an iconic landmark and global cultural destination.
We live on in what we leave behind.