Kent Monkman: Being Legendary
October 8, 2022

to

April 16, 2023
Level 3, Third Floor Centre Block
About
This exhibition is included with General Admission. ROM offers free admission for Indigenous peoples.
Tour Kent Monkman: Being Legendary with Indigenous Educators every Saturday and Sunday at 10:30 am, 12:30 pm, and 2:30 pm.

This is my story. Some of it is true. Much of it is truer than your truth.
This âcimowin—this story that carries history and knowledge—begins in the stars and is about the land. We've been here for so long. There is too much to tell, and much I cannot say.

Those of you who are our people know that we have many different kinds of stories, for learning, to guide us forward, sacred stories, and of course âcimowina, true accounts like this one (although I do like to add a little something extra to make my stories more interesting). Our stories and language hold the knowledge that our peoples have carried since the beginning of time, before the light, before the first sound, before the land we stand on—the rock, the mountains, valleys and plains, oceans, lakes and rivers. Our stories honour the past and guide us forward.

I am Miss Chief Eagle Testickle. I am fluid with many forms. I am legendary. This is my story. Some of it is true. Much of it is truer than your truth. It is the âcimowin of our peoples. It is also your story, for we are all relatives.

--Miss Chief Eagle Testickle
Curated by Cree artist Kent Monkman, Being Legendary presents an installation of new original paintings by the artist alongside cultural belongings from collections at ROM.
Interpreted by Monkman's shape-shifting, time-travelling, gender-fluid alter ego, the legendary being Miss Chief Eagle Testickle, the exhibition depicts how deeply Indigenous knowledge is embedded in the lands of Turtle Island. Cree and other Indigenous peoples have carried this knowledge in stories, songs, and artworks since time immemorial.
Through the power of storytelling, Miss Chief Eagle Testickle reframes the forced interruptions of the colonial project on Turtle Island and honours leaders in the community who shine a light forward for future generations.
Being Legendary is inspired by cultural belongings in the Museum's permanent collections. The artist acknowledges the support of ROM in realizing the exhibition.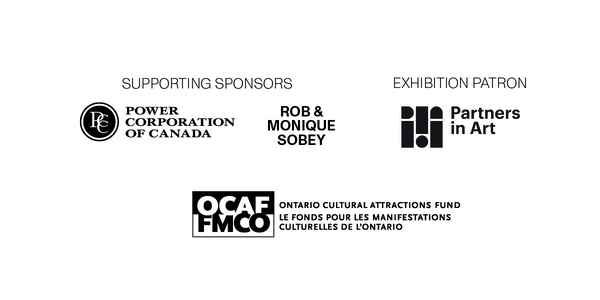 This exhibition has been financially assisted by the Ontario Cultural Attractions Fund a program of the Government of Ontario through the Ministry of Tourism, Culture and Sport, administered by the Ontario Cultural Attractions Fund Corporation.
With additional support from the Phyllis Lambert Foundation.
This exhibition is generously supported by the Royal Exhibitions Circle
Image 1: Kent Monkman, Study for I Come from pâkwan kîsic, the Hole in the Sky, 2022, Acrylic on canvas, 36" x 27", Image courtesy of the artist. Image 2: Kent Monkman, Study for the Escape, 2021, Acrylic on canvas, 60" x 40", Image courtesy of the artist. Image 3: Kent Monkman, Study for the Sparrow, 2021, Acrylic on canvas, 29" x 24", Image courtesy of the artist.Image 4: Kent Monkman (b. 1965). Battle of the piyêsiwak and the misipisiwak, 2022, Acrylic on Canvas, 51" x 72". Image 5: Kent Monkman, Compositional Study of Our Stories Come from the Land, 2022, Acrylic on canvas, 60"x 52.5". Image 6: Kent Monkman Studio/Michael Seleski