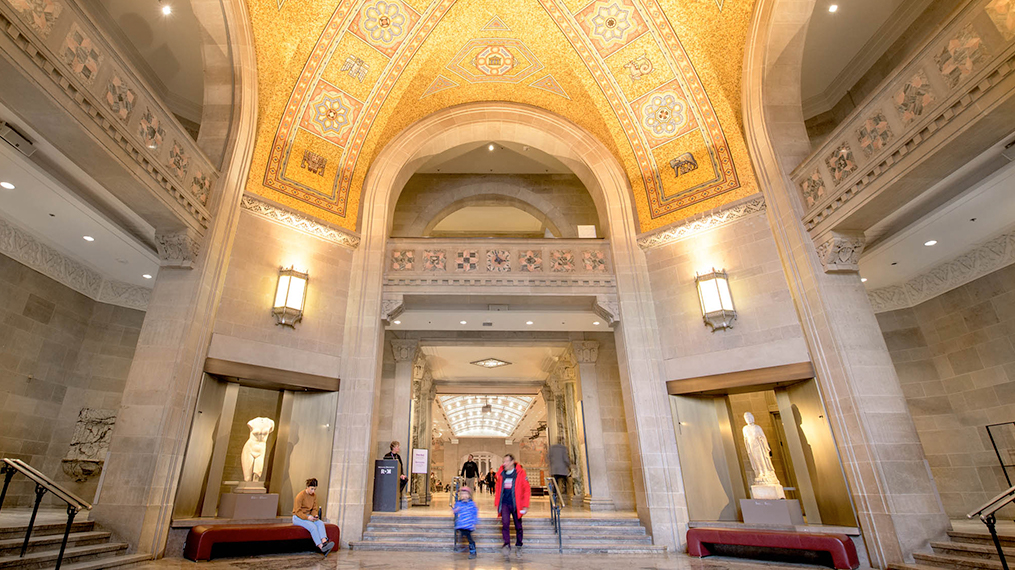 Admission to the Museum is time-ticketed and dependent on building capacity. Buying tickets online in advance is highly recommended to guarantee a time slot for your visit.
What You Need to Know Before You Visit
Museum Hours: Tuesday to Sunday, 10:00 am to 5:30 pm
Free Main Floor: This summer, our free spaces just got bigger! Some restrictions apply.
Ticketing
Admission to the Museum is time-ticketed and dependent on building capacity. Buying tickets online in advance is highly recommended to guarantee a time slot for your visit.
Members Ticketing – Members are encouraged to reserve timed tickets online ahead of visiting. These tickets are free for Members, but reserving ahead helps ROM to manage visitor flow and capacity within the building. Members who arrive without a timed ticket may be required to wait for the next available entry time. Book MEMBER Tickets online.
CityPASS guests will require a timed-ticket. First, purchase CityPASS online for immediate, paperless mobile delivery. Next, follow the link on your purchase confirmation or click here to reserve your visit date & time
Museum Conduct
All persons visiting the Museum are subject to ROM's Code of Conduct
All persons entering ROM are subject to video surveillance.
Visitors are asked to refrain from shouting, running and disruptive behaviour.
Profane language is not permitted.
Visitors are required to wear proper attire. Shirts and shoes must be worn at all times.
Children 14 years of age or younger must be accompanied by an adult.
Please turn your cell phone to the "silent" or "vibrate" setting and be considerate of other visitors when using your phone. Use of cell phones in special exhibitions may be restricted.
Touching objects on display is not permitted. Even mild touching, over time, will cause damage to artifacts.
Pets are not permitted in the Museum. Service animals, such as seeing eye dogs, are exempt.
The Museum is a smoke free property. Smoking, vaping, and the use of cannabis are not permitted on ROM property, both inside and out.
Closing of the building begins 15 minutes prior to the stated times.
Bags, Backpacks, Baby and Personal Items
Visitors are encouraged to leave valuables, large bags, and other personal belongings at home. For the safety of our visitors and collections, the following protocols are in effect:
All bags entering the Museum, including purses, are subject to inspection.
Large backpacks must be carried at your side to avoid putting museum objects at risk. When worn, backpacks extend your personal space, making accidents more likely.
Backpack-style child carriers, wagons, or other pull vehicles are not permitted in the Museum.
Full size umbrellas are not permitted in the Museum.
Collapsible umbrellas are permitted, provided they can be carried in a pocket or small bag.
Musical instruments may not enter galleries and must be checked at the entrance. Visitors are encouraged to leave musical instruments at home.
Special exhibitions may have additional restrictions.
Baby bags for baby needs are allowed, however, are subject to inspection.
Strollers & Safety
Strollers are allowed everywhere in the Museum.
On very busy days, oversized strollers may not be allowed.
Be aware of low ceilings throughout the Museum; please do not carry children on your shoulders.
Prohibited Items
The following items are not permitted in the Museum at any time:
Paints and aerosols
Indelible markers
Weapons of any type
Any item prohibited under the Criminal Code of Canada
Any item deemed by ROM Security to be inappropriate
The Museum reserves the right to amend the above restrictions without notice.
Make the Most of Your Visit
What to Expect at the Museum
Visit Accessibility for more information on Museum accessibility.
Dinosaurs and Mummies are always a hit with families. Make your visit fun for the whole family – ask children to talk about what they see and like.
What fountains and water bottle filling stations (bottles not provided) are available on all levels
Some touchables and interactives may be temporarily offline for maintenance and/or updating.
Druxy's ROM Cafe and Coffee Bar are open Tuesday to Sunday, 11 a.m. - 4 p.m.
ROM Boutique is open Tuesday to Sunday, 11 a.m. - 6 p.m.
Health & Safety
For First Aid or lost and found articles, please approach any Museum staff member, and ask for assistance.
Take frequent breaks with young children – there are seating areas throughout ROM.
There are hand sanitizer stations throughout the Museum.
Antimicrobial Copper at ROM
Copper is a good conductor of heat and electricity, which helps the Museum start up and go each day. But copper also helps things slow down and stop, like the spread of harmful bacteria and viruses. ROM has installed copper hardware and fixtures in high-touch, high-traffic areas, where its natural antimicrobial properties help reduce the spread of infection to keep our visitors exploring safely.
Antimicrobial copper installations were fully funded by Teck Resources Limited, as part of its Copper & Health program.
Gallery Closures
The CIBC Discovery Gallery is temporarily closed.
The Sigmund Samuel Gallery of Canada is currently closed. Please watch for updates on the future development of a new gallery for Canadian art and culture
The area that housed the Japan and Herman Herzog Levy galleries is currently under redevelopment. Please watch for a new installation of Japanese art and culture soon.
Photography
Photography with flash and video recording is permitted in most permanent galleries for personal use only, with hand-held equipment.
The use of selfie sticks, tripods, monopods, etc. is not permitted.
Photography may not be permitted in special exhibitions. Signs will be clearly posted in galleries where photography restrictions are in effect.
Limitation of Liability
While ROM continues to adhere to health and safety guidelines to keep you safe, an inherent risk of exposure to the transmission of viruses such as COVID-19 exists in any public place where people are present. By being in public spaces like ROM, you voluntarily assume the risks related to exposure.
---
SafeTravels Stamp
ROM has been awarded the SafeTravels Stamp by the World Travel & Tourism Council for adopting health and hygiene global standardized protocols.