World-renowned Nature Photography Competition Announces 2017 Wildlife Photographer of the Year Winner
Posted: October 18, 2017 - 13:33 , by
royal
Categories:
None | Comments () |
Comment
South African photographer Brent Stirton was named Wildlife Photographer of the Year by a panel of international judges for his image Memorial to a Species. Mr. Stirton's winning image of a black rhino, killed by poachers in South Africa's Hluhluwe Imfolozi Park, was chosen from among almost 50,000 submissions from around the world.
The ROM will showcase this image and dozens of other winning entries in this year's Wildlife Photographer of the Year exhibition from December 16 to March 18.
A PHOTOGRAPHER'S JOURNEY
Submitted by Mr. Stirton as part of a portfolio titled Rhino Horn: Ongoing Atrocities, Memorial to a Species is one of six photographs documenting aspects of this illegal trade banned more than 40 years ago. He set out to explore human attitudes on both sides of the rhino horn trade. Capturing events of brutality and defiance, but also of compassion and commitment.
The photo, a single male black rhino, lying dead. An autopsy later found that the poachers' first bullet failed to kill the rhino, which ran a short distance before a second bullet took its life. The rhino's appalling death is only augmented by the yawning hole where its horn should be.
Jasper Doest, a juror for the competition, said it is the responsibility of photographers to show this kind of imagery for the sake of conservation efforts. "With this particular image the photographer succeeded not only in documenting this important issue but also in adding an incredible sense of empathy towards this animal, which is one of the most important ingredients you could possibly give a photograph in order to get through our thick skins and make us care."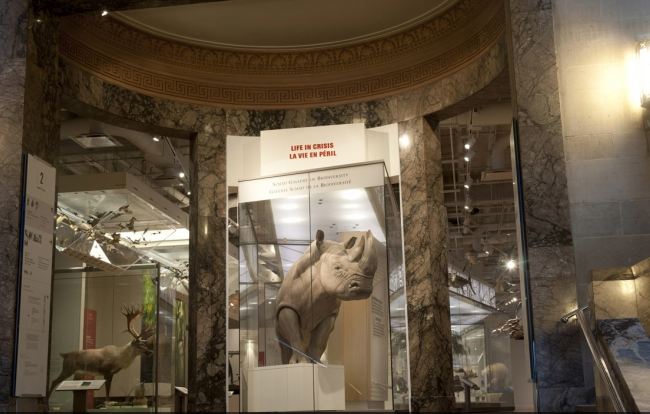 ROM AND THE RHINO
The winning image is particularly noteworthy for the ROM, which has a major focus on conservation efforts in general and a storied history with the rhino in particular. In 2009, a white rhino named Bull was placed at the centre of the Museum's new Life in Crisis: Schad Gallery of Biodiversity as a symbol of successful conservation efforts. In 2007, his species was thriving as the result of collaborative conservation efforts such the establishment of wildlife preserves and captive breeding programs in zoos.
Today, however, the species is again threatened as severe poaching levels turn into a national disaster for South Africa. Over a thousand rhinos were killed there last year by poachers looking to sell their horns to wealthy Vietnamese and Chinese consumers, who use them to treat illness -- despite scientific study showing horns have no medicinal value. Despite these findings, rhino horns are worth up to $60,000 (U.S.) a kilogram, and the black market is in the multi-millions.
The white rhino, the most numerous of the world's rhino species, is now threatened because of its part in one of the world's most corrupt illegal wildlife systems.
Mark Engstrom, Senior Curator and Deputy Director of Collections and Research, said the ROM's presentation of Wildlife Photographer of the Year helps build greater public awareness about the plight of endangered species and the importance of wildlife preservation.
"As one of Canada's leading institutions of art, culture and nature, the Museum is committed to addressing important issues facing the world today," Dr. Engstrom said. "Biodiversity and the understanding of conservation is a prominent field of study at the ROM. Through our collections and research expertise, our aim is to inspire in others a deeper appreciation of our natural world."
---
The ROM stands with the International Union for the Conservation of Nature (IUCN) and its partner scientists, policy makers and Indigenous People, in condemning the illegal poaching of rhinoceroses for their horns. Learn more about the ROM`s research and conservation efforts around the world.