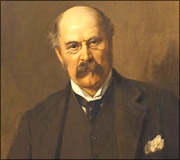 Sir Edmund Boyd Osler gave generously to foster the foundation and growth of the Museum.
Edmund Osler started his business career as a clerk in the Bank of Upper Canada. He later became president of several companies including the Ontario and Quebec Railway and the Dominion Bank, and a director of several companies including the Canadian Pacific Railway and the Canada North-West Land Company.
In 1892 he ran for Mayor of Toronto but was defeated by R. J. Fleming. In 1896 he was elected to the Canadian House of Commons as the Conservative representative of West Toronto. He continued to serve until 1917.
Osler was also interested in arts and travel. In 1906 to 1907, he was among several prominent Torontonians who paid a visit to Egypt where they met Charles T. Currelly, an archaeologist and the future director of the Royal Ontario Museum of Archaeology. Osler offered to help fund Currelly's project of making and colouring a copy of a temple wall that depicts Queen Hatshepsut's expedition to Punt.
Together with Sir Edmund Walker and others, Osler advocated for a museum of international stature in Toronto. In 1909, he used his political connections to help persuade the government of Ontario to fund the construction and operation of the ROM. He personally pledged $50,000 over five years to assist Currelly's collecting activities and donated a large collection of paintings by Paul Kane to the Museum in 1912.
The legacy of Sir Edmund Osler continues to inspire his descendents today. Great-grandson Wilmot Matthews and his wife Judy made a substantial contribution to the Museum to establish the Matthews Family Court of Chinese Sculpture, the entrance to which is named the Sir Edmund Osler Gate.