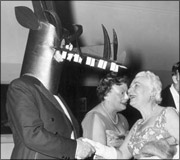 Many people have helped to build and shape the Royal Ontario Museum. Among them, are memorable philanthropists, donors, volunteers, directors and curators.
They have committed their time and financial resources to expanding the original vision of a provincial museum in Toronto to one with an international reputation for its collections, research, and exhibitions.
We acknowledge here a small number of the many people who have helped build and shape the Museum. View the profiles of these founders and Museum builders and check back for new profiles.