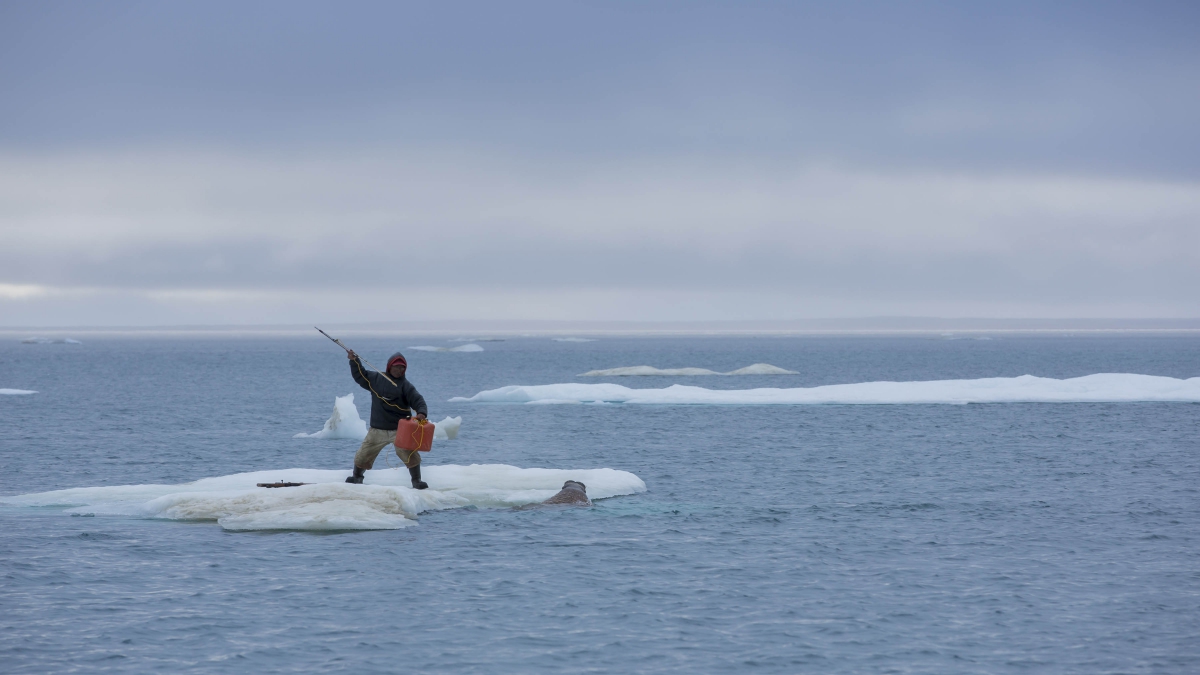 (Toronto, Ontario – August 28, 2013) ROM Contemporary Culture and the Cape Farewell Foundation present a visionary art exhibition, Carbon 14: Climate is Culture, curated by David Buckland and Claire Sykes. A culmination of a two-year project, the exhibition opens in the Roloff Beny Gallery and Thorsell Spirit House at the Royal Ontario Museum (ROM) on October 19, 2013 – February 2, 2014, as part of the Carbon 14: Climate is Culture Exhibition + Festival.
Cape Farewell began the project in November 2011, when artists, including film makers, poets and musicians, met with scientists, economists and other climate change professionals, to spark a creative dialogue on issues related to climate change. The resulting Carbon 14: Climate is Culture exhibition features 13 art installations, including seven new commissions by Canadian and international artists, from various disciplines, all confronting the facts of climate change and responding in powerful and creative ways.
"We are pleased to partner with the ROM for Cape Farewell Foundations' inaugural North American programming," says David Buckland, Founder and International Director of Cape Farewell. "Carbon 14: Climate is Culture explores themes of a changing Arctic, the health of oceans, biodiversity and extinction, sustainability and new, clean technologies; and central questions of politics, economics and ethics."
"Climate change is an issue, perhaps the most important issue of our generation, requiring partnerships and strong collaborators," says Dave Ireland, Managing Director, ROM Biodiversity. "And it has to be more than just scientists leading this charge - we need artists, communicators and educators engaged. That's why ROM's partnership with Cape Farewell and the Carbon 14: Climate is Culture exhibit is so vital."
Carbon 14: Climate is Culture Exhibition
The exhibition features: Global Warming, a soapstone and walrus bone carving, by Jaco Ishulutaq; Our Baffinland a new interactive iPad and photography installation, and Qapirangajuq: Inuit Knowledge and Climate Change, the first Inuktitut language film, both by Zacharias Kunuk and Ian Mauro; Kobe, a film by Félix Lajeunesse, and Paul Raphaël; Quniqjuk, Qunbug, Quabaa, a series of photographic portraits by Donald Weber; Deep Time, a new video project by Melanie Gilligan and Tom Ackers; The Potential Project, a new installation by conceptual artist, Mel Chin; #crazyweather, a new motion graphics piece by Sharon Switzer; Beekeeping for All, a new installation by architect Janna Levitt and artist Myfanwy MacLeod; Climate Change Atlantic, a new collaborative interactive iPad and photography installation by Ian Mauro, Craig Norris and Ben Phillips; The Silver Bullet, a new sculpture by David Buckland and Tom Rand; A Draught of the Blue, a new film by artist Minerva Cuevas; and The Unsolicited Reply, a new interactive light and sound installation by Lisa Steele and Kim Tomczak.
The ROM Member preview for Carbon 14: Climate is Culture takes place on October 18, 2013. For more information or to purchase a membership, visit www.rom.on.ca/members or call 416 586 5700.
The exhibition takes place as part of the Carbon 14: Climate is Culture Exhibition +Festival, a four-month program of satellite events, including music, performing arts, talks and special events.
ROM Contemporary Culture
Carbon 14: Climate is Culture continues on ROM Contemporary Culture's 2013/14 theme of Climate Change (#ROMClimate). ROM Contemporary Culture has partnered with ROM Biodiversity to encourage conversation and provide insight on this contemporary issue. This year, ROM Contemporary Culture looks at the relationship between nature and culture through the lens of climate change and poses the questions: How does the landscape change a culture? How does culture change a landscape? For more information, visit rom.on.ca/carbon14
Cape Farewell
Established by artist, British David Buckland in 2001, Cape Farewell has successfully bought together artists and scientists to address the realities of climate change and envision creative solutions, showcasing what a resilient and exciting future may look like. Cape Farewell is based in the Science Museum's Dana Centre in London, UK and its North American foundation is based at the MaRS Centre in Toronto. For more information, visit capefarewellfoundation.com/carbon14

The Carbon 14: Climate is Culture exhibition was produced by Cape Farewell Foundation in partnership with ROM Contemporary Culture, and is supported by: Compton Foundation, Metcalf Foundation, Salamander Foundation, Ontario Arts Council, Bullfrog Power, The McLean Foundation, Groundheat, Redpath Sugar, OASIS HD, and Pattison Onestop.