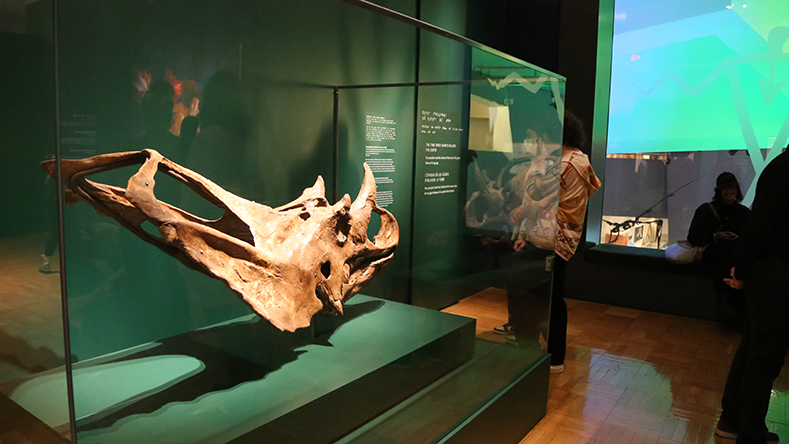 ROM Governors raises crucial funds in support of ROM's areas of greatest need. Our dedicated supporters have enabled ROM to nurture discovery and inspire wonder for the past century. When you support ROM, you're investing in a cultural icon that enriches lives with extraordinary experiences of science and civilization. We invite you to be a part of this exciting time at the Museum by supporting our priority areas. For more information, please contact John Kearsey, President & CEO, at 416.586.8055 or jkearsey@rom.on.ca.
Gallery Development
ROM's dynamic galleries, natural light-filled spaces, and restored grand heritage halls pair a new level of openness with a content-rich Museum experience.
Accessibility
ROM's lower prices are just the beginning of our goal to make the Museum more accessible for all visitors. ROM is committed to ensuring everyone can experience its diverse collections. We envision a Museum with greater access for visitors of all abilities and economic backgrounds, and we support programs that provide free or reduced admission to students, new Canadians and others who may not otherwise have the opportunity to visit the Museum.
Digital Content
We believe digital tools and technology will help bring our collections to life, and make real things at ROM more compelling and meaningful for the next generation. Our re-vamped website provides clearer and more in-depth information about the Museum and its collections, exhibitions, curators, events and initiatives. We are also working to enhance the visitor experience at the Museum through wi-fi hotspots for visitors throughout the galleries and exhibition spaces. Through social media platforms such as Instagram, Facebook and Twitter, ROM is also giving the world better access to its curators and content, and inviting more behind-the-scenes participation than ever before.
Education
As one of Canada's largest curricular educators, ROM inspires wonder and curiosity through a variety of educational programs and initiatives. Through enhanced support of our core educational and distance learning programs, ROM can extend its reach beyond the current 150,000 students from elementary schools, high schools and post-secondary institutions who visit the Museum each year.
Programming & Exhibitions
ROM offers an incredible array of programming to help the public appreciate its collections, exhibitions and research. From lectures and forums to publications and programs for schools, we are bringing the Museum to life in fascinating and innovative ways.
Research & Collections
ROM is Canada's essential destination for unforgettable insights that reveal how the Earth and its cultures have evolved, and how the changes we face today will shape the world we'll live in tomorrow. ROM's vast and varied collections are among the largest and finest in North America and, in some cases, the world. ROM Governors is championing these research and acquisitions efforts.