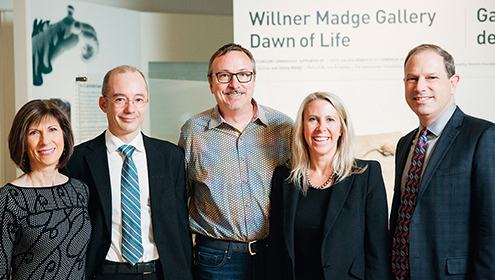 On November 14, 2018, the ROM proudly announced that Toronto philanthropists Jeff Willner and Stacey Madge generously committed $5 million for the future Willner Madge Gallery, Dawn of Life. This investment will establish a new 10,000 square foot permanent gallery that explores the beginnings of life on Earth.
Set to open in 2021, The Willner Madge Gallery, Dawn of Life will trace the story of life from its earliest beginnings, about four billion years ago, to the emergence of the first dinosaurs and mammals. The Gallery will complement the James and Louise Temerty Galleries of the Age of Dinosaurs and the Reed Gallery of the Age of Mammals on the second floor of the ROM.
"I'm very pleased to join other leadership donors and the ROM in telling the story of life on Earth through this exciting new gallery—the first of its kind in North America," said Jeff Willner. "This is a story for all people, told from a uniquely Canadian perspective, which will help us understand not only our past, but also the world we'll live in tomorrow."
The Willner Madge Gallery, Dawn of Life received generous support from additional leadership donors, including, Richard M. Ivey & Family, The Salamander Foundation, Elinor Gill Ratcliffe, The Dorothy Strelsin Foundation, the Louise Hawley Stone Charitable Trust, and Albert and Barbara Milstein & The Polk Family Funds. The ROM is grateful to all supporters of this new gallery project, which garnered community funding from over 100 donors with gifts ranging from $10 dollars to $5 million. Visitors can enjoy a preview display of the Willner Madge Gallery, Dawn of Life.