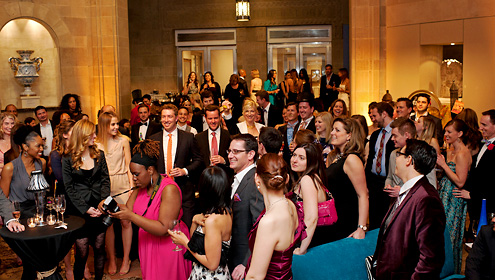 Spectacular experiences at the ROM
Fundraising events at the ROM are truly memorable, and attending, sponsoring, or hosting an event is a wonderful way to support the Museum. The ROM Governors hosts annual signature fundraising events to support and create awareness of the Museum's highest priorities.
Join us for exclusive parties, play golf on a stunning course, match wits with ROM curators or honour the Museum's top supporters at our Chairs' Reception.
You can also host your own fundraising event for the ROM. From a bake sale to a gala dinner, no event is too small or too big! And for fast-paced fundraisers, the ROM participates in the annual Scotiabank Toronto Waterfront Marathon Charity Challenge. Walk or run and raise funds online for the Museum's highest priorities.
Read about hosting an event for the ROM! (PDF)
Opening Parties
We like to kick off new exhibitions with a bang, inviting an exclusive group of friends to celebrate! Be among the first to see spectacular new shows before they open to the public.
Chairs' Reception
The ROM's annual signature stewardship event takes place on May 4, 2016 and recognizes our donors, patrons, sponsors and volunteers.
ROM Classic Golf Tournament
Escape your office for an amazing day of golf at the beautiful Beacon Hall Golf Club on Monday, September 12, 2016. Foursomes still available! Learn more about the ROM Classic Golf Tournament or contact Katie McMullen at katiemc@rom.on.ca. or 416.586.5772 to register.
RUN for the ROM
Walk or run for the Scotiabank Toronto Waterfront Marathon (STWM) to raise funds for the ROM!
Fact or Fiction
Match wits with ROM curators at our hilarious guessing game on October 20, 2016 and enjoy cocktails with ROM experts. Learn more about Fact or Fiction.
ROM Ball
Don't miss our new signature black tie fundraiser on May 6, 2017. Stay tuned for details on this unforgettable evening!