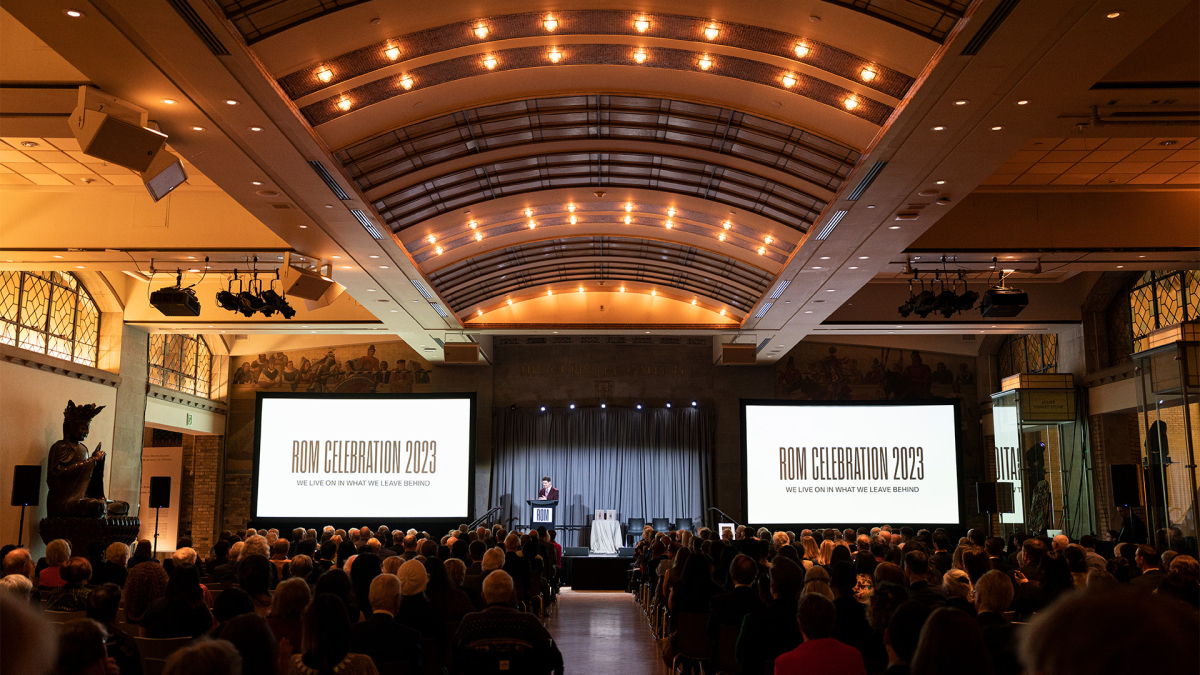 What an evening!
On April 26, our signature ROM Celebration made its triumphant return to ROM with over 400 loyal and enthusiastic museum lovers in attendance. Our heartfelt thanks to everyone who joined us to celebrate philanthropy at the Museum and the many dedicated supporters and volunteers who make our extraordinary exhibitions, curatorial research and year-round public programming possible.
We were delighted to welcome the Lieutenant Governor of Ontario, the Honourable Elizabeth Dowdeswell, and the Honourable Neil Lumsden, Ontario's Minister of Tourism, Culture and Sport. Each delivered inspiring speeches about ROM's relevance and impact in Toronto, Ontario and beyond.
Lieutenant Governor's Distinguished Service Award
The Lieutenant Governor's Distinguished Service Award is the highest honour that can be bestowed on a ROM volunteer. This year's awards were presented to
Anne Y. Lindsey
Nita Reed
Donor of Merit Award
Our Donor of Merit Award recognizes our donors whose inspired generosity has significantly advanced ROM's mission. Our sincere congratulations and appreciation to the following individuals and groups:
Estate of Robert Hatfield Ellsworth
Estate of Brenda Louise Evans
Estate of Dr. Marian Fowler
Hatch
Estate of Patricia J. Haug
Jay and Barbara Hennick
The Ministry of Culture, Sports and Tourism of the Republic of Korea
Joseph Lebovic, C.M.*
Estate of Nancy E. A. Main
Mirkopoulos Family
Rob Pitfield & Family
Helga and Mike Schmidt*
Allan and Helaine Shiff
The Temerty Foundation
Isabel Alves-Vettoretto and Gino Vettoretto
Richard Wernham and Julia West
The Wilson Foundation
*Deceased
Louise Hawley Stone Trust
We were proud to celebrate the 25th anniversary of the Louise Hawley Stone Trust, a visionary gift that has transformed the Museum for the 21st century.
Louise Hawley Stone Charitable Trust, 25th Anniversary
Congratulations to all our honorees and thank you for everything that you do for ROM. Your tireless dedication and support will continue to inspire and transform our community for generations to come, proving that we live on in what we leave behind.