Royal Patrons Circle (RPC)
Join the Royal Patrons Circle and discover the heart of the Royal Ontario Museum
The Royal Patrons Circle is an inspiring group of people committed to sustaining excellence at their museum. Through your contributions, you play an essential role in advancing the ROM's position as a world-class destination for engaging with art, culture and nature.
RPC members are avid life-long learners who enjoy being part of a city-building community and are eager to find themselves at the heart of the Museum with exclusive access to ROM exhibitions, galleries, curators and collections.
RPC Highlights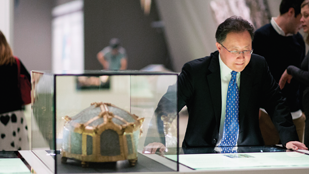 Send us an email and we'll send you personalized information on RPC events, special offerings and programming at the ROM.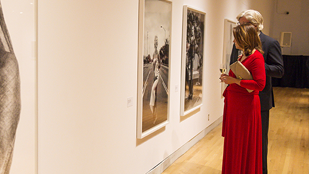 Enjoy exclusive access to the ROM's collections and curatorial staff while building new friendships and business contacts.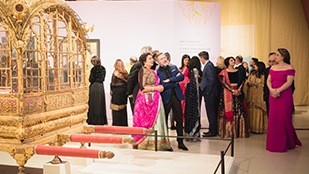 Enjoy sharing your transferable ROM admission cards with friends, family and colleagues!
Membership and Benefits
Joining RPC is one of the most powerful ways you can partner with your Museum to help ignite wonder and discovery.
With your generous support, you can enjoy a range of benefits that afford the most intimate experiences at the ROM, including the following core benefits:
Two transferable admission cards for complimentary ROM admission and line bypass. Lend your cards to others for ROM admission for up to four adults and four children (under 18).
Invitations to exclusive RPC-only virtual events
Invitations to private exhibition viewings while the ROM is closed to other visitors*
Invitations to exclusive RPC-only on-site events*
Invitations to exhibition opening parties and select joint events with the Young Patrons Circle*
Access to quarterly RPC Mini Courses
Email updates from President & CEO, ROM Governors
Personalized service from RPC staff
Subscriptions to ROM magazine, RPC e-newsletter and Members e-newsletter
Free access to select Canadian Museums and institutions across North America included in the Museum Alliance Reciprocal Program and Reciprocal Organization of Associated Museums
Priority booking for ROM general admission and special exhibition tickets
Priority booking for select ROM public programs and ROM Summer Club
One complimentary Caregiver Card (access for your child's guardian)
Recognition in the Annual Report
10% discount in ROM Boutiques and restaurants
*Benefit may not be offered in accordance with COVID-19 era health and safety guidelines.
Each gift made through the RPC program entitles you to a charitable tax receipt in the highest allowable amount within CRA guidelines.
RPC Events
The health and safety of our staff, volunteers and visitors remains our top priority. We're following the advice of public health authorities and making every effort to help ensure visits are enjoyable, entertaining and, above all, safe.
RPC events are designed to give you exclusive behind-the-scenes access to the ROM's curators, collections, galleries, research and exhibitions placing you at the centre of discovery. For those seeking to further their understanding of our world, there's no better way to explore your museum.
Patrons-only Opening Parties for Major Exhibitions
As an RPC member, you'll enjoy exclusive receptions and first-viewing access for major exhibitions before they open to the general public
Behind the scenes ROM Vault Tours
This popular event takes RPC members into the ROM's vaults for a behind the scenes tour of our vast collections. After mingling with ROM curators at an intimate reception, RPC members are led into a collections area to learn more about our latest acquisitions and trailblazing research.
Exclusive Programming & Private Collection Tour
RPC members also enjoy access to special expert talks where ROM curators and other internationally renowned scholars explore thought-provoking topics across art, culture and nature. In addition, RPC members are afforded unique opportunities to tour private galleries and collections that belong to Canada's most celebrated artists, individual and corporate collectors.
Upcoming Events:
RPC Tour of David Angelo's Modern Art Collections
Tuesday, July 12
Patrons Private Viewing – Fantastic Beasts: The Wonder of Nature
Saturday, July 23
7th Annual ROM Classic Golf Tournament
Monday, September 12
ROM Celebration Dinner
Thursday, September 15
Opening Party – Kent Monkman: Being Legendary
Thursday, October 6
RPC Trip to Calgary
Thursday, October 13 – Sunday, October 16
RPC Signature Event
Thursday, November 17
Patrons Private Viewing – Canadian Modern: Design and Craft from ROM's Collections / Wildlife Photographer of the Year 2022
December
*All dates subject to change. Event RSVPs will be collected following an invitation by mail or email.
Contact Us
For more information or for assistance with your membership, please contact Jessica Hall-Cummings, Associate Vice-President, Donor Circles & Annual Giving at rpc@rom.on.ca or 416.586.8003.
Join the ROM Patron community online:
RPC Advisory Council
Brian Astl (Chair)
Shamima Adam
Mark Crowther
Sasha Lombardi-Hartig
Koel Loyer
Mike Mallinos (Past Chair)
Lindsay Maskell
Jean Read
Claude Tambu
Chris Twigge-Molecey
Sharolyn Mathieu Vettese
Deanna Wolfe