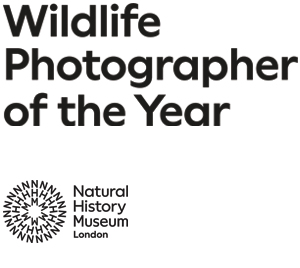 Level 3, Third Floor Centre Block
A new year of breathtaking photographs
About
Each year, aspiring photographers of all ages and skill levels submit tens of thousands of images in the annual international Wildlife Photographer of the Year competition. Organized by the Natural History Museum in London, UK, one hundred remarkable images from this year's competition — the best of the best — will be on view at ROM this fall.
Experience our world in vivid detail and see some of the most extraordinary species in ways you never imagined. Each photograph is back lit, providing exquisite quality and depth. Through the camera's lens, viewers become witnesses to the lives animals live and the challenges they face. Emotive, surprising glimpses of life on our planet are showcased through exceptional talent, technical expertise, and the perfectly captured moment.
Highlights
The longest-running and most prestigious annual nature photography competition in the world, Wildlife Photographer of the Year, recognizes the world's best nature photography, and has done so every year since 1965.
Submission categories vary, and cover themes such as Animal Portraits, Environment, Urban Wildlife, Underwater, and many more, while two photojournalism portfolios are featured in a hard-hitting documentary section. In all, each year's new roster of photographic submissions reflect a breadth of life in our natural world.
The competition uses photography to celebrate the wonderful diversity of life, to inspire and inform, and to create advocates for the planet. It champions ethical wildlife photography, rewarding truthful representations of nature that display respect for animals and the environment, and calls attention to the beauty and fragility of this world.
Winning the Wildlife Photographer of the Year competition is the highest level of recognition for wildlife photographers. Judged over two rounds by a jury of international experts, competition finalists and winners are announced at an awards ceremony hosted at the Natural History Museum, London, where photographs are premiered in a major exhibition before embarking on a world tour.
This exhibition offers photographers an internationally acclaimed platform to showcase their work, while celebrating our beautiful planet and encouraging us all to think differently about our impact on our shared home.
Upcoming Events
Friday, November 24, 10:00 am to 5:30 pm and Saturday, November 25, 10:00 am to 12:00 pm
Wildlife Photographer of the Year is developed and produced by the Natural History Museum, London.
This exhibition is generously supported by the Royal Exhibitions Circle.
Image 1: Snow bison. Image © Max Waugh, USA. Wildlife Photographer of the Year 2023.
Image 2: Mason bee at work. Image © Solvin Zankl, Germany. Wildlife Photographer of the Year 2023.
Image 3: Coral connections. Image © Alex Mustard, UK. Wildlife Photographer of the Year 2023.