TUSARNITUT! Music Born of the Cold
May 20, 2023

to

September 24, 2023
Level 3, Third Floor Centre Block
About
ROM offers free admission for Indigenous peoples.
TUSARNITUT! Music Born of the Cold invites visitors to discover the breadth and diversity of Inuit musical expression and examine the connections between Inuit visual arts and two prominent musical genres: drum dancing and throat singing. Presenting over one hundred sculptures, prints, drawings and installations themed around music from the 1950s to the present, this exhibition explores the fundamental role music plays in Inuit life, while providing a rare opportunity to appreciate differences in style and content among artists in regions.
ᑐᓴᕐᓂᑐᑦ TUSARNITUT! (which translates literally as "sounds that please the ear") will present a variety of musical styles, from the earliest recorded forms of musical expressions to the remarkable work of contemporary artists who are reimagining these traditions for present day audiences.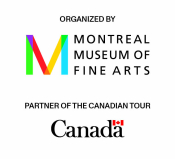 An exhibition organized by the Montreal Museum of Fine Arts.
An exhibition curated by Jean-Jacques Nattiez, ethnomusicologist and Professor Emeritus at Université de Montréal, and Lisa Qiluqqi Koperqualuk, Curator and Mediator of Inuit Art, MMFA, in collaboration with Charissa Von Harringa, Curatorial Associate, MMFA.