Jean-Bernard Caron
Curator of Invertebrate Palaeontology
Area: Natural History, Fossils & Evolution
Interests: Burgess Shale, Cambrian Explosion, Evolution, Origin of animals, Palaeocology
Exhibitions & Galleries: Gallery of Early Life
Phone: 416.586.5593
December 17, 2015:
New Burgess Shale fossil site reveals oldest evidence of brood care
New research published in Current Biology sheds light on the reproductive strategies of Waptia fieldensis, an extinct organism dating back to the Cambrian Explosion. Specimens of the fossil, discovered a century ago in the renowned Canadian Burgess Shale fossil deposit, are on display for a limited time in the ROM's Dawn of Life Preview exhibition. Visit the the ROM Blog to learn more.
Digital & Print
Film & Television
For a full list of Burgess Shale stories, see "Publications" below
Follow Jean-Bernard Caron on ROM Blog:
B.Sc., Earth and Life Sciences, University Blaise Pascal, Clermont-Ferrand, 1997
M.Sc., Earth Sciences, University Claude-Bernard, Lyon, 1999
Ph.D., Zoology, University of Toronto, 2005
Jean-Bernard Caron is a Senior Curator of Invertebrate Palaeontology at the ROM.
Previous position held at the ROM: Associate Curator and Curator of Invertebrate Palaeontology (2006-2016)
A profound curiosity about fossils during his childhood led Jean-Bernard Caron to collect and curate his own personal fossil collection in his native France. By the age of 10, he knew he wanted to become a professional palaeontologist. As a teenager, he often joined various professional field crews across Europe for summer field expeditions collecting fossils, and the experience gained as a volunteer field assistant led to an invitation from Desmond Collins, then Curator of Invertebrate Palaeontology at the ROM, to join his field crew at the famous Burgess Shale fossil deposit in British Columbia in 1998. This was his first visit to Canada, and he returned to the Burgess Shale as a ROM volunteer for the following two summer field seasons.
His Master's thesis dealt with Banffia constricta, one of the most bizarre animals known from the Burgess Shale. This study was followed by a PhD on the taphonomy and paleoecology of the Burgess Shale community. By the end of his PhD project, Jean-Bernard had examined about half the Burgess Shale specimens (more than 70,000 fossils) stored at the ROM, which houses over 150,000 specimens, representing the world's largest collection of its kind. After being awarded a Natural Sciences and Engineering Research Council post-doctoral fellowship (Government of Canada), he joined the ROM as Associate Curator of Invertebrate Paleontology in early 2006, thus finally fulfilling his long-standing childhood dream.
At present, his main responsibilities are to curate and interpret fossils from the very large ROM Burgess Shale collection as well as to continue fieldwork activities. The ROM collection represents a real Pandora's Box for science, with many new organisms still to be described. He also studies fossils from other Burgess Shale-type deposits, particularly in China.
At the end of 2011, Jean-Bernard launched the "Virtual Museum of Canada website on the Burgess Shale", a joint effort between the ROM and Parks Canada. This bilingual website has received over 2.3 Million pageviews since Jan 1st, 2012.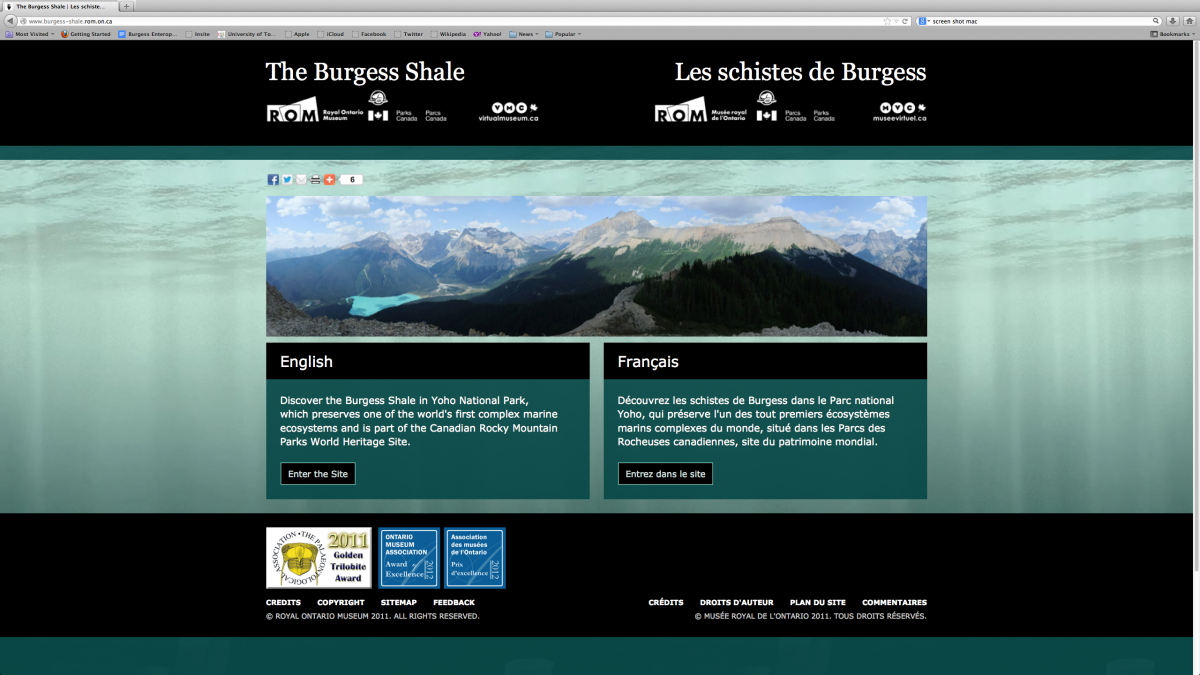 Academic Links
Associate Professor, University of Toronto - Ecology and Evolutionary Biology
Associate Professor, University of Toronto - Earth Sciences Department
See also Focus on Research page.
Awards & Recognition
Jean-Bernard was the recipient of the 2010 Pikaia award from the Canadian Geological Association in recognition of his contribution to the profile of Canadian paleontology through his research. The nomination citation (PDF) praised him as "an exceptionally innovative and productive young paleontologist who shows promise for continuing excellence in Canadian paleontological research."
Jean-Bernard received two awards for "Virtual Museum of Canada website on the Burgess Shale": the Paleontological Association Golden Trilobite Award (2011) and the Ontario Museum Association Award for Excellence in Publications (2012).
Research Grants
Jean-Bernard's research at the ROM is partially funded by an NSERC Discovery grant (2017-2022) under the program, "Burgess Shale fossils from Marble Canyon (Canadian Rockies) and the early diversification of animals" see Research Page for more information.
Karma Nanglu (PhD) - (2013-current)
Cédric Aria (PhD) - (2012-2017)
Lorna O'Brien (PhD) completed (2008-2013)
Martin Smith (PhD) completed (2008-2012)
Allison Daley (PhD) completed (2006-2010)
Google scholar profile, with list of citations, click here.
*Doctoral research supervised or co-supervised
Nanglu*, K. and Caron, J.-B. 2018. A new Burgess Shale polychaete and the origin of the annelid head revisited. Current Biology 28(2), 319-326.e311
---
Bicknell, R. D. C., Paterson J. R., Caron, J.-B. and C. B. Skovsted 2018. The gnathobasic spine microstructure of recent and Silurian chelicerates and the Cambrian artiopodan Sidneyia: Functional and evolutionary implications. Arthropod Structure & Development 47(1): 12-24.
---
Aria*, C. and Caron, J.-B. 2017. Mandibulate convergence in an armoured Cambrian stem chelicerate. BMC Evolutionary Biology 17, 261.
---
Parry, L. A., Smithwick F., Nordén K.K., Saitta E.T., Lozano-Fernandez J., Tanner A.R., Caron, J.-B. et al. 2017. Soft-bodied fossils are not simply rotten carcasses – Toward a holistic understanding of exceptional fossil preservation. BioEssays 40, 1700167-n/a.
---
Briggs, D.E.G, Caron, J.-B (2017). A large Cambrian chaetognath with supernumerary grasping spines. Current Biology. 27(16): p2536–2543.e1.
---
Aria*, C., Caron, J.-B (2017). Burgess Shale fossils illustrate the origin of the mandibulate body plan. Nature. 545, 89-92.
---
---
Moysiuk*, J., Smith, M., Caron, J.-B. (2017). Hyoliths are Palaeozoic lophophorates. Nature. 541, 394–397.
---
Nanglu*, K., Caron, J.-B., Conway Morris S. & Cameron C. 2016. Cambrian suspension-feeding tubicolous enteropneusts. 14:56. BMC Biology. Publication July 7.
---
---
---
---
---
---
---
---
Topper, T. P., Strotz, L. C., Holmer, L. E., Zhang, Z., Tait, N. N., & Caron, J.-B. (2015) Competition and mimicry: the curious case of chaetae in brachiopods from the middle Cambrian Burgess Shale. BMC Evolutionary Biology, v. 15, no. 42.
---
LoDuca, S. T., Caron, J.-B., Schiffbauer, J. D., Xiao, S. & Kramer, A. (2015) A reexamination of Yuknessia from the Cambrian of British Columbia and Utah. Journal of Paleontology, v. 89, no. 01, p. 82-95.
---
---
---
---
---
Zhao, F., Caron, J.-B., Bottjer, D., Hu, S., Yin, Z., & Zhu, M. (2013). Diversity and species abundance patterns of the early Cambrian (Series 2, Stage 3) Chengjiang Biota from China: Paleobiology, v. 40, no. 1, p. 50-69
---
---
---
---
---
---
---
---
---
---
---
---
---
---
---
---
---
---
---
Vannier, J., Caron, J.-B., Yuan, J. L., Briggs, D., Collins, D., Zhao, Y. L., and Zhu, M.Y. (2007) Tuzoia: morphology and lifestyle of a giant bivalved arthropod of the Cambrian seas. Journal of Paleontology 81:445-471.
---
---
---
---
---