Tips for toddlers visiting the ROM
Posted: September 30, 2013 - 09:40 , by
ROM
Karla and her son Marshall run an internationally awarded blog, The [Tiny} Times (www.tinytimes.com), which humorously and visually documents life from a child's perspective. Karla writes a monthly travel column, Kids Concierge, for Qantas The Australian Way magazine and recently authored a book, Cool Knitting, for The Australian Women's Weekly, with Marshall's input for toy ideas!
They recently visited the museum and I asked them if they would share their experience and their tips for visiting the ROM, here they are!
~~~~
Tips for toddlers visiting the ROM
"Museum" is not a synonym for "don't touch" – as I learned on my first visit to the ROM, they can have lots of great, hands-on options for under fives! Here are a few tips for parents and tots wanting to make the most of your visit:
1. What's on the outside does count
Before you rush in to look at the dinosaurs be sure to appreciate the outside of the building! Look at all of the shapes and angles. Make a face in the reflection. Take a photo. Try and identify all the different shapes you can see. Count all the rectangles – you might be there until close!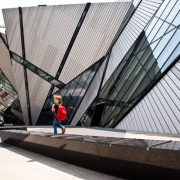 2. Don't be scared of the bat cave
There aren't any real bats flying around, and unfortunately you won't see Batman. But, this is a very neat replica of what an actual bat cave looks like! It may be dark but there is nothing to be scared of. Just hold someone's hand and watch your step as you explore the depths of a bat's home.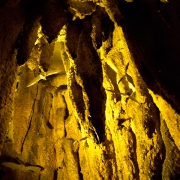 3. Keep an eye out for the little tunnel under the Moose
On level 2 there is a giant moose! Underneath him is a little tunnel just for kids to crawl through – it's just a small bit but loads of fun to pretend you are a little wild animal hiding in your very own spot!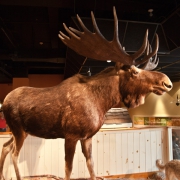 4. The Discovery gallery
If you really want hands-on, the Discovery gallery is where it's at. From kid-sized historical costumes you can try on to toys and a giant teepee, it's the best spot for little ones and a must see!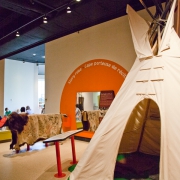 5. The Dinosaurs
This is "the don't touch" bit – but there is so much to look at you really won't mind! Make sure to look above you as well as there are creatures everywhere, even hanging from the ceiling!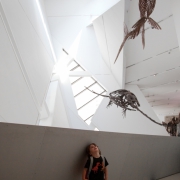 6. Exit through the gift shop
If you are visiting Toronto or just want a keepsake of your ROM visit there are lots of great little toys and books. I got a dinosaur on wheels! There is also a dedicated kids' shop located on level 2.