#ThrowbackThursday: Working Like Mad
Posted: October 13, 2016 - 10:00 , by
ROM
In September, 1971, the ROM opened the landmark exhibition Keep Me Warm One Night, a kaleidoscopic display of over 500 pieces of Canadian handweaving. It was the culmination of decades of pioneering research and collecting by the ROM curatorial powerhouse duo 'Burnham and Burnham', aka Dorothy K. Burnham and Harold B. Burnham.
To kick off the one-year count down to the ROM's conference, Cloth Cultures (November 10-12, 2017), which will commemorate Dorothy Burnham's many legacies, and to mark Canada's approaching 2017 Sesquicentennial, we will be posting bi-weekly excerpts from Dorothy's journal of Keep Me Warm One Night. We hope you will enjoy this unofficial glimpse into the bygone days of the ROM, and into the pioneering days of textile studies.
---
In this installment, we see the Keep Me Warm exhibit team working like mad to prepare the areas for object installation. The 'John' in the final image is a young John E. Vollmer, who would in his turn go on to become Textiles curator at the ROM, a world authority on Asian dress, and create landmark exhibitions and publication, notably In the Presence of the Dragon Throne (1977, ROM Press) which partially employed the theories and methodologies of Dorothy Burnham.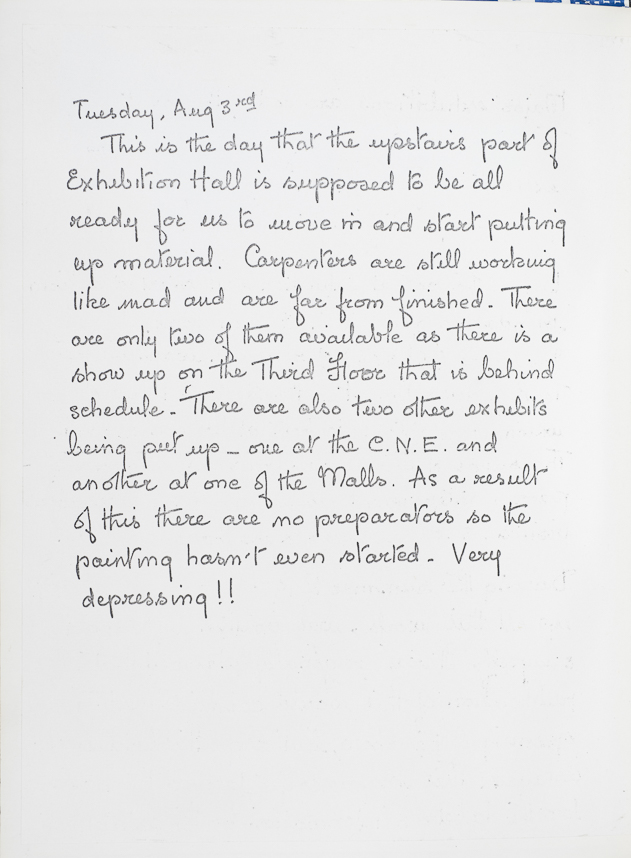 Transcript:
Tuesday, Aug 3rd
This is the day that the upstairs part of Exhibition Hall is supposed to be all ready for us to move in and start putting up material. Carpenters are still working like mad and are far from finished. There are only two of them available as there is a show up on the Third Floor that is behind schedule. There are also two other exhibits being put up - one at the C.N.E. and another at one of the Malls. As a result of this there are no preparators so the painting hasn't even started. Very depressing!!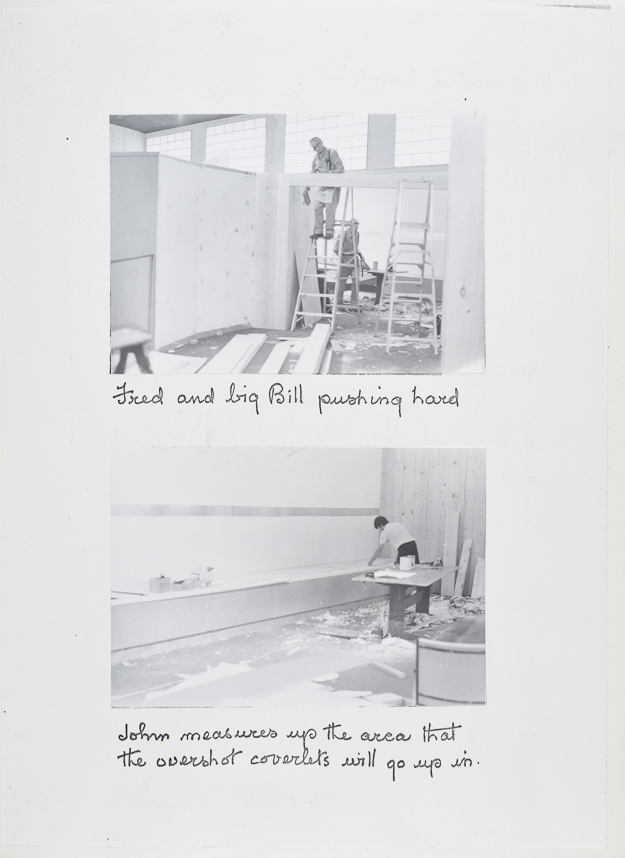 Transcript:
Fred and big Bill pushing hard
John measures up the area that the overshot coverlets will go up in.