#ThrowbackThursday: Workforce of One
Posted: November 9, 2017 - 10:00 , by
ROM
In September, 1971, the ROM opened the landmark exhibition Keep Me Warm One Night, a kaleidoscopic display of over 500 pieces of Canadian handweaving. It was the culmination of decades of pioneering research and collecting by the ROM curatorial powerhouse duo 'Burnham and Burnham', aka Dorothy K. Burnham and Harold B. Burnham.
To kick off the one-year count down to the ROM's conference, Cloth Cultures (November 10-12, 2017), which will commemorate Dorothy Burnham's many legacies, and to mark Canada's approaching 2017 Sesquicentennial, we will be posting bi-weekly excerpts from Dorothy's journal of Keep Me Warm One Night. We hope you will enjoy this unofficial glimpse into the bygone days of the ROM, and into the pioneering days of textile studies.
---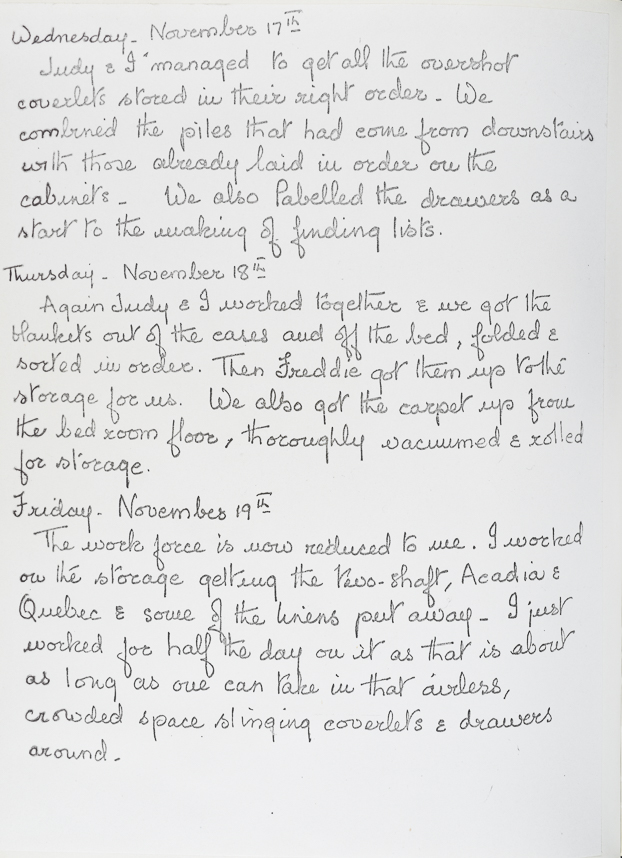 Transcript:
Wednesday - November 17th
Judy & I managed to get all the overshot coverlets stored in their right order. We combined the piles that had come from downstairs with those already laid in order on the cabinets. We also labelled the drawers as a start to the making of finding lists.
Thursday - November 18th
Again Judy & I worked together & we got the blankets out of the cases and off the bed, folded & sorted in order. Then Freddie got them up to the storage for us. We also got the carpet up from the bed room floor, thorouhly vacuumed & rolled for storage.
Friday - November 19th
The work force is now reduced to me. I worked on the storage getting the Vevo-shaft, Acadia & Quebec & source of the linens put away. I just worked for half the day on it as that is abaout as long as one can take in that airless, crowded space slinging coverlets & drawers around.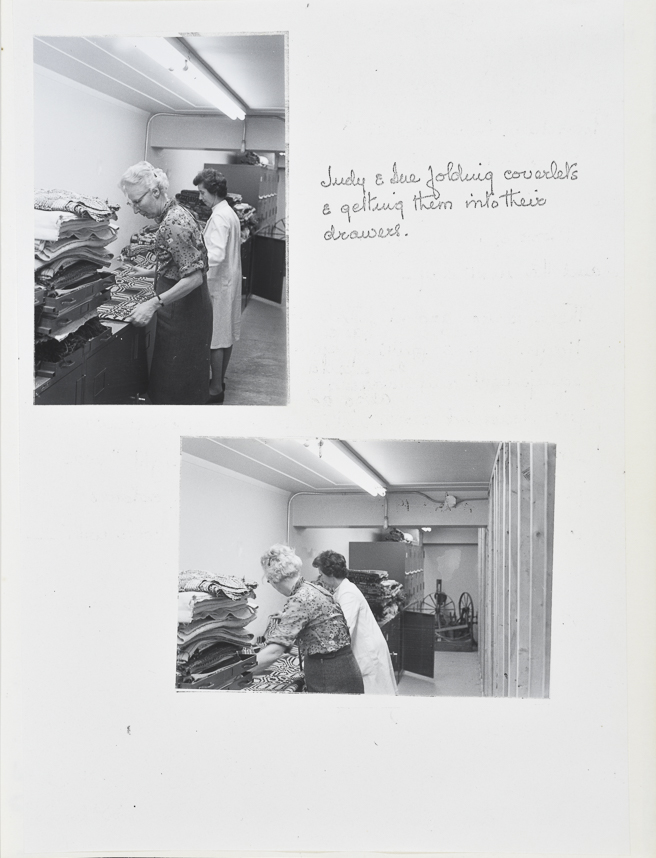 Transcript:
Judy & Sue folding coverlets & getting them into their drawers.