#ThrowbackThursday: Winding Wool
Posted: June 29, 2017 - 14:39 , by
ROM
In September, 1971, the ROM opened the landmark exhibition Keep Me Warm One Night, a kaleidoscopic display of over 500 pieces of Canadian handweaving. It was the culmination of decades of pioneering research and collecting by the ROM curatorial powerhouse duo 'Burnham and Burnham', aka Dorothy K. Burnham and Harold B. Burnham.
To kick off the one-year count down to the ROM's conference, Cloth Cultures (November 10-12, 2017), which will commemorate Dorothy Burnham's many legacies, and to mark Canada's approaching 2017 Sesquicentennial, we will be posting bi-weekly excerpts from Dorothy's journal of Keep Me Warm One Night. We hope you will enjoy this unofficial glimpse into the bygone days of the ROM, and into the pioneering days of textile studies.
---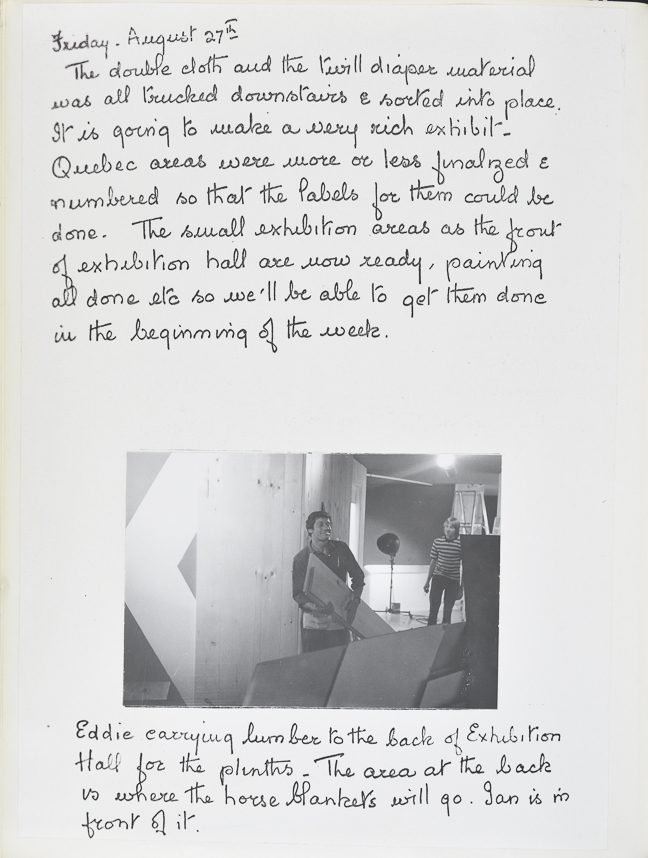 Transcript:
Friday. August 27th
The double cloth and the twill diaper material was all trucked downstairs & sorted into place. It is going to make a very rich exhibit. Quebec areas were more or less finalized & numbered so that the laels for them could be done. The small exhibition areas as the front of exhibition hall are now ready, painting all done etc so we'll be able to get them done in the beginning of the week.
Eddie carrying lumber to the back of Exhibition Hall for the plinths. The area at the back is where the horse blankets will go. Ian is in front of it.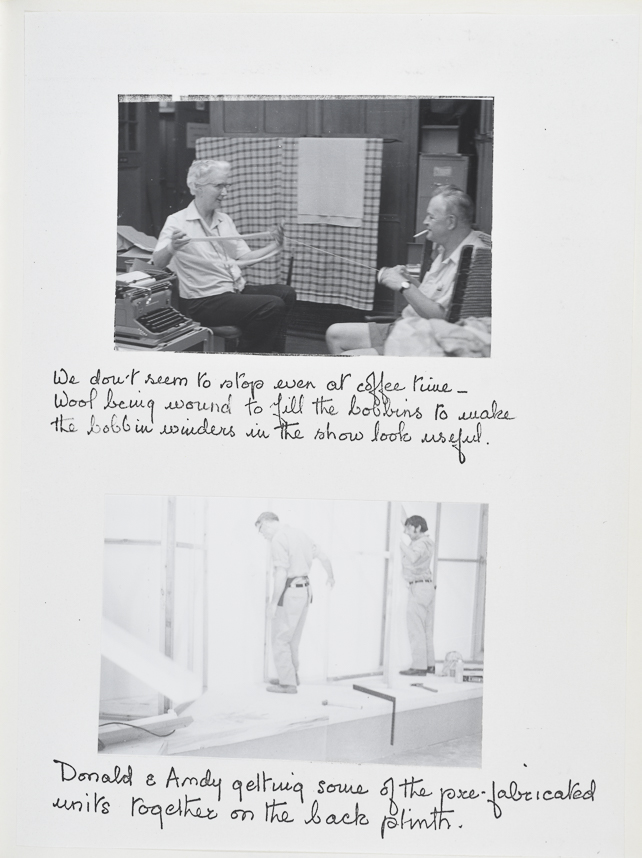 Transcript:
We don't seem to stop even at coffee time - Wool being wound to fill the bobbins to make the bobbin winders in the show look useful.
Donald & Andy getting some of the pre-fabricated units together on the back plinth.