#ThrowbackThursday: Tight Schedule
Posted: November 7, 2017 - 10:00 , by
Sarah Fee
In September, 1971, the ROM opened the landmark exhibition Keep Me Warm One Night, a kaleidoscopic display of over 500 pieces of Canadian handweaving. It was the culmination of decades of pioneering research and collecting by the ROM curatorial powerhouse duo 'Burnham and Burnham', aka Dorothy K. Burnham and Harold B. Burnham.
To kick off the one-year count down to the ROM's conference, Cloth Cultures (November 10-12, 2017), which will commemorate Dorothy Burnham's many legacies, and to mark Canada's approaching 2017 Sesquicentennial, we will be posting bi-weekly excerpts from Dorothy's journal of Keep Me Warm One Night. We hope you will enjoy this unofficial glimpse into the bygone days of the ROM, and into the pioneering days of textile studies.
---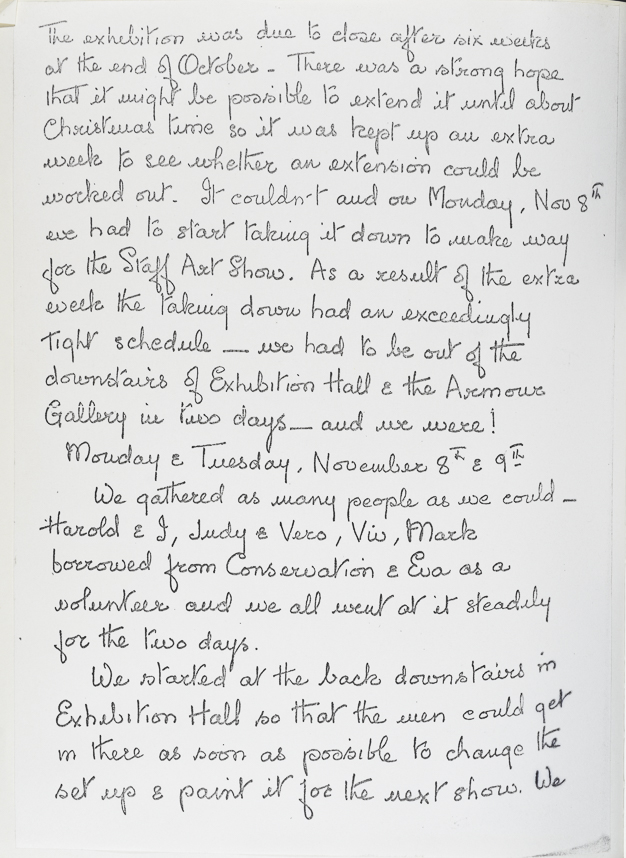 Transcript:
The exhibition was due to close after six weeks at the end of October. There was a strong hope that it might be possible to extend it until about Christmas time so it was kept up an extra week to see whether an extension could be worked out. It couldn't and on Monday, Nov 8th we had to see whether an extension could be worked out. It couldn't and on Monday, Nov. 8th we had to start taking it down to make way for the Staff Art Show. As a result of the extra week the taking down had an exceedingly tight schedule - we had to be out of the downstairs of Exhibition Hall & the Armour Gallery in two days - and we were!
Monday & Tuesday, November 8th & 9th
We gathered as many people as we could - Harold & I, Judy & Vero, Viv, Mark borrowed from Conservation & Eva as a volunteer and we all went at it steadily for the two days.
We started at the back downstairs in Exhibition Hall so that the men could get in there as soon as possible to change the set up & paint it for the next show. We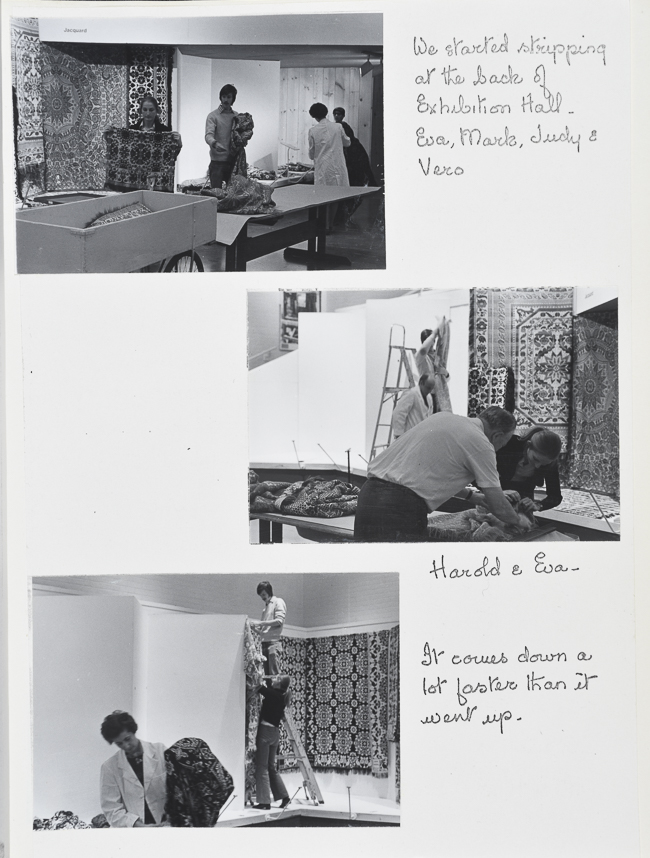 Transcript:
We started stripping at the back of Exhibition Hall - Eva, Mark, Judy & Vero
Harold & Eva -
It comes down a lot faster than it went up.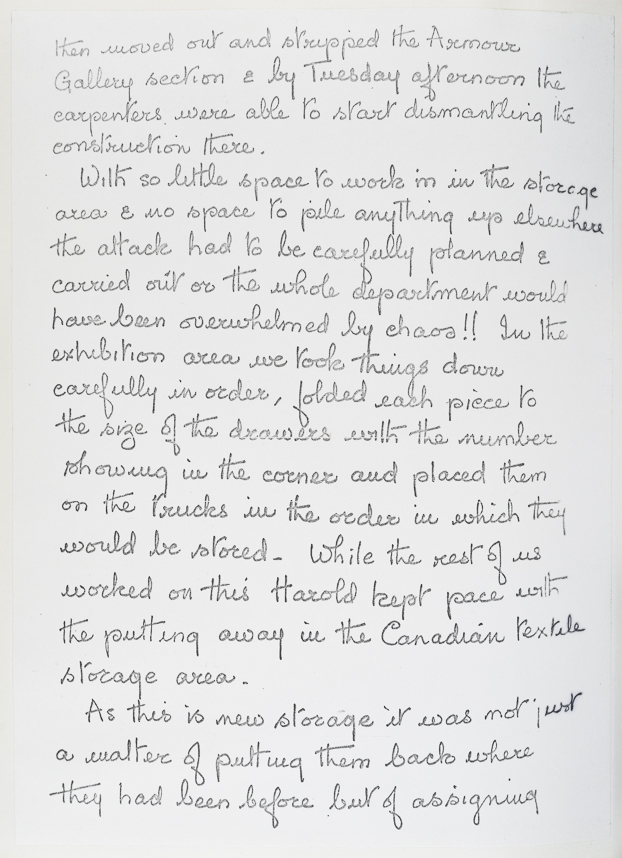 Transcript:
then moved out and stripped the Armour Gallery section & by Tuesday afternoon the carpenters were able to start dismantling the construction there.
With so little space to work in in the storage area & no space to pile anything up elsewhere the attack had to be carefully planned & carried out or the whole department would have been overwhelmed by chaos!! In the exhibition area we took things down carefully in order, folded each piece to the size of the drawers with the number showing in the corner and placed them on the trucks in the order in which they would be stored. While the rest of us worked on this Harol d kept pace with the putting away in the Canadian textile storage area.
As this is new storage it was not just a matter of putting them back where they had been before but of assigning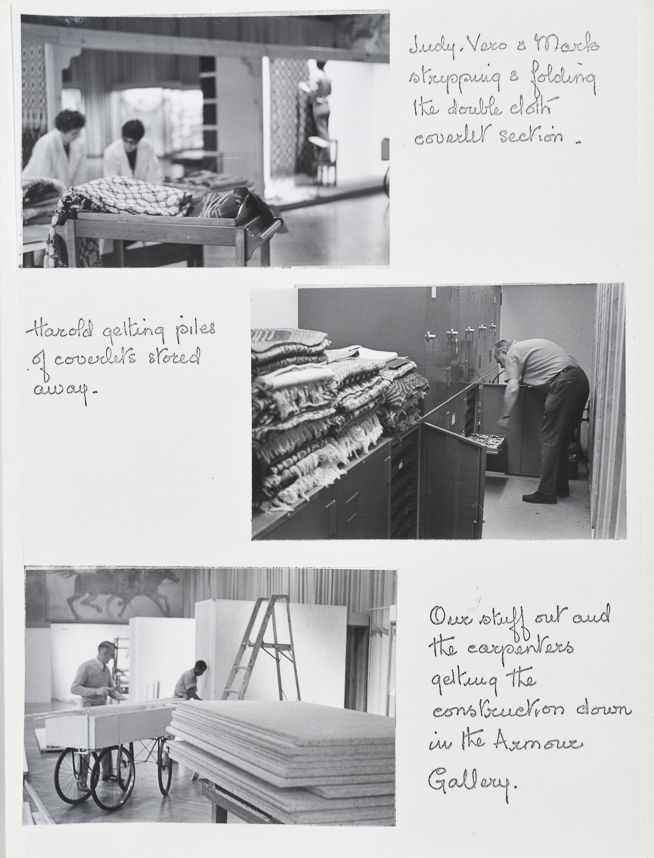 Transcript:
Judy, Vero & Mark stripping & folding the double cloth coverlet section.
Harold getting piiles of coverlets stored awya.
Our stuff out and the carpenters getting the construction down in the Armour Gallery.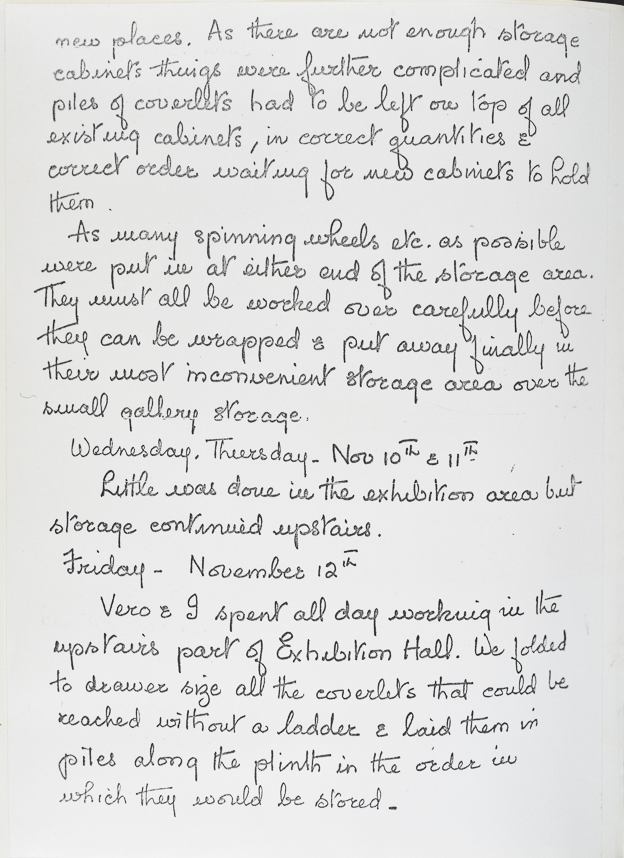 Transcript:
new places. As there are not enough storage cabinet things were further complicated and piles of coverlets had to be left on top of all existing cabinets, in correct quantities & correct order waiting for new caibnets to hold them.
As many spinning wheels etc. as possible were put in at either end of the storage area. They must all be worked over carefully before they can be wrapped & put away finally in their most inconvenient storage area over the small gallery storage.
Wednesday, Thursday - Nov 10th & 11th
Little was done in the exhibition area but storage continued upstairs.
Friday - November 12th
Vero & I spent all day working in the upstairs part of Exhibition Hall. We folded to drawer size all the coverlets that could be reached without a ladder & laid them in piles along the plinth in the order in which they would be stored.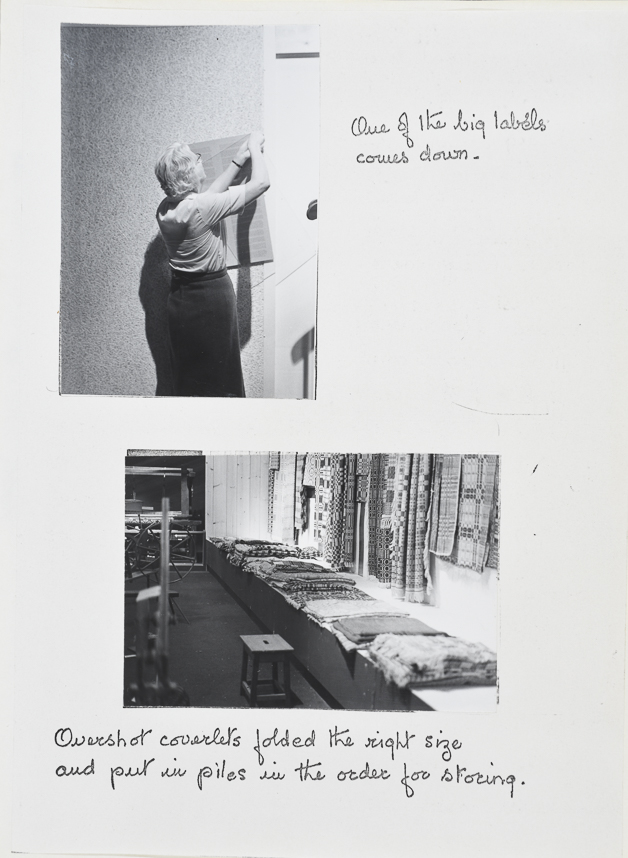 Transcript:
One of the big labels comes down.
Overshot coverlets folded the right size and put in piles in the order for storing.