#ThrowbackThursday: Stars and Diamonds
Posted: July 13, 2017 - 14:50 , by
ROM
In September, 1971, the ROM opened the landmark exhibition Keep Me Warm One Night, a kaleidoscopic display of over 500 pieces of Canadian handweaving. It was the culmination of decades of pioneering research and collecting by the ROM curatorial powerhouse duo 'Burnham and Burnham', aka Dorothy K. Burnham and Harold B. Burnham.
To kick off the one-year count down to the ROM's conference, Cloth Cultures (November 10-12, 2017), which will commemorate Dorothy Burnham's many legacies, and to mark Canada's approaching 2017 Sesquicentennial, we will be posting bi-weekly excerpts from Dorothy's journal of Keep Me Warm One Night. We hope you will enjoy this unofficial glimpse into the bygone days of the ROM, and into the pioneering days of textile studies.
---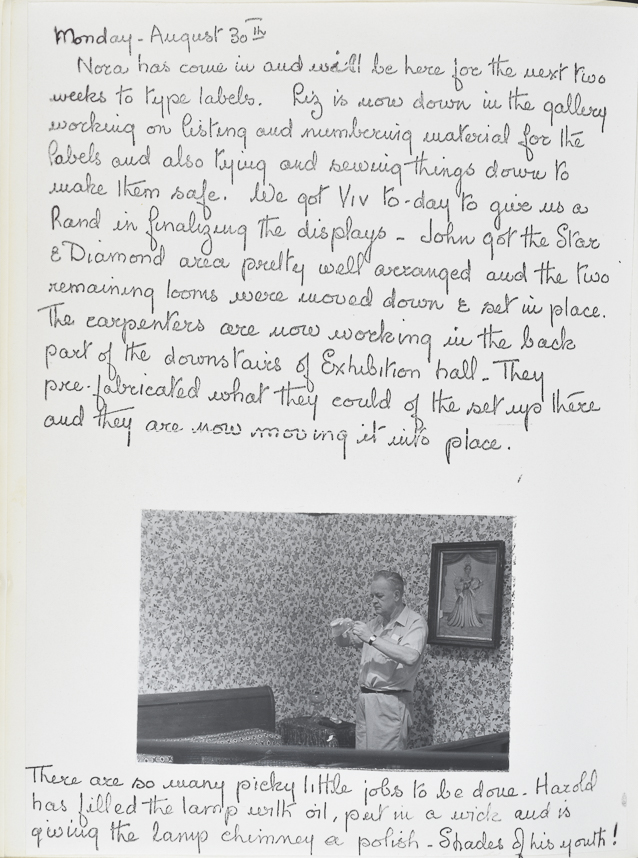 Transcript:
Monday - August 30th
Nora has come in and will be here for the next two weeks to type labels. Liz is now down in the gallery working on listing and numbering material for the labels and also tying and sewing things down to make them safe. We got Viv to-day to give us a hand in finalizing the displays. John got the Star & Diamond area pretty well arranged and the two remaining looms were moved down & set in place. The carpenters are now working in the back part of the downstairs of Exhibition Hall. They pre-fabricated what they could of the set up there and they are now moving it into place.
There are so many picky little jobs to be done. Harold has filled the lamp with oil, put in a wick and is giving the lamp chimney a polish. Shades of his youth!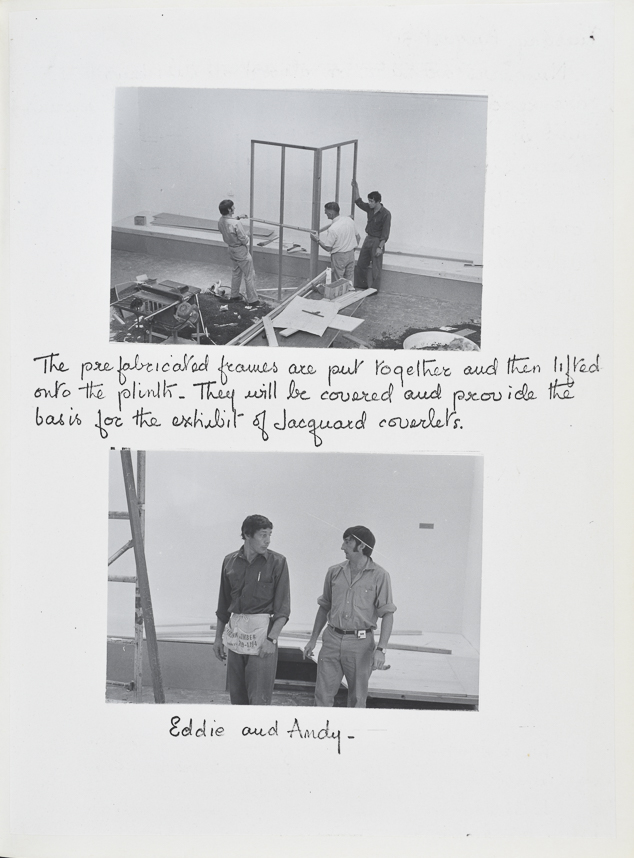 Transcript:
The prefabricated frames are put together and then lifted onto the plinth. They will be covered and provide the basis for the exibit of Jacquard coverlets.
Eddie and Andy.