#ThrowbackThursday: Not a Lick of Paint
Posted: December 8, 2016 - 10:08 , by
ROM
In September, 1971, the ROM opened the landmark exhibition Keep Me Warm One Night, a kaleidoscopic display of over 500 pieces of Canadian handweaving. It was the culmination of decades of pioneering research and collecting by the ROM curatorial powerhouse duo 'Burnham and Burnham', aka Dorothy K. Burnham and Harold B. Burnham.
To kick off the one-year count down to the ROM's conference, Cloth Cultures (November 10-12, 2017), which will commemorate Dorothy Burnham's many legacies, and to mark Canada's approaching 2017 Sesquicentennial, we will be posting bi-weekly excerpts from Dorothy's journal of Keep Me Warm One Night. We hope you will enjoy this unofficial glimpse into the bygone days of the ROM, and into the pioneering days of textile studies.
---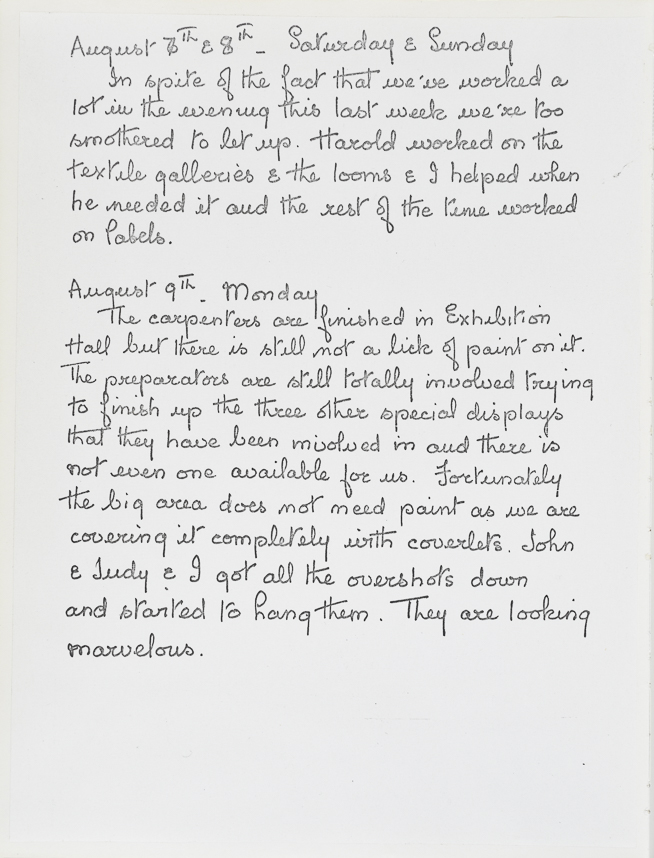 Transcript:
August 7th and 8th - Saturday & Sunday
In spite of the fact that we've worked a lot in the evening this last week we're too smothered to let up. Harold worked on the textile galleries & the looms & I helped when he needed it and the rest of the time worked on labels.
August 9th - Monday
The carpenters are finished in Exhibition Hall but there is still not a lick of paint on it. The preparators are still totally involved trying to finish up the three other special displays that they have been involved in and there is not even one available for us. Fortunately the big area does not need paint as we are covering it completely with coverlets. John & Judy & I got all the overshots down and started to hang them. They are looking marvelous.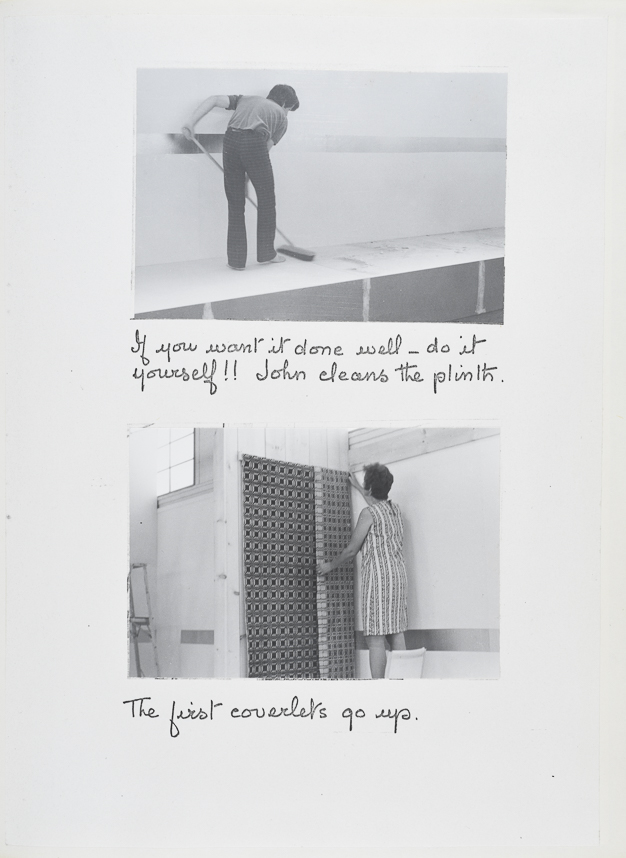 Transcript:
If you want it done well - do it yourself!! John cleans the plinth.
The first coverlets go up.