#ThrowbackThursday: Horse Blankets
Posted: July 27, 2017 - 10:00 , by
ROM
In September, 1971, the ROM opened the landmark exhibition Keep Me Warm One Night, a kaleidoscopic display of over 500 pieces of Canadian handweaving. It was the culmination of decades of pioneering research and collecting by the ROM curatorial powerhouse duo 'Burnham and Burnham', aka Dorothy K. Burnham and Harold B. Burnham.
To kick off the one-year count down to the ROM's conference, Cloth Cultures (November 10-12, 2017), which will commemorate Dorothy Burnham's many legacies, and to mark Canada's approaching 2017 Sesquicentennial, we will be posting bi-weekly excerpts from Dorothy's journal of Keep Me Warm One Night. We hope you will enjoy this unofficial glimpse into the bygone days of the ROM, and into the pioneering days of textile studies.
---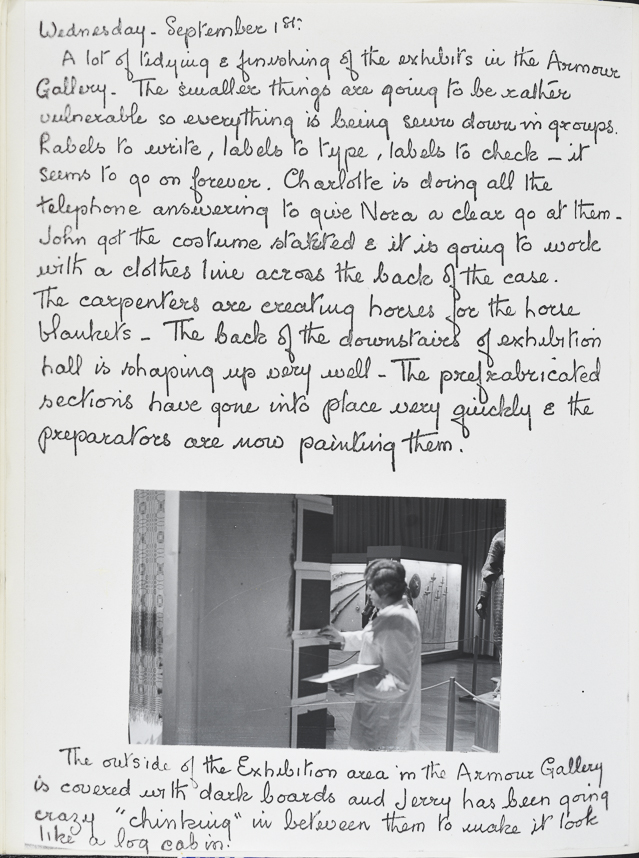 Transcript:
Wednesday - September 1st
A lot of tidying & finishing of the exhibits in the Armour Gallery. The smaller things are going to be rather vulnerable so everything is bein sewn down in groups. Labels to write, labels to type, labels to check - it seems to go on forever. Charlotte is doing all the telephone answering to give Nora a clear go at them. John got the costume started & it is going to work with a clothes line across the back of the case. The carpenters are creating horses for the horse blankets. The back of the downstairs of exhibition hall is shaping up very well. The prefabricated sections have gone into place very quickly & the preparators are now painting them.
The outside of the Exhibition area in the Armour Gallery is covered with dark boards and Jerry has been going crazy "chinking" in between them to make it look like a log cabin.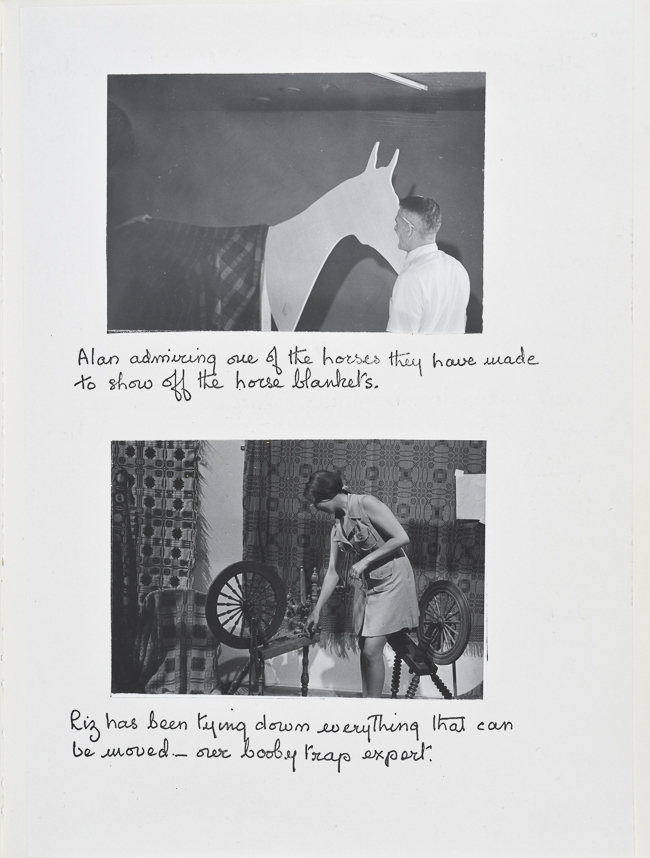 Transcript:
Alan admiring one of the horses they have made to show off the horse blankets.
Liz has been tying down everything that can be moved - our booby trap expert.