#ThrowbackThursday: Horrible to Handle
Posted: July 20, 2017 - 14:56 , by
ROM
In September, 1971, the ROM opened the landmark exhibition Keep Me Warm One Night, a kaleidoscopic display of over 500 pieces of Canadian handweaving. It was the culmination of decades of pioneering research and collecting by the ROM curatorial powerhouse duo 'Burnham and Burnham', aka Dorothy K. Burnham and Harold B. Burnham.
To kick off the one-year count down to the ROM's conference, Cloth Cultures (November 10-12, 2017), which will commemorate Dorothy Burnham's many legacies, and to mark Canada's approaching 2017 Sesquicentennial, we will be posting bi-weekly excerpts from Dorothy's journal of Keep Me Warm One Night. We hope you will enjoy this unofficial glimpse into the bygone days of the ROM, and into the pioneering days of textile studies.
---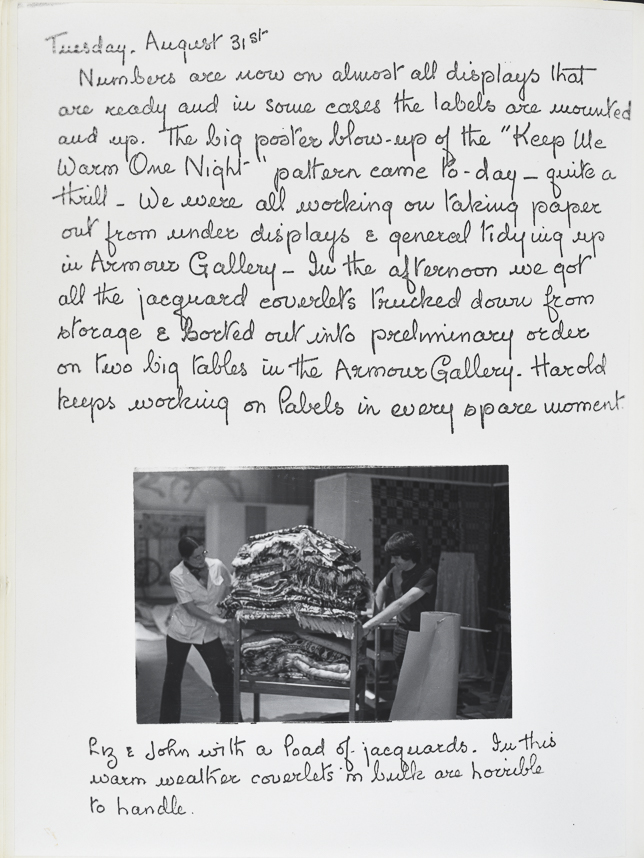 Transcript:
Tuesday, August 31st
Numbers are now on almost all displays that are ready and in some cases the labels are mounted and up. The big poster blow-up of the "Keep Me Warm One Night" pattern came to-day - quite a thrill - We were all working on taking paper out from under displays & general tidying up in Armour Gallery. In the afternoon we got all the jacquard coverlets trucked down from storage & sorted out into preliminary order on two big tables in the Armour Gallery. Harold keeps working on labels in every spare moment
Liz & John with a load of jacquards. In this warm weather coverlets in bulk are horrible to handle.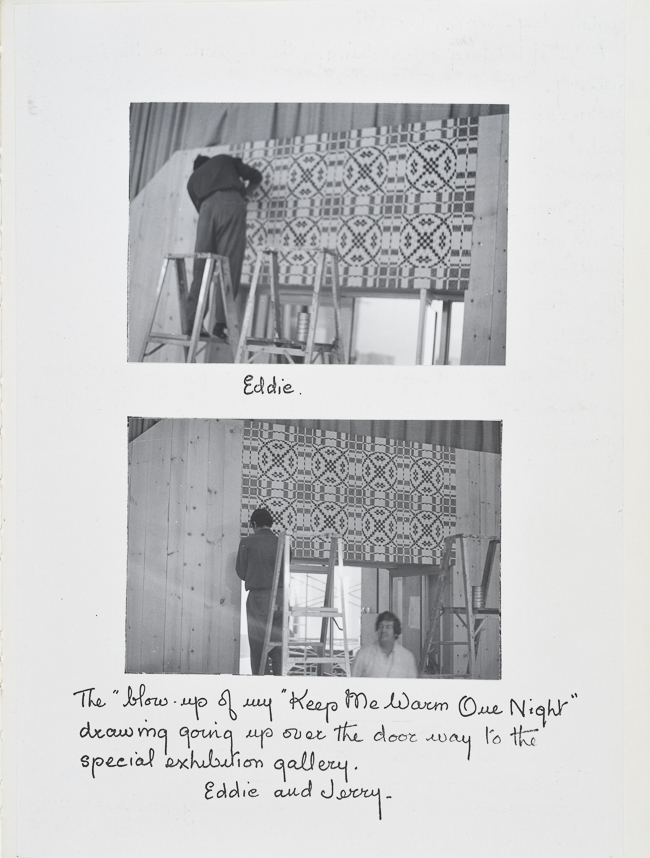 Transcript:
Eddie.
The "blow-up" of my "Keep Me Warm One Night" drawing going up over the door way to the special exhibition gallery.
Eddie and Jerry.