#ThrowbackThursday: Drying in the Garden
Posted: November 24, 2016 - 10:00 , by
ROM
In September, 1971, the ROM opened the landmark exhibition Keep Me Warm One Night, a kaleidoscopic display of over 500 pieces of Canadian handweaving. It was the culmination of decades of pioneering research and collecting by the ROM curatorial powerhouse duo 'Burnham and Burnham', aka Dorothy K. Burnham and Harold B. Burnham.
To kick off the one-year count down to the ROM's conference, Cloth Cultures (November 10-12, 2017), which will commemorate Dorothy Burnham's many legacies, and to mark Canada's approaching 2017 Sesquicentennial, we will be posting bi-weekly excerpts from Dorothy's journal of Keep Me Warm One Night. We hope you will enjoy this unofficial glimpse into the bygone days of the ROM, and into the pioneering days of textile studies.
---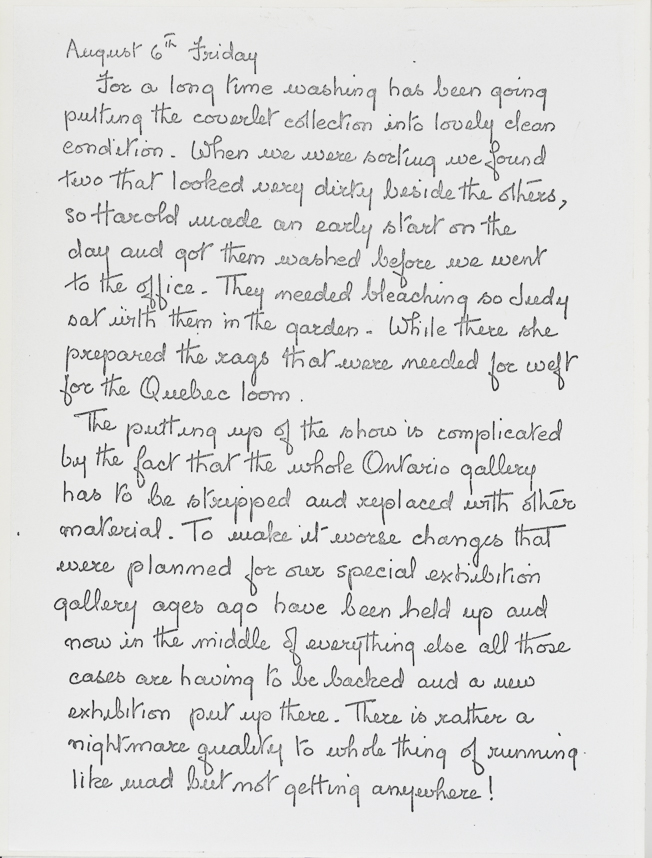 Transcript:
August 6th Friday
For a long time washing has been going[,] putting the coverlet collection into lovely clean condition. When we were soaking we found two that looked very dirty beside the others, so Harold made an early start on the day and got them washed before we went to the office. They needed bleaching so Judy sat with them in the garden. While there she prepared the rags that were needed for weft for the Quebec loom.
The putting up of the show is complicated by the fact that the whole Ontario gallery has to be stripped and replaced with other material. To make it worse changes that were planned for our special exhibition gallery ages ago have been held up and now in the middle of everything else all those cases are having to be backed and a new exhibition put up there. There is rather a nightmare quality to whole thing of running like mad but not getting anywhere!
Judy in the museum garden prepares rags for weaving while the laundry dries and bleaches.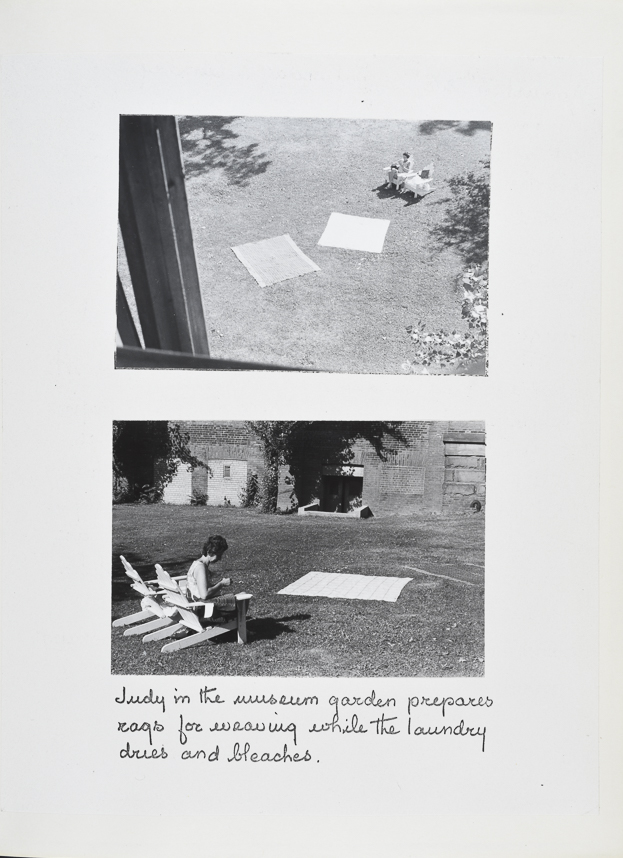 Transcript:
Judy in the museum garden prepares rags for weaving while the laundry dries and bleaches.