#ThrowbackThursday: Cotton Ceiling
Posted: August 31, 2017 - 10:00 , by
ROM
In September, 1971, the ROM opened the landmark exhibition Keep Me Warm One Night, a kaleidoscopic display of over 500 pieces of Canadian handweaving. It was the culmination of decades of pioneering research and collecting by the ROM curatorial powerhouse duo 'Burnham and Burnham', aka Dorothy K. Burnham and Harold B. Burnham.
To kick off the one-year count down to the ROM's conference, Cloth Cultures (November 10-12, 2017), which will commemorate Dorothy Burnham's many legacies, and to mark Canada's approaching 2017 Sesquicentennial, we will be posting bi-weekly excerpts from Dorothy's journal of Keep Me Warm One Night. We hope you will enjoy this unofficial glimpse into the bygone days of the ROM, and into the pioneering days of textile studies.
---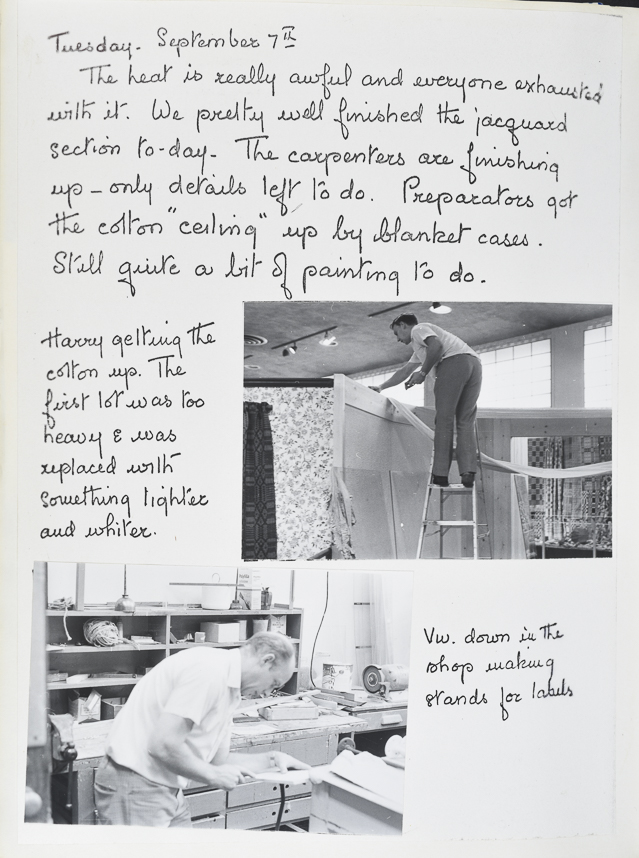 Transcript:
Tuesday. September 7th
The heat is really awful and everyone exhausted with it. We pretty well finished the jacquard section to-day. The carpenters are finishing up - only details left to do. Preparators got the cotton "ceiling" up by blanket cases. Still quite a bit of painting to do.
Harry getting the cotton up. The first lot was too heavy & was replaced with something tighter and whiter.
Viv. down in the shop waking stands for labels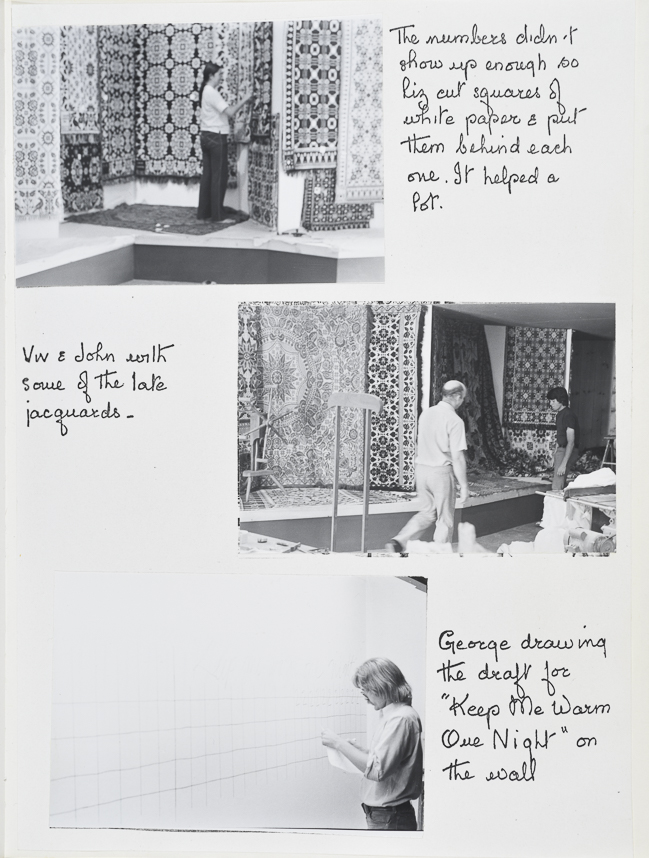 Transcript:
The numbers didn't show up enough so Liz cut squares of white paper & put them behind each one. It helped a lot.
Viv & John with some of the late jacqurards.
George drawing the draft for "Keep Me Warm One Night" on the wall