#ThrowbackThursday: Badly Tied Up
Posted: March 2, 2017 - 16:44 , by
ROM
In September, 1971, the ROM opened the landmark exhibition Keep Me Warm One Night, a kaleidoscopic display of over 500 pieces of Canadian handweaving. It was the culmination of decades of pioneering research and collecting by the ROM curatorial powerhouse duo 'Burnham and Burnham', aka Dorothy K. Burnham and Harold B. Burnham.
To kick off the one-year count down to the ROM's conference, Cloth Cultures (November 10-12, 2017), which will commemorate Dorothy Burnham's many legacies, and to mark Canada's approaching 2017 Sesquicentennial, we will be posting bi-weekly excerpts from Dorothy's journal of Keep Me Warm One Night. We hope you will enjoy this unofficial glimpse into the bygone days of the ROM, and into the pioneering days of textile studies.
---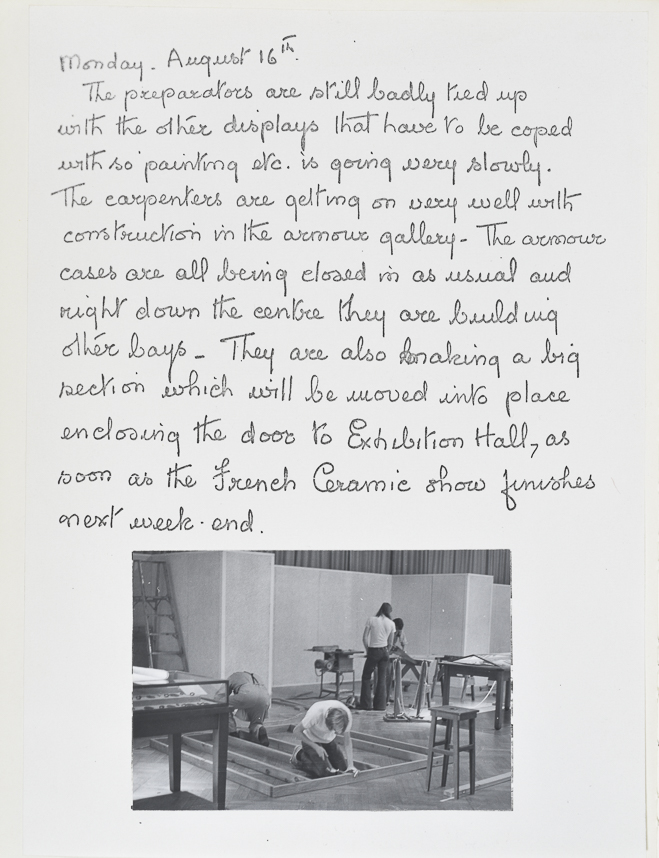 Transcript:
Monday - August 16th
The preparators are still badly tied up with the other displays that have to be coped with so painting etc. is going very slowly. The carpenters are getting on very well with construction in the armour gallery. The armour cases are all being closed in as usual and right down the centre they are building other bays - They are also making a big section which will be moved into place enclosing the door to Exhibition Hall, as soon as the French ceramic show finishes next weekend.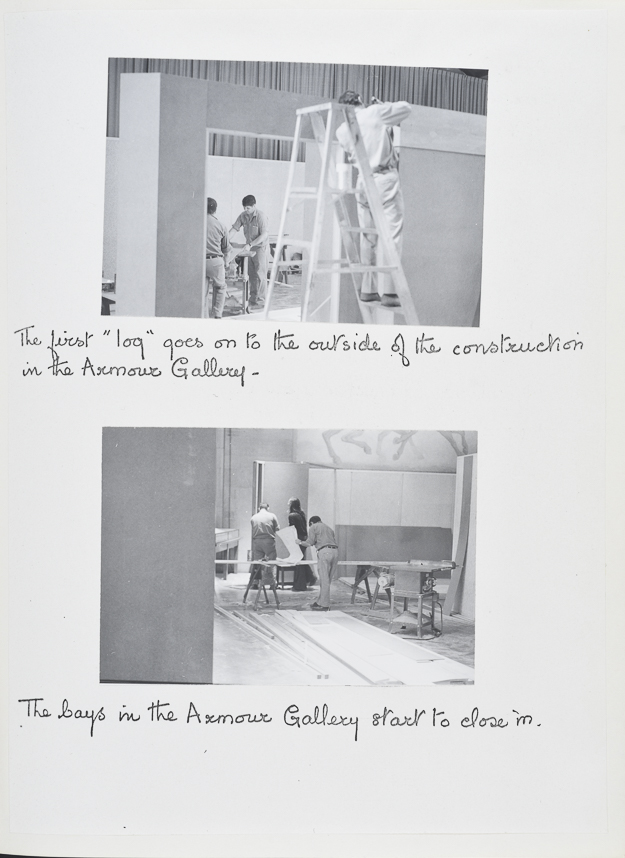 Transcript:
The first "log" goes on to the outside of the construction in the Armour Gallery.
The bays in the Armour Gallery start to close in.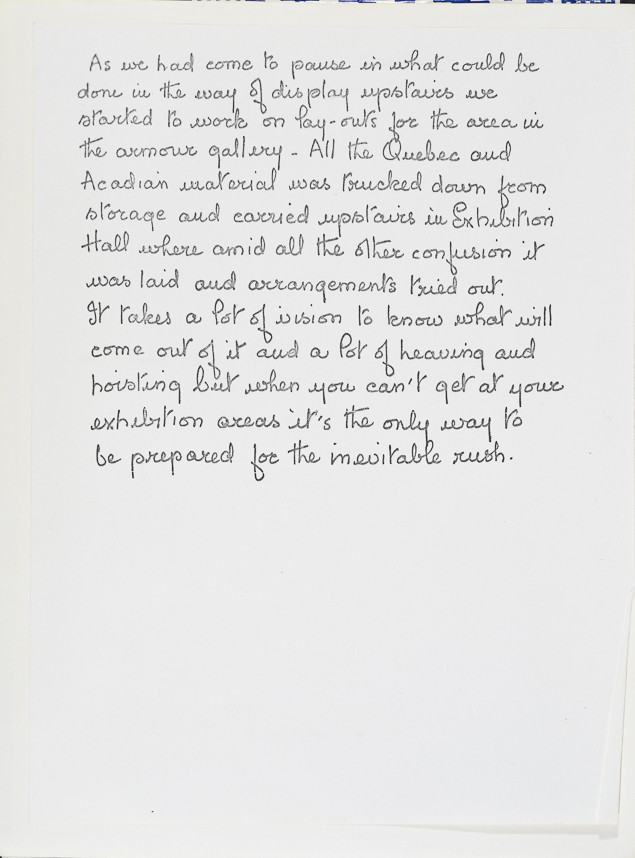 Transcript:
As we had come to pause in what could be done in the way of display upstairs we started to work on layouts for the area in the armour gallery. All the Quebec and Acadian material was trucked down from storage and carried upstairs in Exhibition Hall where amid all the other confusion it was laid and arrangements tried out. It takes a lot of vision to know what will come out of it and a lot of heaving and hoisting but when you can't get at your exhibition areas it's the only way to be prepared for the inevitable rush.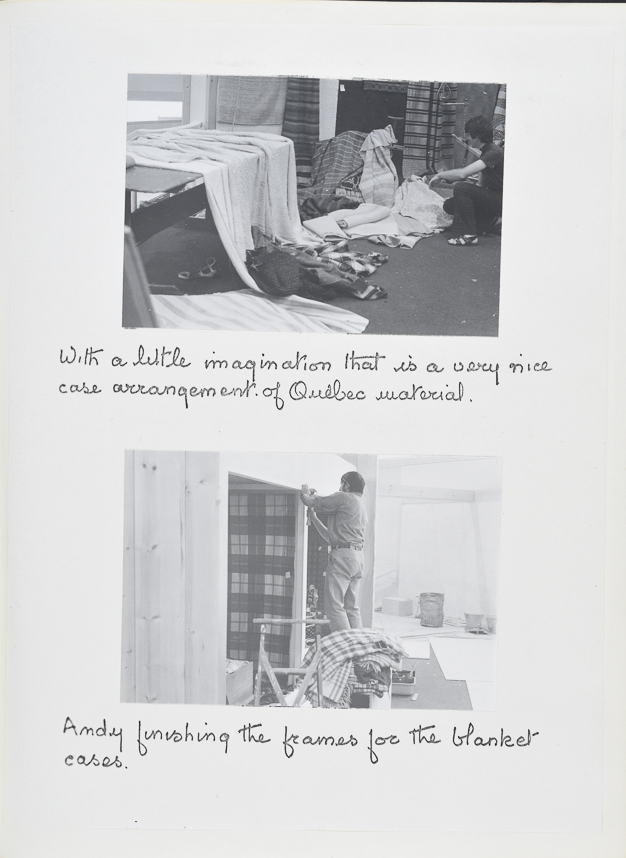 Transcript:
With a little imagination that is a very nice case arrangement of Quebec material.
Andy finishing the frames for the blanket cases.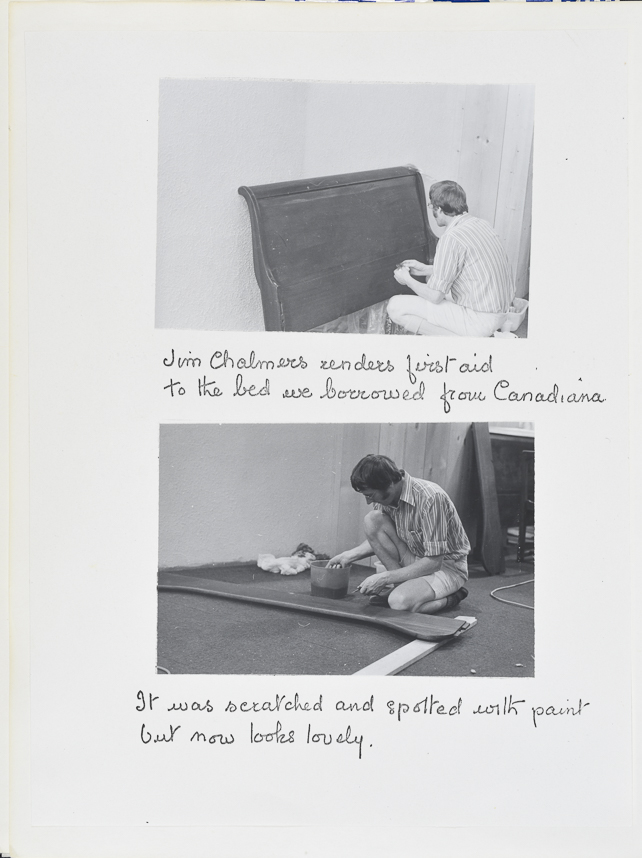 Transcript:
Jim Chalmbers renders first aid to the bed we borrowed from Canadiana
It was scratched and spotted with paint but now looks lovely.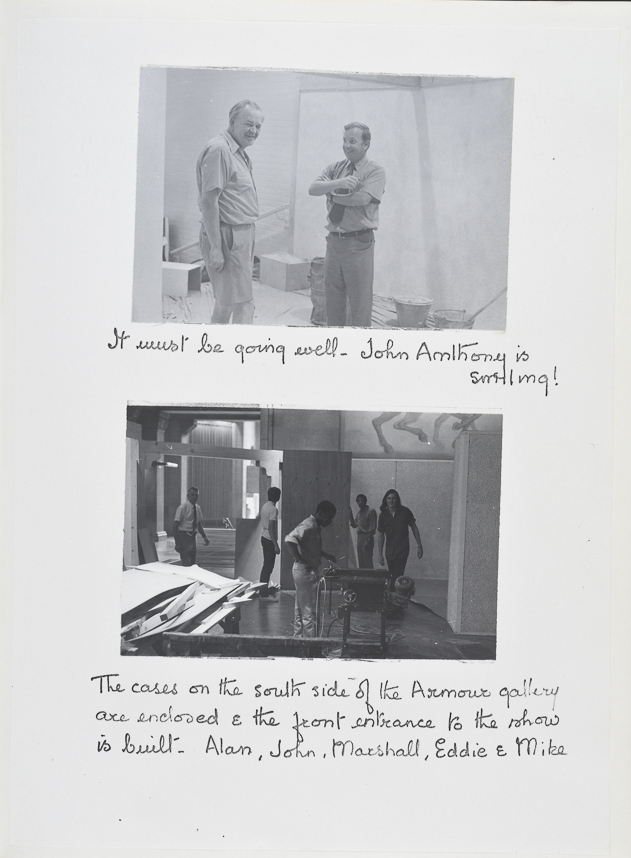 Transcript:
It must be going well - John Anthony is smiling!
The cases on the south side of the Armour gallery are enclosed & the front entrance to the show is built: Alan, John, Marshall, Eddie & Mike