#ThrowbackThursday: Asparagus Brunch
Posted: March 30, 2017 - 13:23 , by
ROM
In September, 1971, the ROM opened the landmark exhibition Keep Me Warm One Night, a kaleidoscopic display of over 500 pieces of Canadian handweaving. It was the culmination of decades of pioneering research and collecting by the ROM curatorial powerhouse duo 'Burnham and Burnham', aka Dorothy K. Burnham and Harold B. Burnham.
To kick off the one-year count down to the ROM's conference, Cloth Cultures (November 10-12, 2017), which will commemorate Dorothy Burnham's many legacies, and to mark Canada's approaching 2017 Sesquicentennial, we will be posting bi-weekly excerpts from Dorothy's journal of Keep Me Warm One Night. We hope you will enjoy this unofficial glimpse into the bygone days of the ROM, and into the pioneering days of textile studies.
---
Transcript:
Wednesday - August 18th
Fred is getting the paper on the bedroom and the painting is being done there. Harold has the little loom already to move down as soon as there is somewhere to move it to. The quebeec one is working too but it will take quite a bit of time yet. Labels & still more labels for Harold & me to write and for Liz to type.
Next fall the Royal Ontario Museum will have a special exhibition of handwoven Canadian coverlets from the museum's collections titled "Keep Me Warm One Night," a pattern name from the Annapolis Valley in Nova Scotia.
The show will be on view in the museum's exhibition hall from September 13 to October 31.
Five members of the ROM members' committee, who will be guiding the visitors to the exhibition, met Monday at The White House, Don Head Farms, the home of Mrs. Ernest Redelmeier, to see a hand-weaving loom in action and to try their hand at the craft.
The group was joined by Harold Burnham, head of the ROM textile department and a hand weaver himself, who has assembled the material for the show and assisted his wife in writing a major study of Canadian handwoven coverlets which will be published next year.
Mr. Burnham brought coverlet samples to show the Tourers, told them of plans for the show and assisted them in explaining the mysteries of overshot weaves. One of the Tourers is Mrs. William Harris Jr. of King, who is also a member of the museum board.
The informal meeting was followed by an asparagus brunch.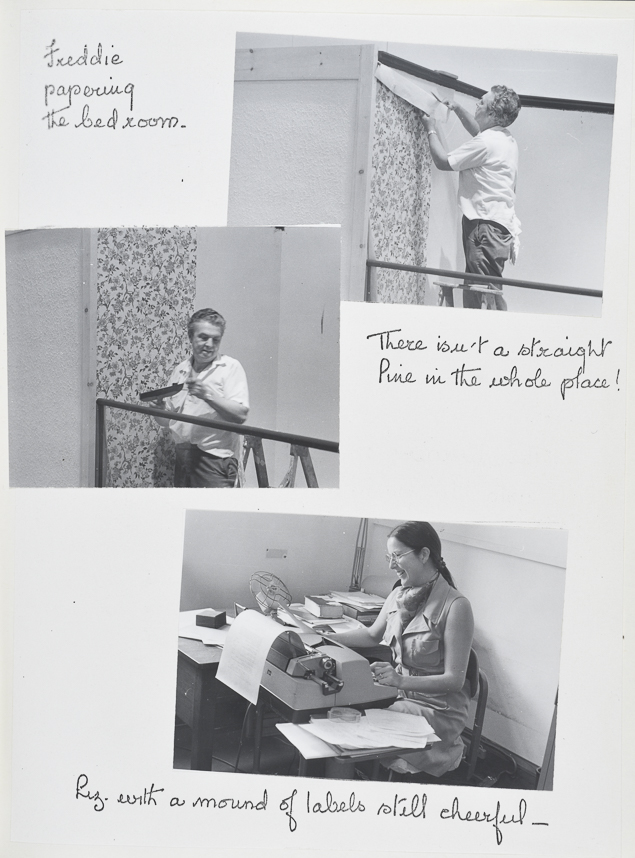 Transcript:
Freddie papering the bed room.
There isn't a straight Pine in the whole place!
Liz with a mound of labels still cheerful-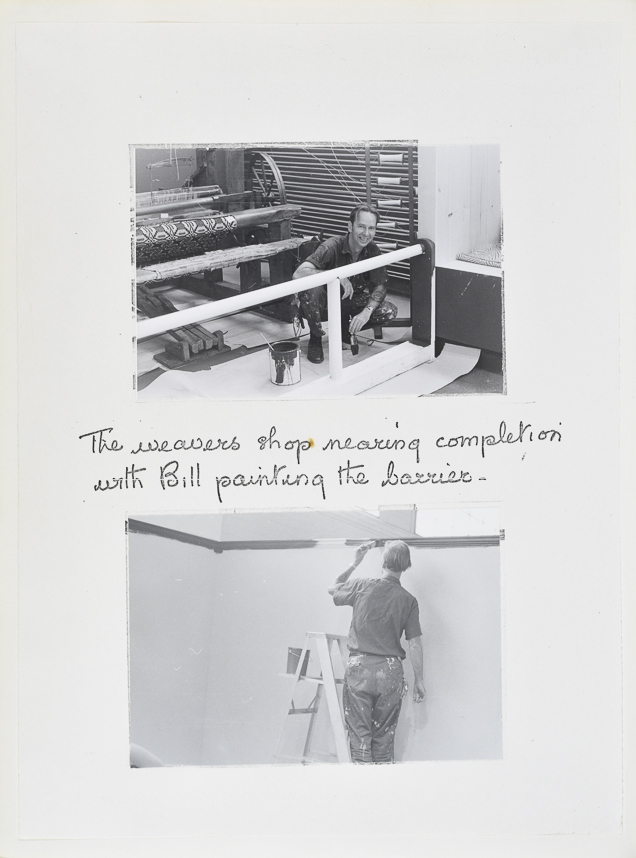 Transcript:
The weavers shop nearing completion with Bill painting the barrier-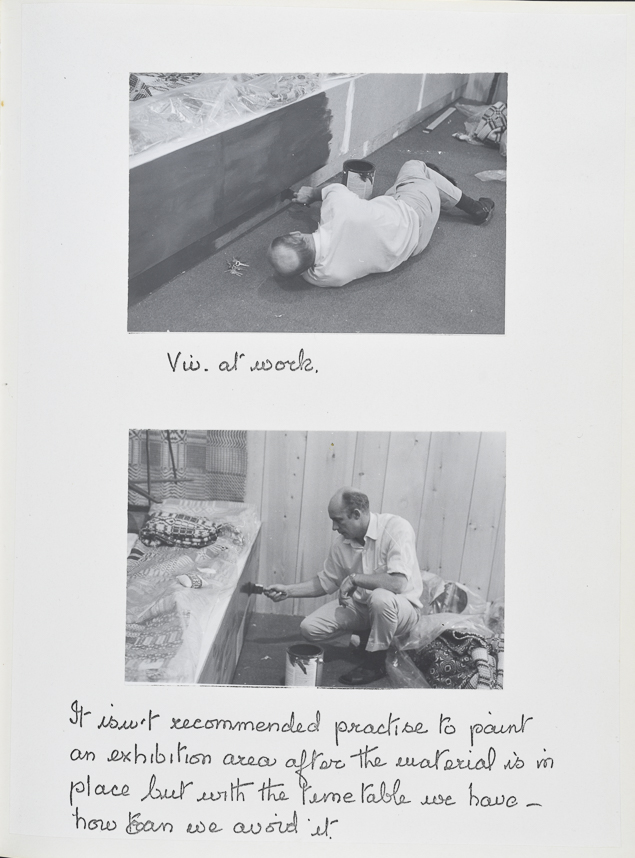 Transcript:
Viv at work
It isn't recommended practise to paint an exhibition area after the material is in place but iwth the timetable we have - how can we avoid it.