#ThrowbackThursday: A Very Muggy Day
Posted: August 10, 2017 - 10:00 , by
ROM
In September, 1971, the ROM opened the landmark exhibition Keep Me Warm One Night, a kaleidoscopic display of over 500 pieces of Canadian handweaving. It was the culmination of decades of pioneering research and collecting by the ROM curatorial powerhouse duo 'Burnham and Burnham', aka Dorothy K. Burnham and Harold B. Burnham.
To kick off the one-year count down to the ROM's conference, Cloth Cultures (November 10-12, 2017), which will commemorate Dorothy Burnham's many legacies, and to mark Canada's approaching 2017 Sesquicentennial, we will be posting bi-weekly excerpts from Dorothy's journal of Keep Me Warm One Night. We hope you will enjoy this unofficial glimpse into the bygone days of the ROM, and into the pioneering days of textile studies.
---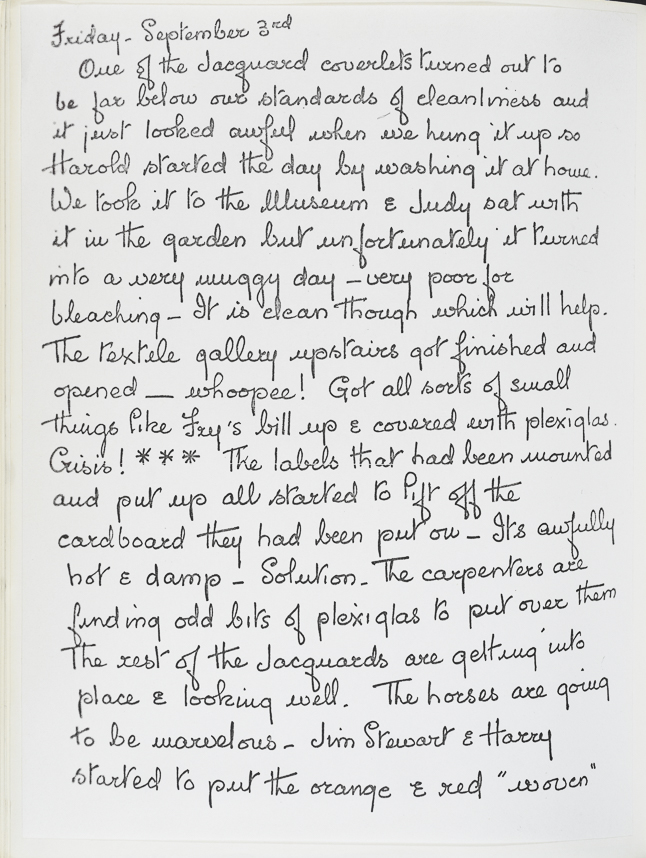 Transcript:
Friday - September 3rd
One of the Jacquard coverlets turned out to be far below our standards of cleanliness and it just looked awful when we hung it up so Harold started the day by washing it at home. We took it to the Museum & Judy sat with it in the garden but unfortunately it turned into a very muggy day - very poor for bleaching. it is clean though which will help. The textile gallery upstairs got finished and opened - whoopee! Got all sorts of small things like Fry's bill up & coered with plexiglas. Crisis! *** The labels that had been mounted and put up all started to lift off the cardboard they had been put on. It's awfully hot & damp - Solution. The carptners are finding odd bits of plexiglas to put over them[.] The rest of the Jacquards are getting into place & looking well. The horses are going to be marvelous. Jim Stewart & Harry started to put the orange & red "woven"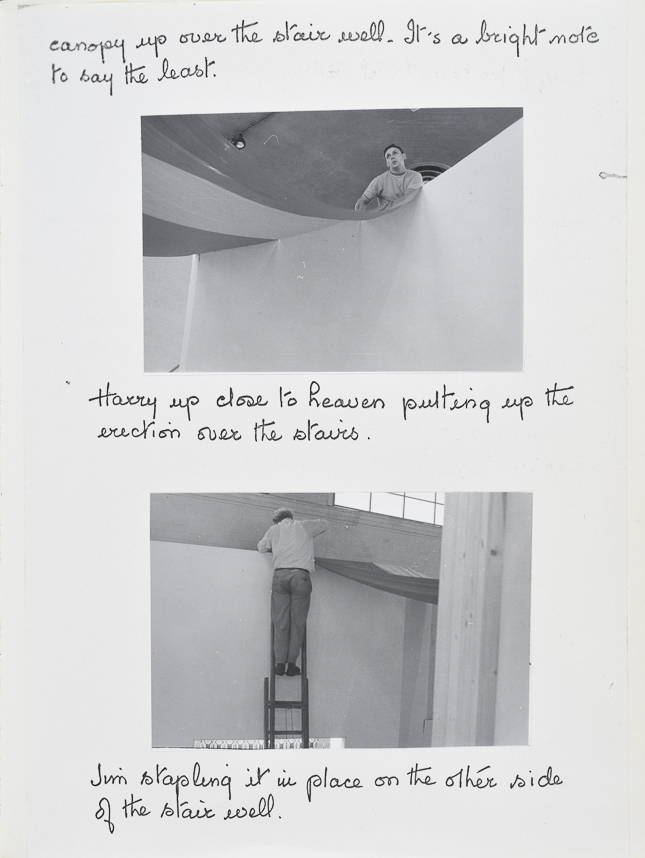 Transcript:
canopy up over the stair well. It's a bright note to say the least.
Harry up close to heaven putting up the erection over the stairs.
Jim stapling it in place on the other side of the stair well.