#ThrowbackThursday: A Very Hot Evening
Posted: October 27, 2016 - 10:00 , by
ROM
In September, 1971, the ROM opened the landmark exhibition Keep Me Warm One Night, a kaleidoscopic display of over 500 pieces of Canadian handweaving. It was the culmination of decades of pioneering research and collecting by the ROM curatorial powerhouse duo 'Burnham and Burnham', aka Dorothy K. Burnham and Harold B. Burnham.
To kick off the one-year count down to the ROM's conference, Cloth Cultures (November 10-12, 2017), which will commemorate Dorothy Burnham's many legacies, and to mark Canada's approaching 2017 Sesquicentennial, we will be posting bi-weekly excerpts from Dorothy's journal of Keep Me Warm One Night. We hope you will enjoy this unofficial glimpse into the bygone days of the ROM, and into the pioneering days of textile studies.
---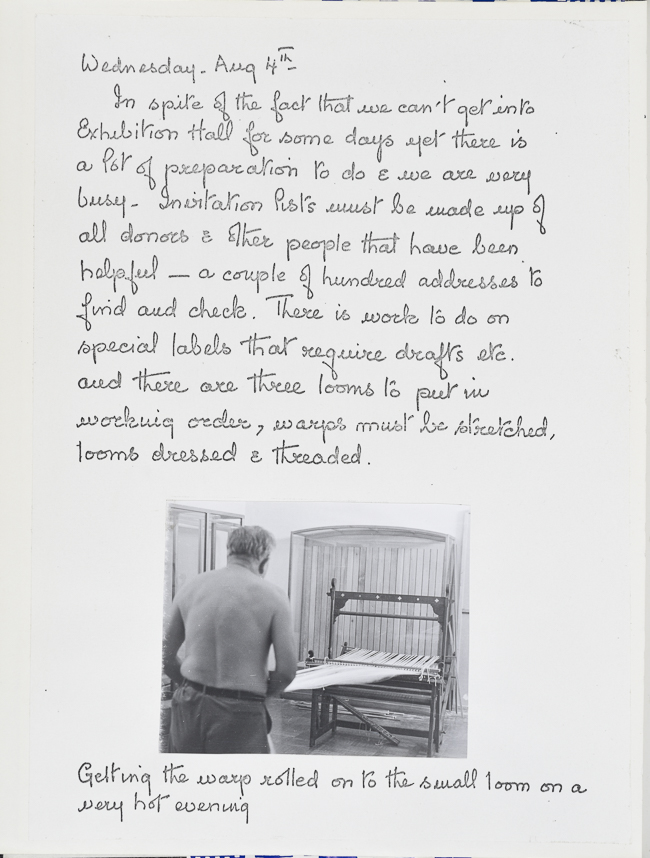 Transcript:
Wednesday, Aug 4th
In spite of the fact that we can't get into Exhibition Hall for some days yet there is a lot of preparation to do & we are very busy - Invitation lists must be made up of all donors & the people that have been helpful - a couple of hundred addresses to find and check. There is work to do on special labels that require drafts etc. and there are three looms to put in working order, warps must be stretched, looms dressed & threaded.
[Image of Harold Burnham, in the summer heat, rolling a warp onto a loom.]
Getting the warp rolled on to the small loom on a very hot evening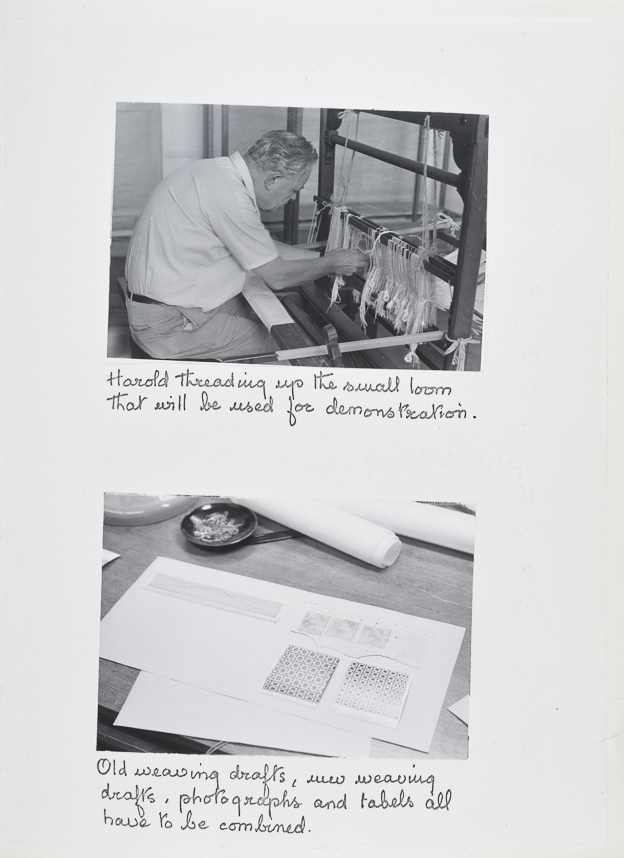 Transcript:
[Photo of a man threading a loom]
Harold threading up the small loom that will be used for demonstration.
[Photo of a pile of paper]
Old weaving drafts, new weaving drafts, photographs and labels all have to be combined.