#ThrowbackThursday: A Heavy Job
Posted: November 8, 2017 - 10:00 , by
ROM
In September, 1971, the ROM opened the landmark exhibition Keep Me Warm One Night, a kaleidoscopic display of over 500 pieces of Canadian handweaving. It was the culmination of decades of pioneering research and collecting by the ROM curatorial powerhouse duo 'Burnham and Burnham', aka Dorothy K. Burnham and Harold B. Burnham.
To kick off the one-year count down to the ROM's conference, Cloth Cultures (November 10-12, 2017), which will commemorate Dorothy Burnham's many legacies, and to mark Canada's approaching 2017 Sesquicentennial, we will be posting bi-weekly excerpts from Dorothy's journal of Keep Me Warm One Night. We hope you will enjoy this unofficial glimpse into the bygone days of the ROM, and into the pioneering days of textile studies.
---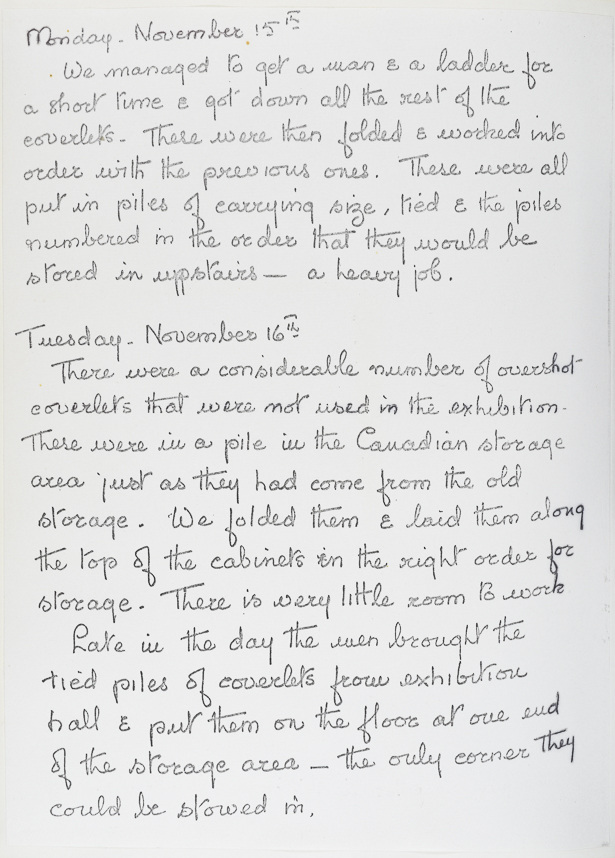 Transcript:
Monday - November 15th
We managed to get a man & a ladder for a short time & got down all the rest of the coverlets There were then folded & worked into order with the previous ones. These were all put in piles of carrying size, tied & the piles numbered in the order that they would be stored in upstairs - a heavy job.
Tuesday - November 16th
There were a considerable number of overshot coverlets that were not used in the exhibition. These were in a pile in the Canadian storage area just as they had come from the old storage. We folded them & laid them along the top of the cabinets in the right order for storage. There is very little room to work
Late in the day the men brought the tied piles of coverlets from exhibition hall & put them on the floor at one end of the storage area - they only corner they could be stored in.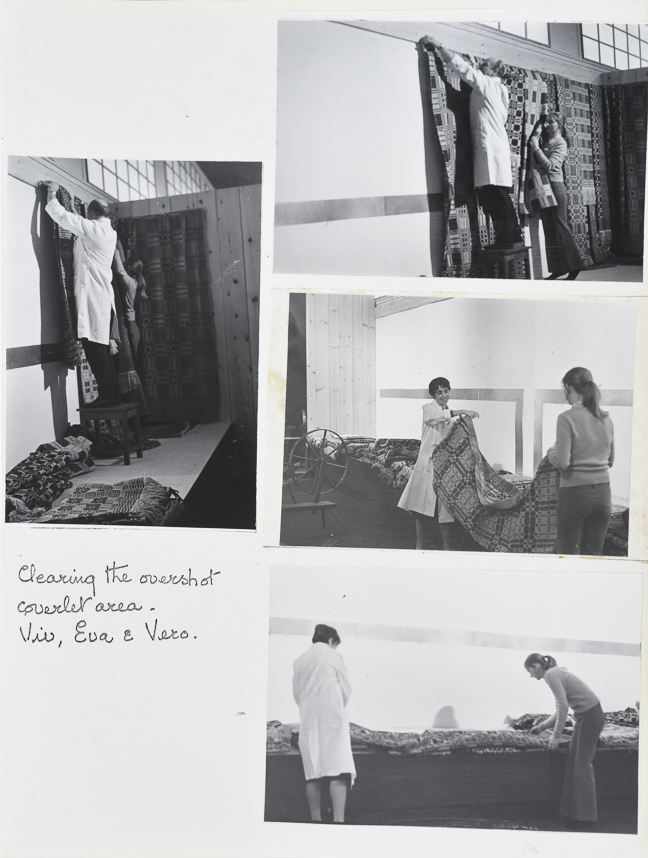 Transcript:
Clearing the overshot coverlet area.
Viv, Eva & Vero