ROM Volunteer Profile: Patricia Harris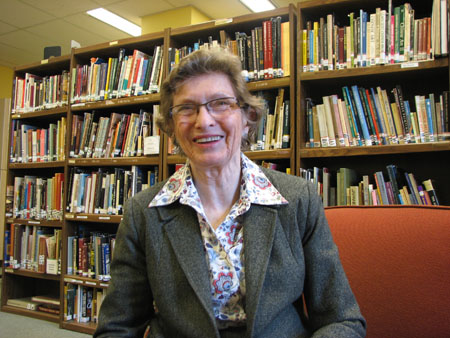 Patricia Harris is a true testament to the profound impact of volunteerism. Who could have imagined that when Mrs. Harris – Pat to the many people who work with her – started volunteering with the ROM in 1958, she would not only stay with the commitment for over five decades, but would have a permanent Museum gallery named in her honour!
Pat is a long-standing member of the Department of Museum Volunteers (DMV), whose programs and activities, too numerous to list here, represent a significant contribution to what the ROM is and how visitors experience the Museum. Very early on, Pat became involved with supporting the Museum's textiles department. "My interest in sewing sparked when my Grandmother gave me a thimble when I was nine years old," says Mrs. Harris. "Volunteering with the textiles department was a natural fit."
Pat assisted the department in many ways, including working on production of the exhibition catalogue of Toronto haute couture garments. Pat was tasked with contacting the previous owners to ask them what sort of hair styles and accessories they would have worn with each outfit (even asking what undergarments would have been worn, which could significantly affect the resulting silhouette). Some of the photos in the catalogue are even of Pat modelling various outfits.
The DMV also organizes events at the ROM. Pat is proud of her work on the Magic of Indigo Blue event, presented by the Textiles and Costume Committee in 2004, in conjunction with the exhibition Touched by Indigo: Chinese Blue-and White Textiles and Embroidery. The event featured fifteen Levis jean jackets, re-styled by Canada's top designers and auctioned off by Christie's Canada to benefit the Burnham Brett Endowment for Textiles and Costumes. Jeans retailer Levis even featured them in their Yonge St. store display. The event was both a fundraiser and generator of publicity for the Museum.
"What I like is learning and using your imagination to create something," said Mrs. Harris. It's a perfect match as the ROM certainly affords those opportunities.
To others who may be interested in volunteering at the ROM, Pat says that it's very rewarding as it allows you to develop life long learning and skills, and that there are lots of great experiences to be had by getting involved, some as close at hand as lectures or as adventurous as trips with ROM Travel to destinations around the world. The ROM has been very fortunate to have Patricia Harris as volunteer, we can only hope that during her over 50 years of service she has enjoyed it as much as the ROM has enjoyed and benefitted from having her here.
The next time you're at the ROM, be sure to visit The Patricia Harris Gallery of Textiles & Costume
For more about Patricia Harris, read also "A Tribute to Patricia Harris" in ROM Magazine, Winter 2012.