Photographer thoughts: A conversation with Mark Peck
Posted: January 26, 2016 - 17:38 , by
ROM
Guest Blog written by Environmental Visual Communication student Fatima Ali
In a recent CBC interview Mark Peck, the Royal Ontario Museum's (ROM) very own ornithologist and devoted baseball fan, said, "If the baseball team plays with as much heart as the birds show in everyday life, we'll be fine. We've got nothing to worry about." … And oh boy was he right! On October 14th 2015 the Blue Jays secured their first trip to the American League Championship series since 1993. What a historical day! What a brilliant team! What an iconic mascot …the Blue Jay!
In spite of his "im-peck-able" career as an ornithology technician in the Department of Natural History at the ROM, Mark Peck is also a world traveller and an avid natural history photographer with a special interest in breeding and nesting birds. His father, George Peck, introduced Mark to birding and photography at a young age and Mark has never looked back. Over the years, his work has taken him to places such as South America and the Canadian Arctic but he still considers Ontario one of his favourite research locations, including his work in James Bay that is highlighted in the above video produced by EVC alumni Vincent Luk who joined Mark and his team in the 2015 field season.
*Ornithology is the study of birds.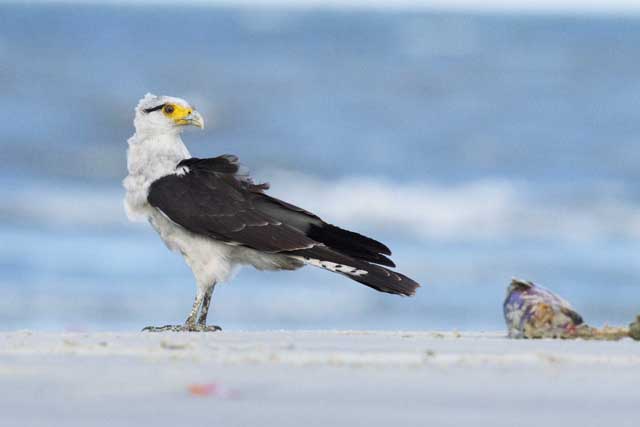 In addition, Mark Peck has served as a curatorial consultant for several exhibitions at the ROM, including the most prestigious nature photography exhibition in the world: Wildlife Photographer of the Year. Organized by the Natural History Museum located in London, England, the ROM is hosting the Wildlife Photographer of the Year exhibit for the third consecutive year. In light of the ROM inspiring people to learn more about wildlife and the environments we all inhabit, I sat down with Mark to "peck" his brain about his journey into bird photography.
What came first, birding or photography?
I guess birding, but they were pretty close. My first real birding trip was when I was eleven years old. Dad, who was a veterinarian by profession, took me out for two weeks around Southern Ontario looking for bird nests. He loved birds. We would often take three weeks a year for birding trips. At 11 years old I was not really a photographer, Dad let me take a few pictures. I got more serious when I was 16 or 17 years old. It was until in my late teens when I was starting to discover photography as an art form and not just as documentation.
Why did you stick with bird photography?
Bird photography was natural for me probably because it was part of my career as an ornithologist. I'd like to think of myself as more natural history oriented but I can honestly say I don't photograph flowers as well as I do birds! Even though my second best photograph is of horseshoe crabs coming ashore to breed and has nothing to do with birds … I was there in the area researching birds.
What is your photographic style?
You know, I think, for me, it's not artistic as it should be. I would like to be more artistic. But a lot of my photography is involved with my work. I tend to be more illustrative in my approach to photography. Firstly, I want to get a photograph of the bird so it is identifiable, secondly I want to add a behavioural component to it if possible and lastly, I want to make it as artistic as I possibly can.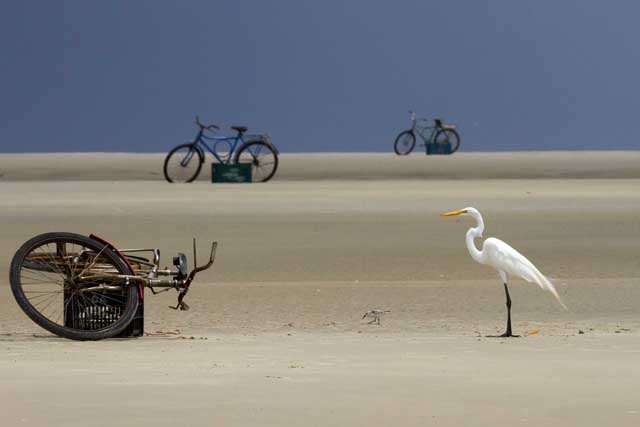 Tell us the story behind your great egret photograph
I was walking back from photographing birds for research purposes and this thunderstorm was coming in. As I was walking to camp, I just happened to see an egret, hoping for food, waiting for the fisherman to return on that one bike and as I got closer I thought, 'Wow that's beautiful' and it was the design of the bike and the movement of the bikes around the bird that made it work. I wish it would work like that more often.
Do you see an importance in bridging art and science?
I strongly believe art brings a whole new perspective to science. For me, I am very lucky because I get to see this first hand. When the two can marry, the beauty is incredible and I think the public can relate to art. Art reaches people a bit easier than science does. So I think visual communications is very important. It brings things to life and we're going to have to do it more and more.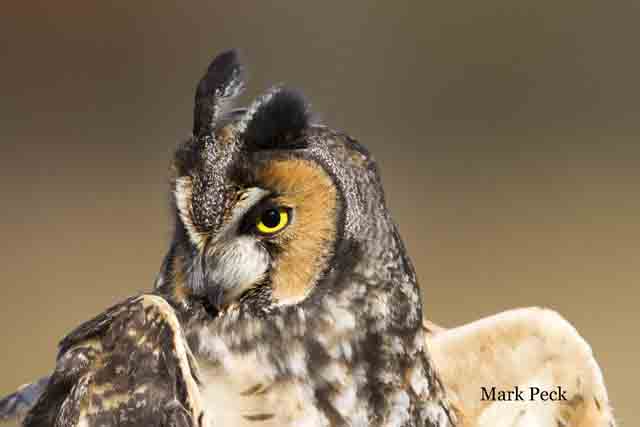 According to you, what makes an award winning shot and what is your personal "winning" shot from this year's Wildlife Photographer of the Year exhibit?
It is not easy to define what makes a winning shot, but I think part of it is the visual experience. To begin, I just look at the shot and see what effect is has on me. Which one will I learn more about? Which one tells a story? Probably the most interesting one for me in WPY is the shot of vultures feeding on a carcass. By far the grossest but it's beautifully handled. The image was well planned, there was a lot of patience and the results are unique. The nice thing about the Wildlife Photographer of the Year show is you got photographers who just got lucky and you also have photographers who carefully composed the image, worked at it tirelessly and ended up with a great shot. You learn something from every image in the show. It really is inspiring.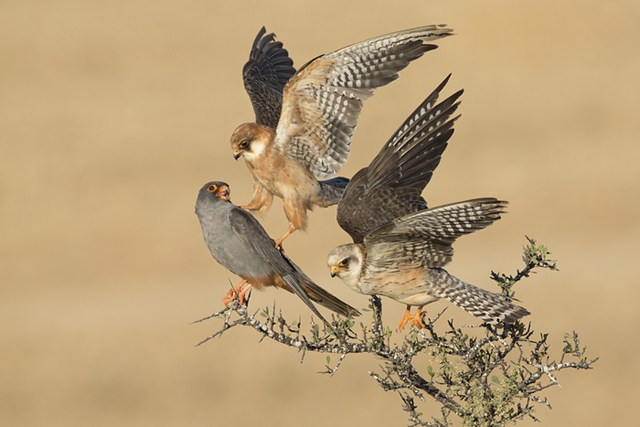 So would you say this exhibition is also an educational experience?
Yeah, you understand the process that the photographers are going through and that is a special thing, even for me. I like to look at the images and admire the images but it also gives me a deeper understanding of what they were trying to accomplish. So you can learn from that and you can take that information home and you can say "okay next time I'm going to try this." It's an amazing opportunity. They're both, amateurs and professionals in WPY. That's the other fun part of the show. You've got kids who are 10 years old or under and then you've got National Geographic photographers, some of the best photographers in the world competing against each other. And it's anywhere from landscapes to close ups to winter scenes to summer scenes … I get to see such amazing photographs that I wouldn't have seen 20 years ago.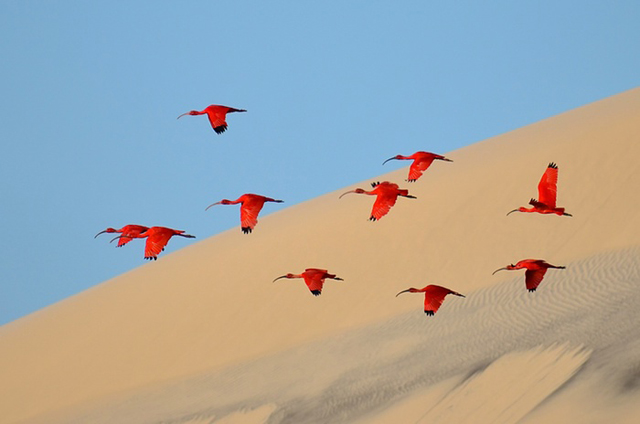 To see more photos from Mark, you can find him on Twitter @Peckasaur.
To learn more about the Wildlife Photographer of the Year exhibit at the ROM, visit: https://www.rom.on.ca/en/exhibitions-galleries/exhibitions/wildlife-photographer-of-the-year
Mark is also a judge for the ROM Wildllife Photographer of the Year Contest! Submit your photos via Instagram or Twitter by tagging them with #ROMwpy - the contest ends Jan 31st, 2016.
Click here
for more info and to take a look at the most recent submissions!