"Origins of Chintz," The Exhibit: A Look Back to 1970
Posted: July 6, 2018 - 12:10 , by
ROM
Categories:
None | Comments () |
Comment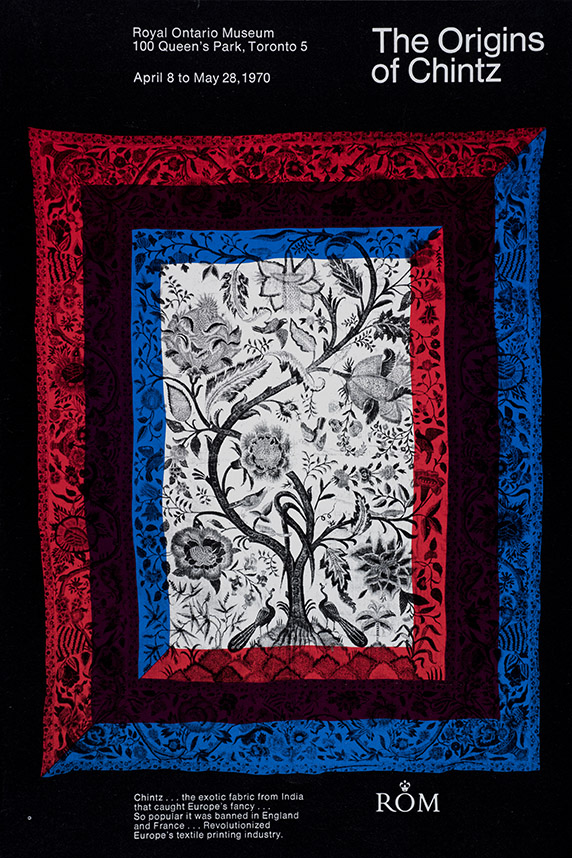 "Chintz… the exotic fabric from India that caught Europe's fancy… So popular it was banned in England and France… Revolutionized Europe's textile printing industry."
Thus exclaimed the brochure that accompanied the ROM's landmark exhibition, 'The Origins of Chintz', which opened in April, 1970, now nearly fifty years ago. Occupying the whole of the central ground gallery, known today as Currelly's Court, the exhibition displayed nearly 100 towering examples of Indian 'chintz'.
Today the term 'chintz' evokes images of cheap cotton prints or fussy florals, but from the 16th century to early 19th centuries, these were luxury fabrics, of novel colour and design. Artisans in India had, over thousands of years, devised ingenious techniques to fix bright dyes to cotton, using complex chemical formulae that modern science still cannot entirely explain. Their designs dazzled, from yardage of small floral repeats to tapestry-sized hangings with complex narrative scenes. From medieval times at least, they were exported across Africa and Asia by land and sea.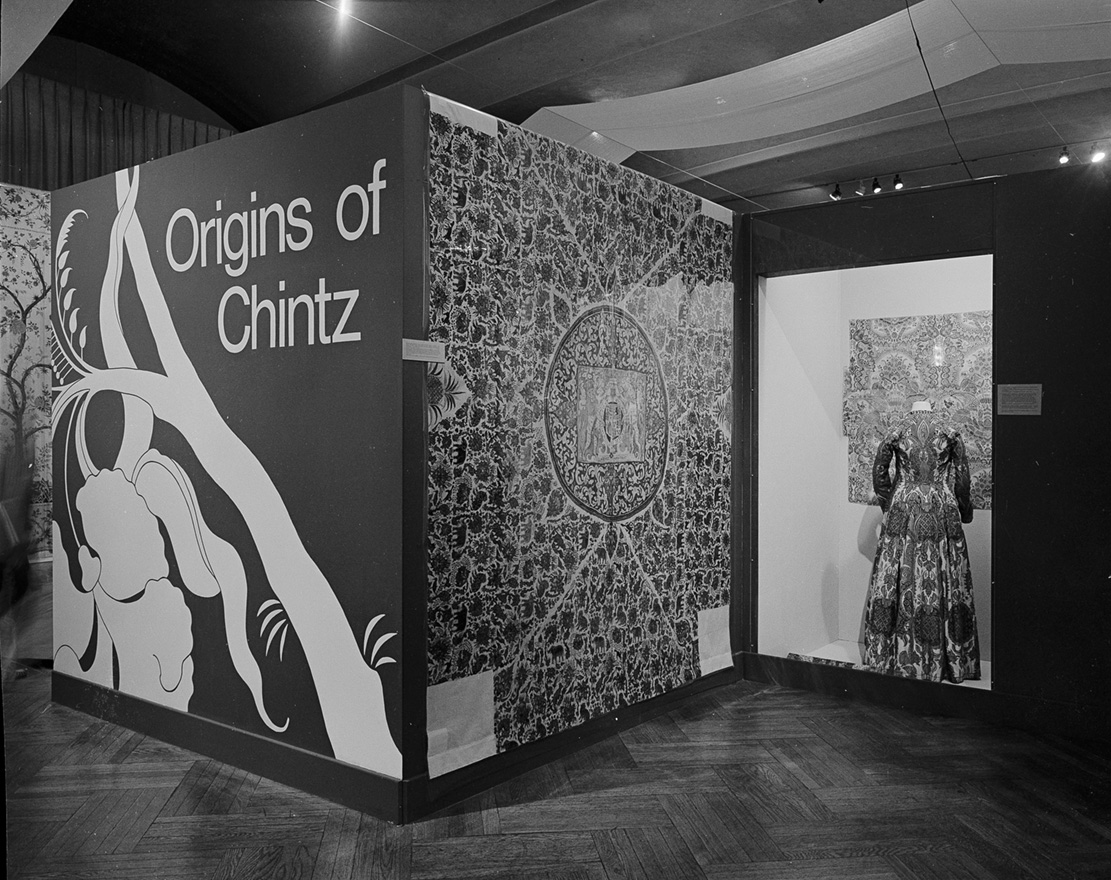 To Europe that had known only linen, silk and wool, the lightweight, washable, gaily coloured and patterned cottons became a fashion sensation after the first European ships returned with samples in the 1500s. Floral cotton chintz became de rigeur fashion for men and women of the upper classes, to dress their bodies, and adorn every corner of their bedrooms – walls and poster beds were covered in great pieces known as palampore, many depicting giant flowering trees. By 1796, the English East India Company was making its greatest profits by importing cloth, rather than spices. Soon, all classes and ages were adorning themselves in the brightly coloured and novel cloth.
Half of the one hundred objects displayed in the ROM exhibition 'Origins of Chintz' came from the ROM's own great holdings, particularly the 1934 donation from the estate of Harry Wearne (1852-1929), a British-born textile and wall paper designer. London's Victoria & Albert (V&A) museum loaned almost forty treasures, including its unique 'Garrick bed': these Indian chintz bed coverings are famous both for their grandeur and for the impassioned letters that Mr. Garrick sent to customs officials in London begging for their return; the fabrics had been impounded during the aforementioned import ban on Indian chintz, meant to protect local British silk and linen weavers. A few additional masterpieces – including a seventeenth century hanging from a Deccan Indian court palace – came on loan from the Metropolitan Museum of Art, the Cooper Hewitt Design Museum, and Austrian Decorative Art Museum of Vienna.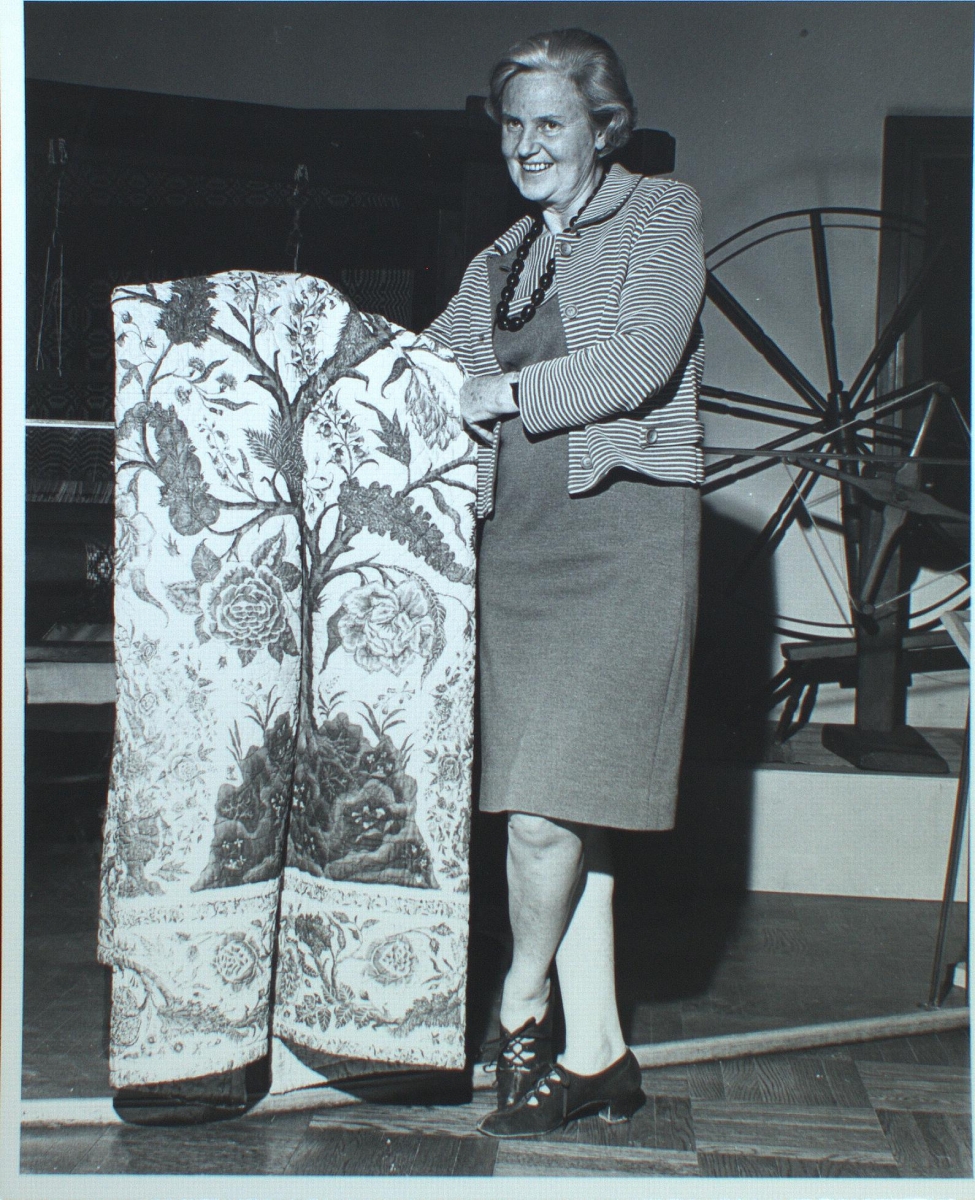 The exhibition "Origins of Chintz" -- and the acclaimed catalogue by the same name -- was the culmination of a collaborative project between the ROM and V&A, more precisely, between two curators: Katherine B. "Betty" Brett and John Irwin. Since the 1950s each had independently researched Indian chintz; discovering their mutual interest, they combined forces. A major premise of their show was to reveal the hybrid, entangled history of classic chintz designs, such as the flowering tree, whose 'origins' were not solely invented in India, but also grew from the Western imagination: examples of Western embroidered florals and imagined Chinese exotica were sent to Indian artisans, who further transformed and exoticized them for European consumers.
Capping the nearly twenty years of curatorial collaboration, for the gala opening of "Origins of Chintz" in Toronto on April 6, 1970, John Irwin travelled to Toronto to give the opening speech.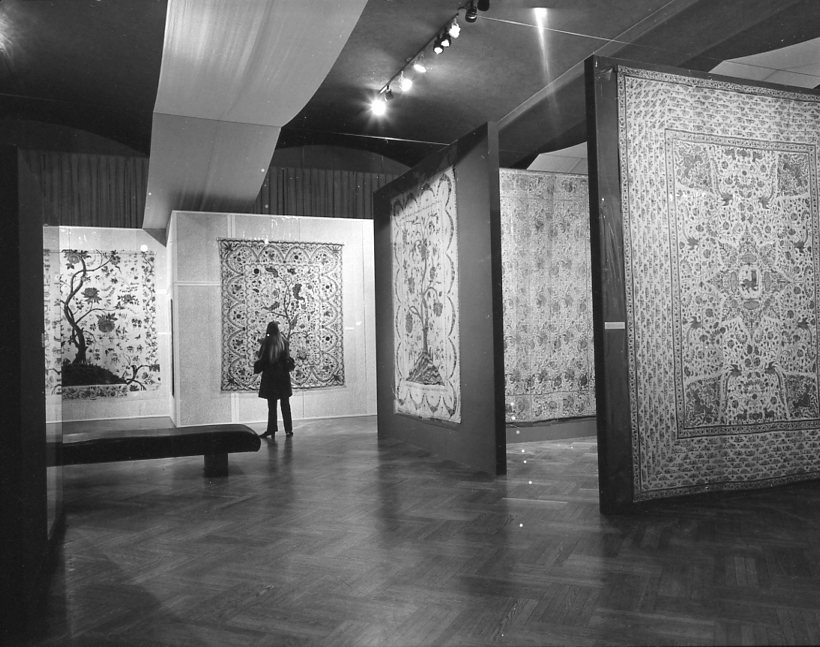 In October, 2019, the ROM will again share with the world its renowned Indian chintz collection, through a new exhibition, together with an updated catalogue, authored by an international team. Much has changed since 1970. We now appreciate that Western Europe was only one – small – market for chintz; from at least 800CE, Egypt, Thailand, Africa, Iran, Japan and Indonesia all avidly desired and sought the colourful Indian cloth and so shaped the design repertoires of Indian artisans. And although designs were multi-rooted, the Origins of the art and its complex technical steps were wholly Indian. The upcoming exhibition, too, aims to show that the story of Indian chintz did not end in 1850, when Europe finally succeeded in exporting industrial imitations of the Indian cotton originals and capturing many world markets. Rather, artisans across the twentieth century and to the current day have continued to innovate, with exciting revitalizations taking place across the country in design, colour and fashion.