Of India and Modernism: Youngo Verma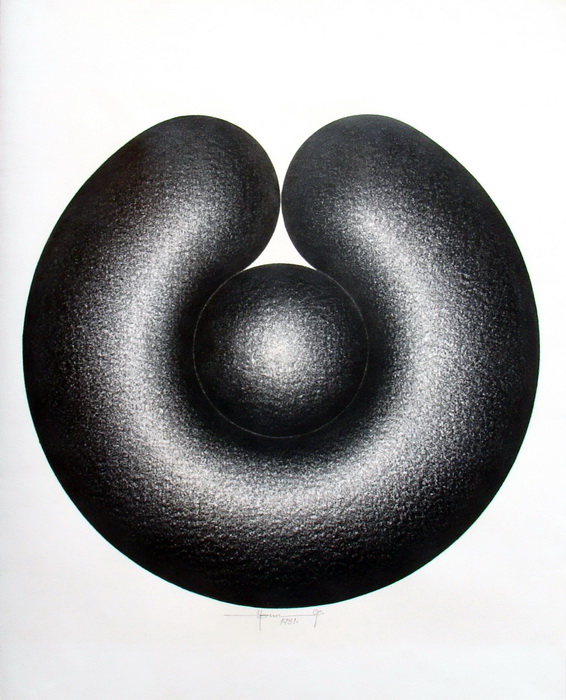 Youngo Verma (1938-2014), Tantra 21, New Dehi, India, Graphite on Paper, 1981, 36 x 48 inches. ROM 2014.14.1
Recently, the ROM acquired a work by Canadian-Indian artist Youngo Verma (1938-2014) that exemplifies his work with organic abstract forms. Pulling from an Indian "neo-tantric" visuality and participating in a language of global modernism, it connects to South Asia's past and an international contemporary present. This acquisition supports efforts at the ROM to engage with contemporary issues through the visual form. It is now in the ROM collection and could be on view at a later date.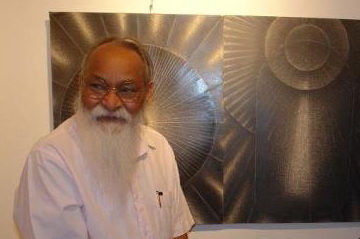 June 2012, Youngo Verma at his solo exhibition at Fourth Eye Gallery, Toronto. Photo Ali Adil Khan.
Verma was born in 1938, prior to India's independence, and would have been influenced by a generation of artists experimenting with new forms that combined the old and the new. Tantra was one source from India's past appropriated by Indian modern artists to invent a Nationalist art after the era of British colonialism. Verma graduated from Delhi College in 1964 and taught art and sculpture at Delhi's Jammia Millia College until 1971. But Verma is also part of the Diasporic experience: in 1971 he moved to Germany and was influenced by the Bauhaus School, especially the sculptor Brancusi, and then to Canada in 1981, which has been his home ever since. His work is a product of all these experiences and reflects the multiple factors that shape artists working today.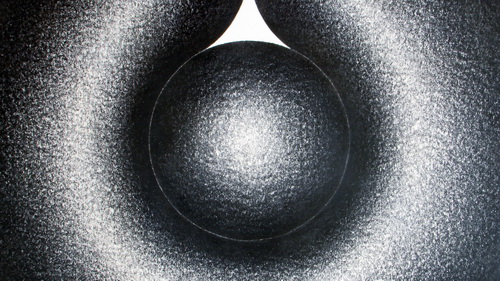 Detail of "Tantra 21"
"Tantra 21" has been painstakingly and strategically created with nothing more than graphite on paper to produce an abstract shape that seems to protrude from the paper surface. In this way, it expresses three-dimensionality, as if resisting or defying the flatness of the paper. It was produced out of an act of meditation over a lengthy period of time and is meant to draw the viewer inward towards a trance-like state.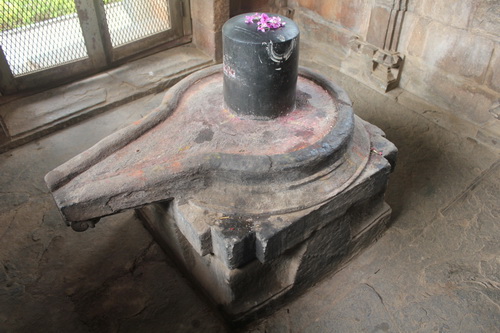 Example of Shiva Lingam, Tarakeshwar Temple. Photo Siddeshwar Prasad, karnatakatravel.blogspot.ca.
But this work is not purely an abstract form without meaning; it is associated to the tradition of Tantra in Hinduism and Buddhism that promotes meditation and ritual to achieve a union with the divine. Verma's drawing is non-figural on the one hand, but also looks like a birds-eye view of a lingam, on the other. A Lingam is a stone shaft encircled by or sitting on a round stone (yoni) that is the abstract manifestation of the Hindu God Shiva. The Shiva Lingam is often found in Hindu temples as the focus of worship and represents the cosmic procreative energy of Shiva. It is meant to resemble male and female procreative parts in union as a metaphor for the spiritual union with the divine.
Most historians agree that 1980 is a threshold moment in India's history, marking a period of economic liberalization and its entry onto the global stage. This phase contrasts with India's past century and a half that was dominated by British colonialism and Indian Nationalism. Artists from India working in this post-1980 phase are marked by a global identity and have made their homes around the world. Those who settled in Canada have developed a visual practice that is impacted by the cultural history of South Asia as well as their new home. The results can be surprising, innovative, and beautiful. But thus far, their work has not received the visibility it deserves, in the Canadian art market or in cultural institutions. For all these reasons, their work is important in building any collection of global contemporary art.