New to ROM: Frances Ferdinands
For over a decade, the ROM has steadily acquired the work of contemporary Canadian artists who are part of the South Asian diaspora. Such collecting is important not only to provide points of context and contrast with ROM's historical South Asian collections, but also to preserve the complexities and fullness of contemporary artistic production.
Last year, ROM acquired four works by Frances Ferdinands, a Toronto-based Canadian artist who was born in Sri Lanka, for its permanent collection. These works are from her "Atomizer" series, which plays on the similarities between the silhouettes of a hand grenade and an elegant vintage perfume atomizer. In addition to the visual similarities, the perfume spray serves as an analogy to the explosion caused by such a weapon. Combining aesthetic beauty and history, the works cleverly and poetically combine references from historical Sri Lankan decorative art alongside meanings that resonate with issues of inequality, injustice, and the exploitation of natural resources during Sri Lanka's colonial past.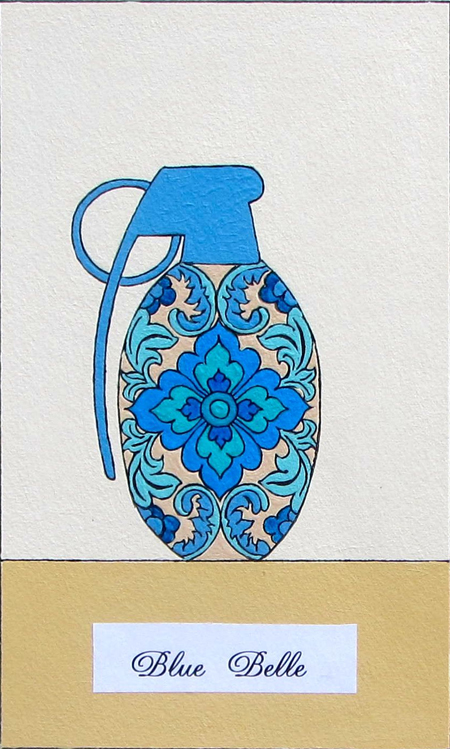 "Cinnamon Spice" (above top, detail of full work) references how Sri Lanka (Ceylon) was the cradle of cinnamon in the ancient spice trade, and upon becoming a Portugese colony had to pay Portugal 100,000 lbs. of it each year. "Red Rose" references the colonization by the British and the conversion of Ceylon from a coffee to tea producing country. "Blue Belle" references the name given to the 400-carat Blue Saphhire found in a Ceylonese paddy field in 1926, and ending in the possession of a British Lord in 1937.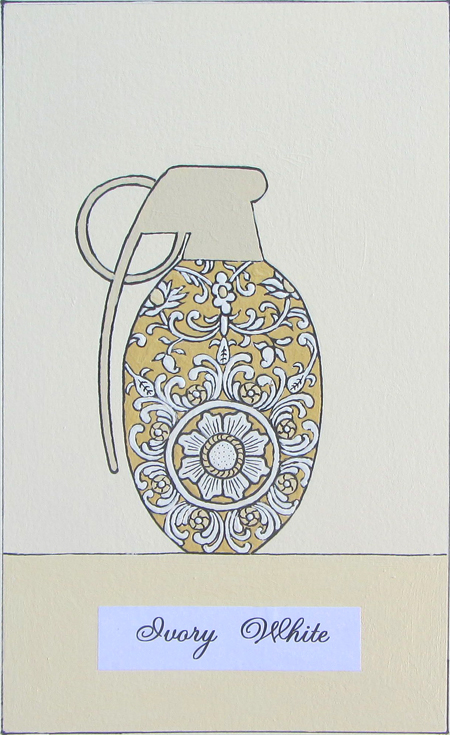 "Ivory White" references how during British rule, many bull elephants were killed by trophy hunters. One army major is credited with having shot over 1,500 elephants.
The series is also a reference to the contemporary history of the Sri Lankan Civil War, an armed conflict that took place 1983-2009 between the government and the Liberation Tigers of Tamil Eelam. The analogy of a grenade with perfume is startling, perhaps even disturbing, and yet there is a poetic quality about it. Both are invasive in their own way, changing one's perception of the world around them in their destructive or sense-filling qualities. It is an analogy that works in an oddly successful way. In this way, the artist states, "I wanted to create beauty within an object of mass destruction. I also wanted to reference the place of beauty within the intersection of war, religion, and commerce throughout history." It is hoped these works in the ROM's collection are a starting point for a conversation about history and its contemporary realities.
While grounded in painting practice, Frances Ferdinands' works combine colour and shapes that have religious and historical significance with the visual language of modern abstraction. Her more recent work has evolved into a multi-media format embracing three-dimensionality, installation, and performance. In all Ferdinands' work, there is some visual or conceptual connection to Sri Lanka, both its contemporary reality and its historical past.