Nature Stories through Photography: Insights from Connor Stefanison
Posted: November 17, 2015 - 13:33 , by
ROM
Guest Blog written by Environmental Visual Communication student Sean de Francia
The world-renowned Wildlife Photographer of the Year Exhibition has served as an important channel to bring ecology and biodiversity to the centre of conversation. Since its beginnings, the travelling exhibition has featured thousands of captivating photographs telling different stories of the nature and the world around us, connecting people with nature and challenging us to think critically about the world we live in.
Photographer Connor Stefanison is no stranger to this conversation, with his background in biology from Simon Fraser University and an upbringing in the diverse terrain of British Columbia. Connor is this year's recipient of the Rising Star Portfolio Award, given to outstanding photographers 18-25 for images that will be featured at the exhibit. He was also awarded the Eric Hosking Portfolio Award in 2013. Here he shares his insights into producing powerful narratives through nature and wildlife photography.
What makes an award winning shot for you?
I think the number one thing is that the photo must have immediate impact. The judges see an extremely high volume of images. A winning photo will make the judges stop and stare for longer than the non-winning photos. The photo should of course have great composition and lighting, but there must be a "wow" factor that sets it apart from the others. Many amazing images do not get awarded because they're similar to images that have already been made. If you can properly execute a captivating and original photo, you should have a good chance in this contest!
How do you find yourself in such interesting photographic spots?
Understanding the biology of your subject is very important. As a basic example, if you know about the biology of Black Bears, you probably wouldn't attempt to find them during the Canadian winter. Simple Google searches can often teach you enough to have a good understanding of your subject. Talking to scientists is also extremely valuable in understanding your subject and where it can be found.
Maybe the most important thing when in new areas is to talk to the local people. Ask anyone you see if they know about the subject you're after. People are usually nice enough to share their stories and provide information on what you're after. This has helped me a lot in the past and has led to me meeting amazing people and finding great photography locations.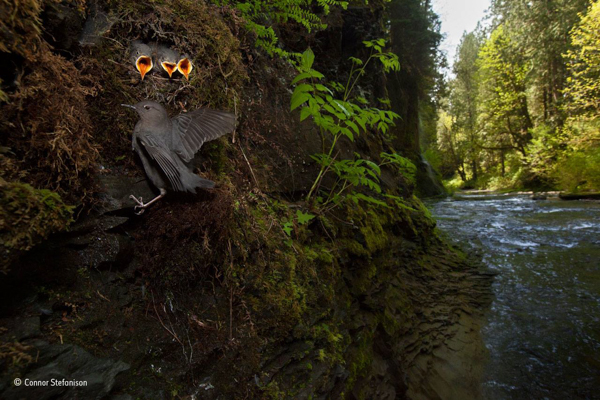 Some of your most captivating photos were taken right at home in British Columbia. Do you see this area of Canadian ecology becoming a prevailing theme in your work?
I definitely see myself focusing much of my future photography in British Columbia. B.C has so much to offer wildlife photographers that I could only photograph in B.C for the rest of my life and not be bored. Some general story themes that I think are important to bring attention to are habitat loss/degradation, climate change, human wildlife conflicts, and also just the general beauty of nature.
Many wildlife photographers hold conflicting opinion on human intervention in the photographic setup to respect the integrity of the natural world. What are your thoughts on such grey areas?
This is a question that can have an entire book written for the answer! Certain images are almost impossible to capture without human intervention. The Flight Path is one of them. I think that as long as the human intervention doesn't have a negative impact on the animal, and that the animal appears to be fine with the intervention, then it's usually ok.
If possible, I always prefer there be no human intervention. There are so many types of human intervention, so it's hard to be accepting of everything. I think it's very important to disclose in the photo caption if there was human intervention or not. Sometimes a little human intervention is needed in order to capture the "impossible" images that may be critical in telling a certain story.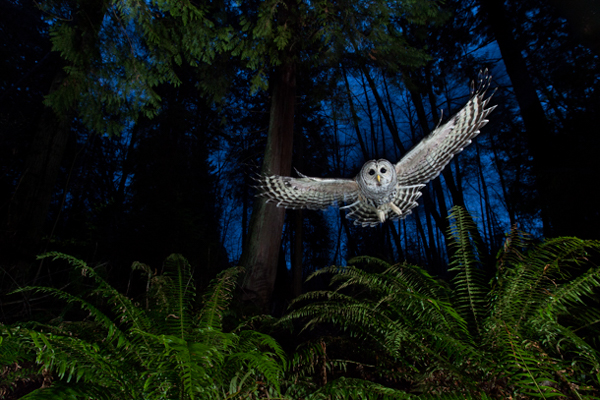 In your opinion, what role does photography play in conservation?
Photography and conservation are very complimentary. It's often near impossible to do good conservation work without the use of compelling images. A single image can be very powerful at influencing change. For example, one image of Walter Palmer with Cecil the lion was all the world was talking about for a while, and generated a lot of awareness for african wildlife.
Video is becoming very important in environmental communication, and I think we'll be seeing more multimedia projects being produced, instead of projects that are only photos and only video. That being said, the power of a single image can be so great, that I think photography will always be the more dominant medium in environmental communication.
Why do you think WPY is one of the most well-received channels of environmental communication?
WPY is a very important event, not just for the recognition of photographers, but also for bringing attention to conservation issues. The exhibit is seen by an incredible amount of people every year. What makes WPY such a well-received channel, is the quality and diversity of amazing images. Every year I'm blown away by the progression of images, and I'm very excited to see what's in store for future years.
The six award winning photos in Connor's portfolio will be on display at the ROM's installation of the Wildlife Photographer of the Year Exhibition, beginning on November 21, 2015. To learn more about Connor and his experiences in visual storytelling, visit connorstefanison.com.