Make Plastic Reduction Part of Your 2018 New Year's Resolutions
Posted: December 29, 2017 - 12:55 , by
ROM
Guest blog written by 2017 Environmental Visual Communication student Cristina Bergman
Every year, 10,000 tonnes of plastic enters the Great Lakes. Imagine 55 jumbo jets of plastic crash landing in the lakes each year. In this province alone, 3 billion plastic bottles are sold annually, but only half are recycled. The other 1.5 billion bottles end up in landfills or littering the environment. As the only province that borders the Great Lakes, Ontario has an obligation to protect this vast, irreplaceable resource. But is the province stepping up?
In 1981, Ontario's Blue Box program debuted in Kitchener, ON. It was the world's first curbside recycling program and a blueprint for recycling programs in more than 150 countries around the world. The Blue Box program provides service to more than 13 million Ontarians and over 97% of households.There is no doubt that this program has diverted millions of tonnes of waste, but two issues are clear. First, 1.5 billion plastic bottles end up in landfills or littering the environment each year—not into a blue bin or another recycling program. Second, Ontario has had the lowest overall recycling rates in the country since 2004.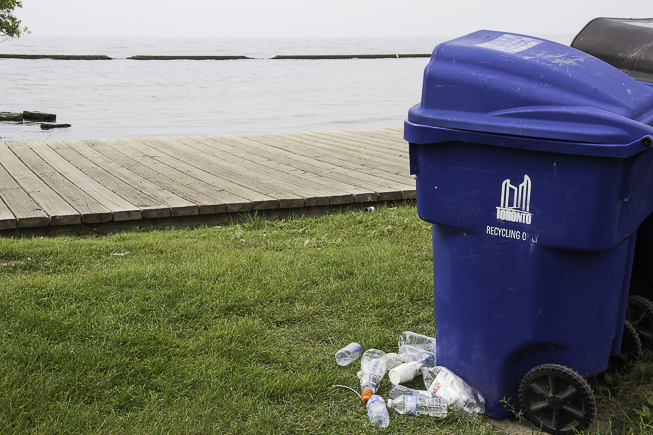 A container deposit system is one which the consumer pays a deposit on the bottle or packaging upon purchase (usually between 5-20 cents). When the bottle is returned to a designated location, the consumer is refunded the deposit. Ontarians are familiar with this system as a result of the 'Bag it Back' initiative for alcohol containers introduced in 2007.
An international study conducted by PricewaterhouseCoopers AG WPG concluded curbside collection and recycling systems achieve lower recycling rates than deposit systems. According to this study, the collection rates (return rates) of beverage containers collected through deposit systems are over 80% on average and, in some countries, higher than 95%.
In Canada, deposit return systems and recycling rates are also aligned. Where deposit systems exist across the country, recycling rates average more than 80%. As you can see on the graph below, Ontario and Manitoba are the only provinces without deposit return systems for non-alcoholic beverage containers, and they have the lowest overall recycling rates in the country. As a result, a growing number of voices are urging Ontario's provincial government to introduce a container deposit system for single-use plastic bottles.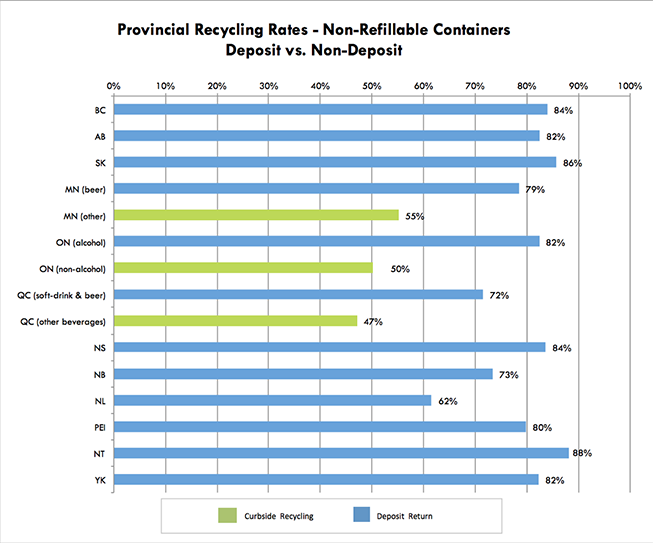 Currently, the management and funding of Ontario's Blue Box program is shared evenly between municipalities and the producers of the packaging materials that end up in curbside Blue Boxes (or the "stewards"). Meaning, 50% of the funding comes from industry, while the other 50% comes from the taxpayer.
Recently, industry has been encouraged by the Minister of Environment and Climate Change, Hon. Chris Ballard, to improve recycling rates in the province of Ontario. On August 14, 2017, he issued a letter directing Stewardship Ontario and the Resource Productivity and Recovery Authority to prepare an amended Blue Box program plan by February 15, 2018. This amended Plan will result in individual producer responsibility, meaning the stewards will be 100% financially responsible for Ontario's Blue Box program. By taking full financial responsibility for their products, the province hopes to encourage producers to further consider the end-life of their packaging.
The power has been placed in the hands of industry to determine what this new Blue Box program will look like and whether or not a plastic bottle deposit system is in the cards for the province of Ontario. Every single day they delay, another 4 million bottles are ending up in landfills and littering the environment in this province alone. These are valuable resources that can be converted in to other products such as park benches or public garbage bins that are treated as trash. But is industry up to the task? And why do they need a "push"?

Environmental Defence is one of the organizations advocating for a plastic bottle deposit system in the province. In an interview with their water campaign manager, Ashley Wallis, explains the complications they have faced getting big bottle companies on board.
Environmental Defence focuses on issues of protecting freshwater resources. Ashley Wallis states "a plastic bottle deposit system is a tangible solution for improving Ontario's recycling rates and reducing plastic pollution…With a plastic bottle deposit system, Environmental Defence hopes that the revenue generated by the unredeemed deposits (i.e. the deposits from bottles that weren't returned for refund) will go to a provincial environmental fund that will support initiatives that will improve the health of the Great Lakes."
If Ontario had a 10-cent deposit on plastic bottles and achieved an 80 per cent recycling rate, over $100 million a year in unredeemed deposits could be generated and spent cleaning up the lakes.
In May, Ashley wrote an op-ed for the Hamilton Spectator offering a deposit system as a potential solution to increase funding for the lakes. Jim Goetz, president of the Canadian Beverage Association (CBA), wrote a letter to the editor in response. According to Ashley, the letter "was full of misleading industry talking points and inaccurate arguments. She has since released a series of blogs 'debunking' the beverage industry's claims.
In June, Environmental Defence reached out to the largest bottlers in Ontario, Canada Dry Mott's, Cott Beverages Canada, Red Bull, Nestlé, Coca-Cola and PepsiCo, to invite them to the table to discuss supporting a plastic bottle deposit system. In response, they received a letter from their trade association, the CBA, stating they do not believe a plastic bottle deposit system is the right solution. They believe "a more practical option is to build on the success of the Blue Box program in Ontario, which beverage companies are helping to do right now."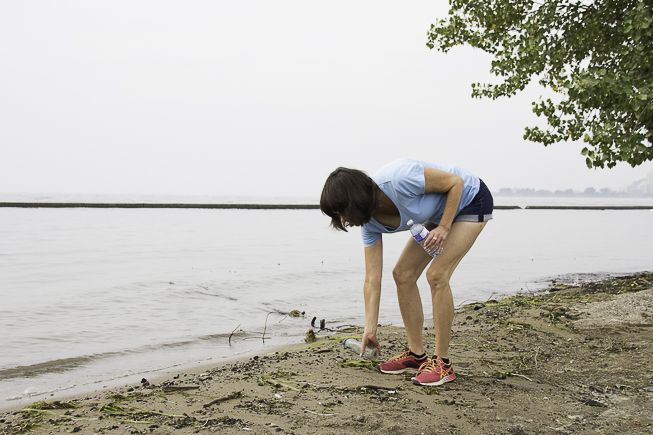 I contacted three of the top bottlers, Nestlé, Coca-Cola and Pepsi to ask what their perspective is on a plastic bottle deposit system. I received a response from Nestlé and Coca-Cola stating my question has been forwarded to their trade association (the CBA), but received no response from Pepsi.
I then contacted the CBA and spoke with their senior director of communications, Jeff Rutledge. Jeff stated: "The CBA and our members are committed to our responsibility under the Waste-Free Ontario Act and are focused on increasing the recovery rate of beverage containers while supporting efforts to increase overall waste diversion rates in Ontario and across Canada…In the province of Manitoba, the CBA has improved recovery rates of materials by 28% in just six years by providing away-from-home and multi-residential recycling infrastructure." They did not comment on whether or not they support a deposit system, or what they are doing to improve recycling in the province of Ontario.
While a 28% increase in recovery rates in Manitoba over six years is a significant accomplishment, Manitoba had very few public garbage bins and no multi-residential recycling (i.e. no recycling in apartments and condos). These initiatives have improved 'recovery rates', but Manitoba's 'recycling rates' still remain the second lowest in the country at 55%. 'Recovery rates' are simply the amount of waste that has been collected. A significant amount of this waste still ends up being diverted to landfill due to food and other contaminants. 'Recycling rates' include items that have been collected and will be repurposed and/or converted into other products.
Unlike Manitoba, Ontario already has well-established multi-residential and away-from-home recycling initiatives, yet still has the lowest recycling rates in the country. The CBA is committed to improving the Blue Box program, but are not supportive of a plastic bottle deposit system. However, single-use plastic bottles are generally designed to be consumed on the go and are largely disposed of in public waste bins not curbside recycling programs. The province needs another tangible solution to stop the 1.5 billion bottles annually from ending up in our landfills, littering the environment or making their way into our lakes.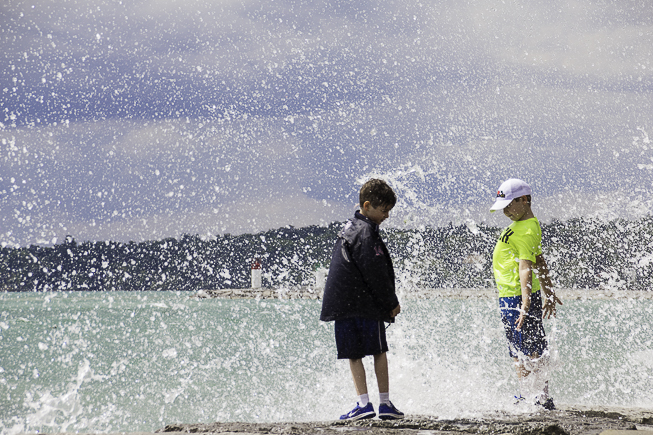 The ball has now been placed in the court of industry to come up with a solution by February 15, 2018. Unfortunately, they do not currently support a plastic bottle deposit system, which is the most effective system for achieving high recycling rates and increasing the after-life of materials. If this is a system Ontarians would like to see in the future, pressure needs to be put on industry in the coming weeks as they generate the revised Blue Box plan. If their customers openly support a plastic bottle deposit system, these organizations will too and we can take the steps necessary to preserving our lakes for generations to come.
It's the season of New Year's resolutions, and for 2018 Ontario's resolution needs to be about stopping the more than 4 million plastic bottles a day from ending up in landfills and littering our environment. By giving this 'garbage' value, we can decrease the detrimental impact it is having on our ecosystems.