Posted: March 3, 2014 - 11:42 , by
ROM
A while back, I stopped in to the Earth Sciences Dept to look at some meteorites which needed to be photographed. While I was there, I noticed some very odd looking medallions sitting in a box on the counter. These were not the smooth precious metal medallions we see on a fairly regular basis. They were rough, and looked like they were made of some kind of finely crushed gravel or stone. I asked Ian Nicklin, the Mineralogy and Geology Technician in the Dept. about them. He kept me guessing for a while, but finally gave me a paper – F4-19 Poster, presented by Maddalena De Lucia, titled 120 Years of Italian and Vesuvius History in the Lava Medals of the Osservatorio Vesuviano.
Lava Medals! Who'd of thought? These medals were made between the years of 1631 and 1944, at times of volcanic activity in Mount Vesuvius. Crafts people using metal molds would put molten lava into the mould, cool it in water and sell the final medal. In times of greater volcanic activity, the production went up. The moulds showed the images of kings and emperors, celebrities and scientists, events and locations, and became popular souvenir pieces. This medal shows Carlo Filangieri, Governor of Sicily.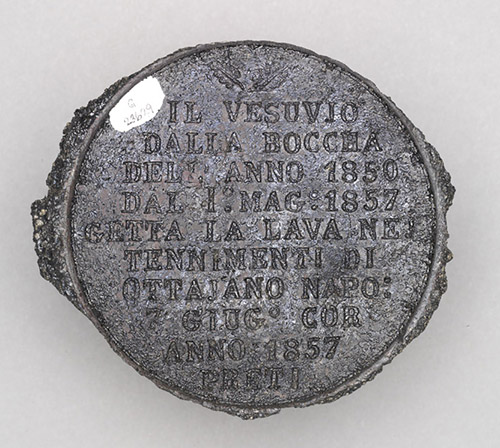 One of the great advantages of being a photographer at the ROM is that many truly amazing and wonderful objects arrive in the studio to have, as it were, a portrait taken. I will continue to share some of these portraits with you as time goes on.