Posted: March 18, 2016 - 12:19 , by
ROM
Guest Blog written by Environmental Visual Communication student Jessica Gordon
The tradition of taking pictures of nature is a long one. It can be traced back to 1906 when National Geographic featured its first ever wildlife photos. In 1963 Animals was launched, which would eventually become BBC Wildlife magazine. But it was in 1965 that the Wildlife Photographer of the Year (WPY) competition began its own tradition. Each year since then, WPY has invited photographers from around the world to come together and share their talents and passions for wildlife photography. The results are as amazing today as they were in 1965 - we get to experience the beauty our world has to offer through photos. But the contest highlights more than the talents of its entrants.
We live in an age where almost anyone with a cell phone can take a picture and share it with everyone almost instantly. In spite of this we continue to take and fall in love with photos of nature and the wildlife that surrounds us. We continue to push the boundaries of where we can go while taking cameras along with us. The question becomes: why do we still carry on the tradition? Why is wildlife photography so important to us? Here are five answers to the question of why:
1. To experience the incredible.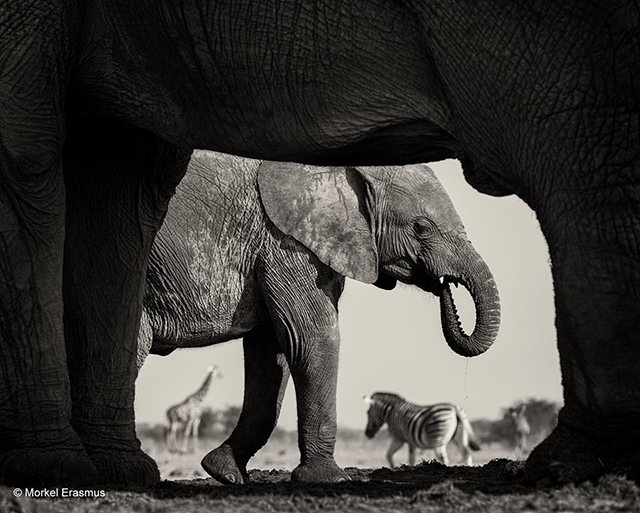 It's such a simple thing, but the reason many people know what an elephant looks like long before they ever visit a zoo or see one in the wild, is because they've seen them in photographs. We are a naturally curious species and the urge to know what something looks and feels like is deeply ingrained within us. Sometimes when it is a truly wonderful photograph, the picture can do a better job of communicating the experience of standing next to an elephant than looking into a zoo enclosure could.
The photographer who took the above picture, Morkel Erasmus, said that the elephants were so close when he took the photo that he was able to smell them. Not many people have ever had the experience of viewing an African watering hole firsthand, let alone seeing one through the legs of an elephant, but we get to experience this incredible moment because of this photo.
2. To capture rare moments.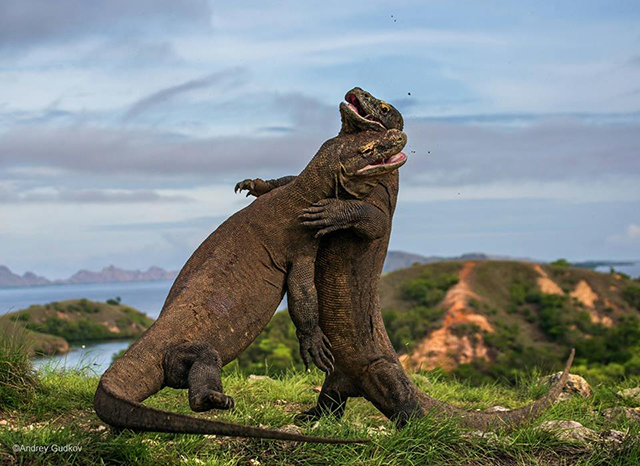 Wildlife photography is about more than just getting the lucky shot. The patience and perseverance needed to capture a unique moment is rarely evident in the photo. Anybody with access to a camera has the ability to snap a photo, but not all of us have the time or dedication to wait to capture that rare moment that few of us would otherwise see.
Andrey Gudkov visited Komodo National Park on Rinca Island in Indonesia many times to take a photo of male Komodo Dragons fighting. The behaviour is typical during the summer mating season but he left without the shot time and time again. It was not until December that his patience and perseverance were rewarded and he was finally able to get a photo of the one brief moment pictured above. He referred to the giant lizards' display as "an unforgettable show", and now we all get to see it.
3. To show our changing world.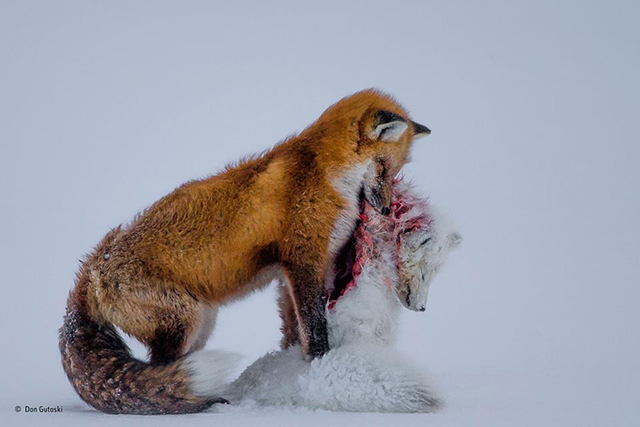 This too seems like an obvious answer, but our world is changing and it is doing so quickly and on a massive scale. Change of this magnitude can be difficult for us to comprehend and easy to dismiss but with evidence of these observations captured on camera we can put things into perspective. We can see that together these captured moments are symptoms of a larger issue.
The photo above taken by Canadian photographer Don Gutoski is of a red fox and an arctic fox. The photo seems to be a typical shot of predator and prey, but it is also part of a growing body of evidence that the range of the red fox is expanding farther north. This expansion into the range of the arctic fox is happening as a result of climate change. Photographers continue to take pictures like this because it is important for everyone to see that the we are changing our world and there are consequences to those changes.
You can learn more about Don Gutoski and his winning photo in a previous blog posting here.
4. To tell a story.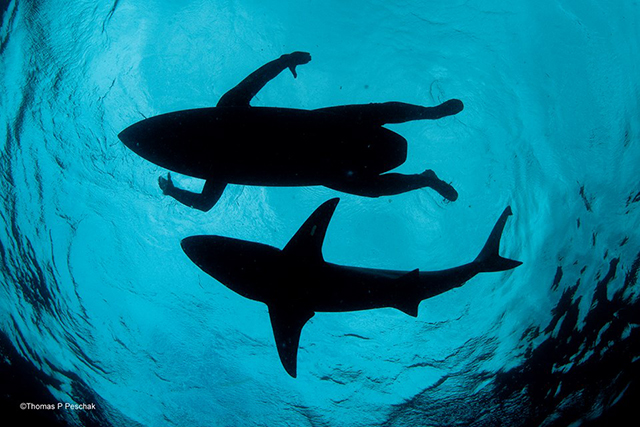 More than anything these photos tell a story. The story allows us to connect with lives that can be very different from our own. We can place ourselves within the story of these photos and view species and scenes in a different way.
The stunning silhouette in the photo above is captured by Thomas P Peschak. Our initial impulse is to fear for the surfer, but the calm tone of the photo can give us an opportunity to see it as a scene of coexistence rather than a scary or dangerous one. Despite the relatively low risk to surfers from sharks, many are still killed to decrease the risk of attacks. These culls, combined with other population pressures worldwide, are a brutal reminder that sharks really do have more to fear from humans than we do from them. But solutions are in our reach - the surfboard pictured is equipped with an electromagnetic technology designed to repel sharks, making the ocean safer - for the surfers, and the sharks.
5. To inspire change.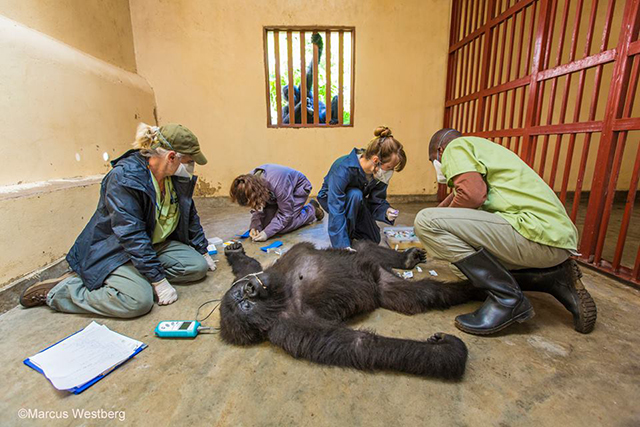 Wildlife photography can be used to ignite us to take action. Marcus Westberg brings the viewer to the front lines of the conservation efforts to protect mountain gorillas. These primates are critically endangered - only 880 individuals remain in their isolated habitat in the Democratic Republic of the Congo. Veterinarians at the Senkwekwe Centre in Virunga National Park are pictured above performing a routine check-up on one of the four orphaned mountain gorillas they care for. Photos like this can be used to highlight not just conservation issues, but also their solutions. They remind us that our impact can be positive as well.
There's so much that we can learn from the photographers represented at this year's Wildlife Photographer of the Year exhibition at the Royal Ontario Museum. They have shared their experiences, stories and understanding with us, and now you can come and take your own inspiration and your own answers to the question "Why?".
Come and visit the Wildlife Photographer of the Year Exhibit before it closes March 20, 2016! Click here for ticket information and details.