Fear for Adults and Fascination for Kids: Spiders and Friends Day at The Hospital for Sick Children
Posted: October 29, 2018 - 10:29 , by
ROM
Categories:
None | Comments () |
Comment
Written by Mark Bernards, Environmental Visual Communications student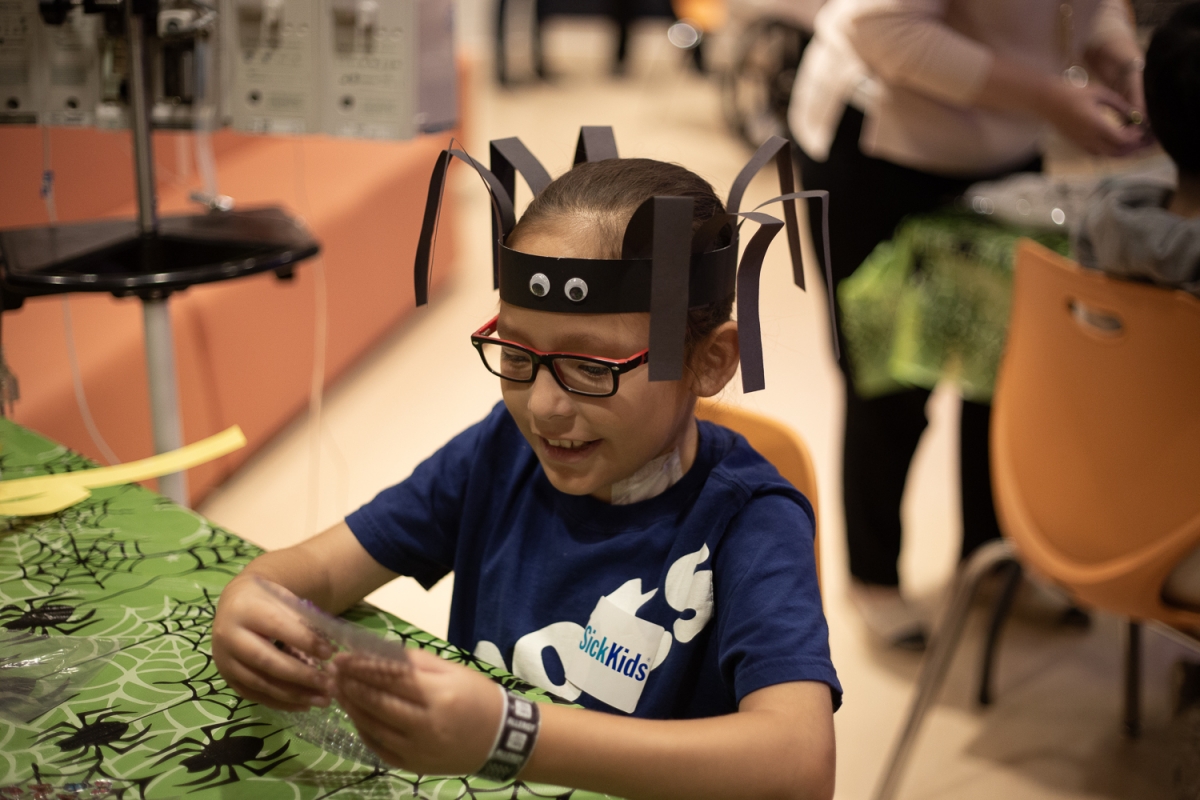 We all know someone who is terrified of spiders. Maybe it's a friend, or a family member, or maybe it's you! But I'm sure we can all think of someone we know who panics at the first sign of anything crawling across the kitchen floor. For some reason, normally rational, even fearless people start screaming for someone to come and rescue them from the "tarantula" that is "attacking" them, when a house spider shows up in the same room. But think about the people you know who are terrified of spiders. Chances are, most, if not all, of them have at least one thing in common: they're adults. Kids are naturally curious, so until they have been taught to believe that spiders and bugs are scary, most of them are just fascinated.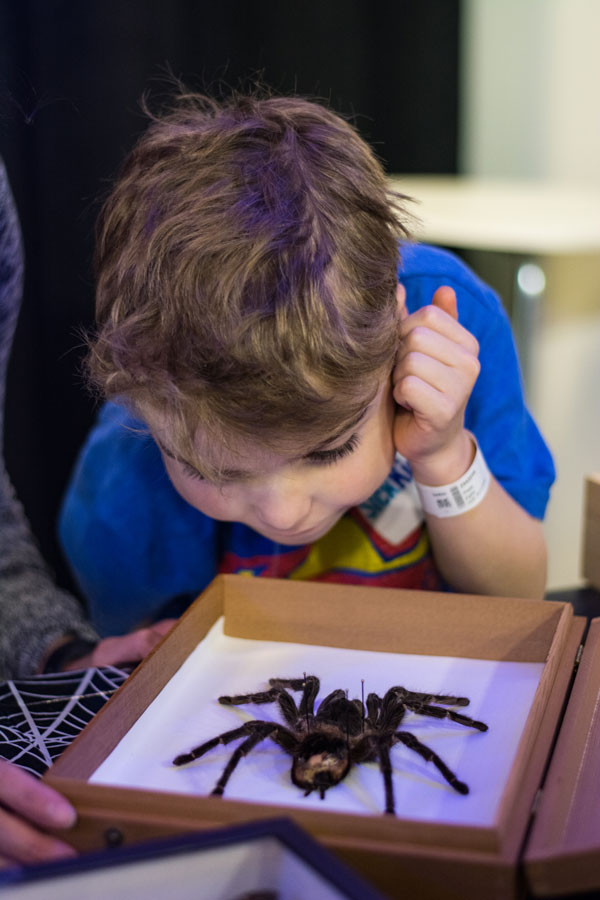 With that in mind, it's really no surprise that when ROMForYou (ROM's outreach program) brought "Spiders and Friends" to The Hospital for Sick Children (SickKids) on October 5th, 2018, it was a smash hit! The only guests who seemed at all uneasy about all the insect and spider specimens were the adults. When the audience was "reassured" that there were no live specimens, everyone sighed—adults in relief, kids in disappointment. Adults were eager to keep their distance and keep the specimens in their display cases, kids were eager to get right up close and wanted to touch everything!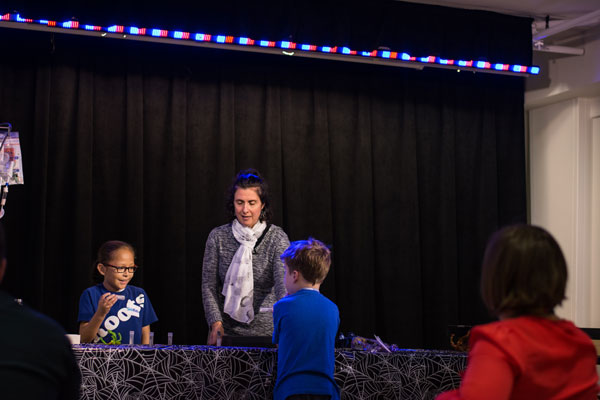 Antonia Guidotti, an entomology technician at the ROM and a major exception to the adults-afraid-of-spiders trend gave a presentation about cool insects and spiders, emphasizing local species and highlighting how harmless most of them are. She taught about many things, like the different types of webs that spiders make—including one species that uses its webbing as a lasso—and how to tell the difference between Monarch and Viceroy butterflies, using specimens from the ROM's entomology collection for visuals. The presentation was broadcast live to the patients' rooms so that everyone got to learn about and see all the awesome spiders and insects that she brought, even if they couldn't join us in person.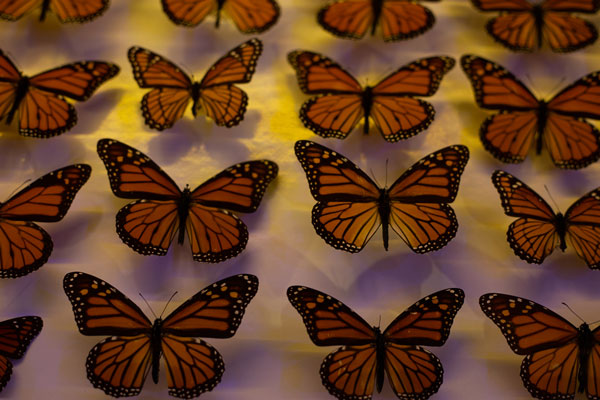 After the presentation, there were some super fun crafts and activities that the kids loved, like making a spider hat, make-your-own butterflies, gooey slime webs and decorating pipe-cleaner spiders to put on them. But it was the specimens, particularly the fully intact tarantula moult, that really stole the show!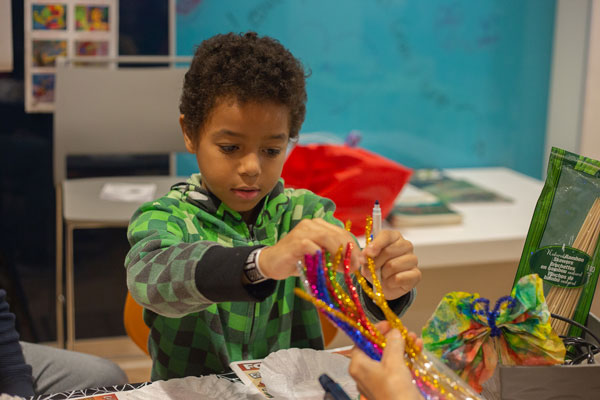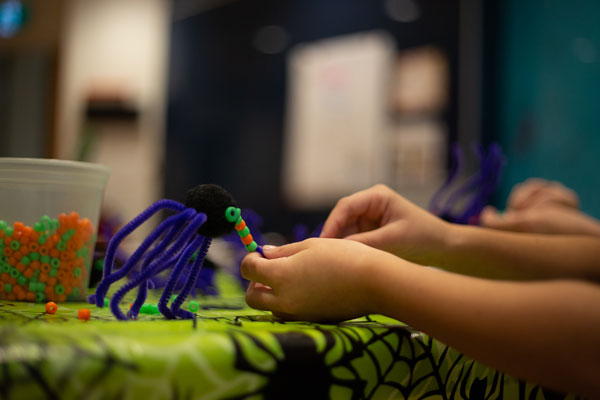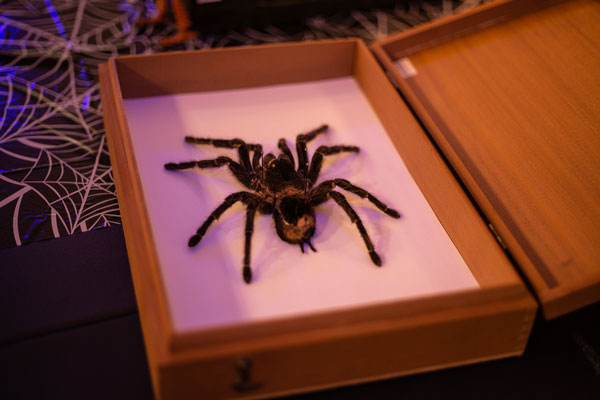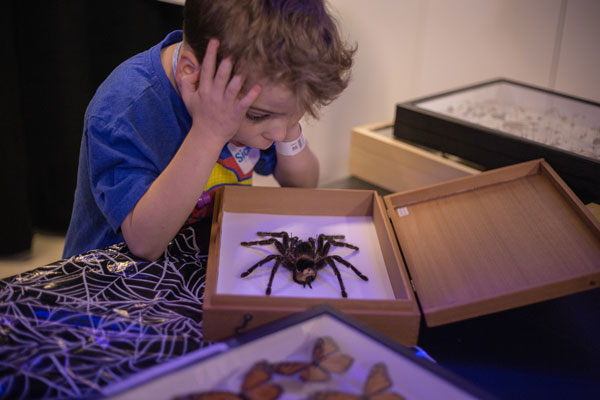 "One of the kids was really fascinated with the tarantula moult, and had a lot of questions about it," said Antonia. One particularly fun question was if the tarantula was scared when he saw his old exoskeleton just sitting there after it moulted. The answer essentially came down to comparing it to a person taking off their pants, which not only gave everyone a good laugh, but it clearly helped him understand the concept and he went right back to staring awestruck at the moult. Antonia added: "I just love it when someone is really passionately interested in something about insects or spiders or anything like that!"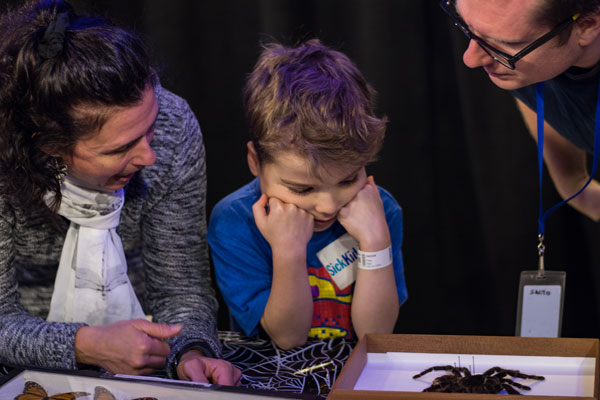 The event was a wonderful example of the relationship between the ROM and SickKids and their shared dedication to fostering curiosity and letting kids be kids. "It was fun and educational, and he's in the hospital for a long time, so it breaks it up. And he's missing out on school, so it's good this helps him with his education," said one parent, "he's okay with picking up the spider in the yard and he's very inquisitive about them, so it's good to have the ROM here to feed and nourish that curiosity." Maybe what this event can teach us as adults is that instead of teaching our kids to fear bugs and spiders, we should be learning a thing or two from them about curiosity and loving all creatures.